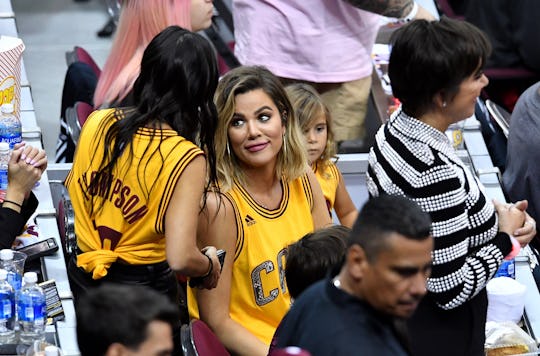 Jason Miller/Getty Images Sport/Getty Images
Khloé Kardashian & Baby True Reportedly Have A Big Move Ahead Of Them
Khloé Kardashian has had quite the year so far, filled with both highs and lows. She's welcomed her daughter, True, into the world with boyfriend, Tristan Thompson, and she's made some major moves over the last few months. Now, the new mom is apparently prepping for another major change because Khloé Kardashian and baby True are reportedly moving, according to E! News, but it's to a place that they're surely familiar with already.
After spending just a few short months in Kardashian's hometown in Los Angeles, California, Kardashian is reportedly moving back to Cleveland, Ohio, according to E! News. This isn't because Cleveland is the new Los Angeles — it's because Thompson lives in Cleveland, where he plays basketball for the Cleveland, Cavaliers, according to People. Romper's request for comment from Kardashian's representative on the reported moving plans was not immediately returned.
"Khloé is moving back to Cleveland with Tristan in the next few weeks," a source reportedly told E! News.
Although Kardashian might be getting ready to move, her fans will be very sad to see her leave L.A. This past summer, Kardashian and True have spent time going to "baby class" with her cousins, according to People, as well as hanging out with Kardashian's sisters (and True's super cute cousins who were born weeks apart from her), according to Us Weekly. Their adventures over the last few months have resulted in some super cute photos. But that might be coming to an end very soon.
Although True might not be seeing her cousins as frequently as before, Kardashian and True are still reportedly going to be splitting their time between Cleveland and L.A.
"She will be based in Cleveland with True for the season, but is going to be coming to L.A. for work commitments and to see her family when she can," the source told E! News.
But Kardashian has only been home in L.A. for a few short months. At the beginning of June, Kardashian's mom, Kris Jenner, told Us Weekly that she thought Kardashian was "coming back home soon" for good. One month later, Kardashian wrote on her website that she was so happy to be home for a few reasons, according to People:
I'm over the moon about being home! Of course, I missed my actual house immensely while I was in Cleveland — there's nothing like enjoying your own home. I'm most excited about being so close to my family. Getting the kids together and having True do all her classes with her cousins is a great feeling!
But, as previously stated, Kardashian and True are no stranger to Cleveland. True was born there, according to TMZ. Not to mention, Kardashian chose to make Cleveland her home throughout the last months of her pregnancy (and first months of True's life), according to E! News. So while L.A. might have been Kardashian's first home, she definitely has made herself at home in Cleveland. So it's not like she is moving to a completely unfamiliar place.
So why is Kardashian reportedly returning to Cleveland after three months of being away? Thompson's preseason basketball games start next month, according to E! News. And given that Kardashian was cheering on Thompson from the sidelines during the NBA finals this past June, according to People, it's likely that Kardashian will do it again this year (especially if she is living in Cleveland) and this time, hopefully baby True will make an appearance, too.
Sure, Kardashian and Thompson have had their fair share of ups and downs this year (let's be real, what couple hasn't?), according to Us Weekly, Kardashian and Thompson are reportedly "doing better than anyone ever could have expected," a source told the magazine.
Although it might be bittersweet for fans that Kardashian and True are reportedly moving, they really could not look any happier in their Instagram photos together. And at the end of the day, their happiness is all that matters.