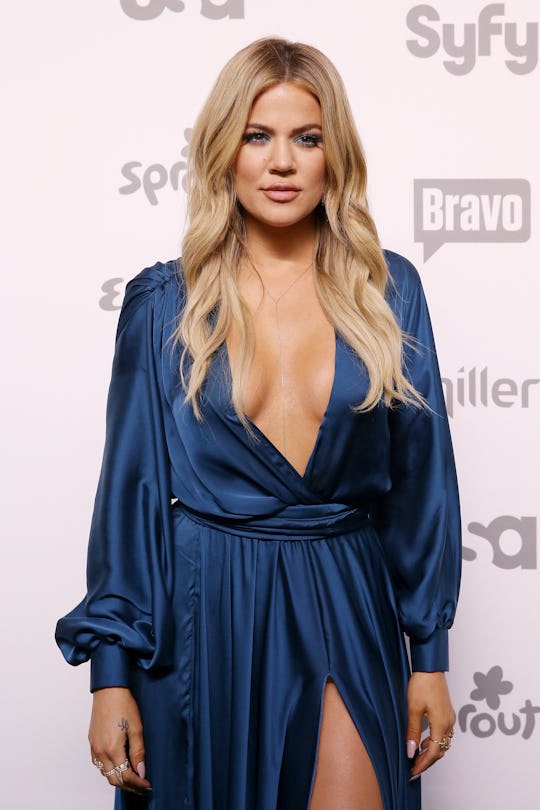 Robin Marchant/Getty Images Entertainment/Getty Images
How Cute! Khloe Kardashian Calls True Her "Best Friend"
When my daughter first looked up at me with her big, blue eyes, I knew I was done for. She had won me over heart and soul and my life would never be the same again. Moms are changed by their children and celeb moms are no different. Khloé Kardashian called baby True her "best friend," and moms everywhere can surely relate. The bond between mother and baby is uniquely strong and wonderful.
True has been in Kardashian's life for four sweet months and the mom is understandably smitten with her little one. In a recent Instagram post showing True wearing a sparkling crown, Kardashian wrote, "You don't know this yet but you're my best friend for all eternity!" The two of them share a special bond of mother and child that has no equal.
Since sharing the news of her pregnancy with her hoards of adoring fans, Kardashian has treated them to regular updates on how her sweet little girl is growing up. At the one month mark, the new momma tweeted about how bittersweet it is to watch True grow. "I can't believe my baby will be a month old tomorrow why does this make me happy and sad all at the same time. Thank you Jesus for my sweet peanut," she said. And again, when her little girl turned two months old, Kardashian reflected on Twitter again. "I cannot believe my girl is going to be two months old tomorrow. Where is the time going but at the same time, every milestone I look forward to, she said. "I'm on alert every day to hear her first giggle. I cant wait for the giggles."
Four months since her arrival, the bond between mother and child appears to be closer than ever. Kardashian isn't alone in considering her baby to be her best friend. A mom's brain is specially made to bond her to her little. From the chemical receptors that facilitate lasting attachments, to the permanent mental rewiring that follows pregnancy and childbirth, nothing is the same after you bring home that wailing little bundle of joy.
Children, too, are influenced by the bond forged between themselves and their mothers. The quality of that bond and mother-child relationships impacts the success of that child's future relationships, according to a 2011 study led by Jeffry A. Simpson, a professor of psychology at the University of Minnesota. Simpson's team found that children with secure attachments their mothers were more capable of "resolving relationship conflicts, recovering from those conflicts and enjoying stable, satisfying ties with their romantic partners in early adulthood," according to Live Science.
Simpson told the outlet that stability early on in life, specifically when it comes to bonding with one's mother, is linked to success in later relationships:
It's often very difficult to find the lingering effects of early life being related to adult behavior, because life circumstances change. People change, but there's a kernel of stability from early experience in a lot of people.
The special relationship that Kardashian shares with her daughter will serve her well in the time that they spend apart. True's mom has opened up about how difficult it is leaving the baby behind when she goes back to work, describing the experience as "tough." "On my first day back, True was perfect while I was gone," she wrote on her app, according to Entertainment Tonight. "Plus, coming home was soooo much fun — I acted like I hadn't seen her in forever!" She went on to explain that she knows it will all turn out fine, saying:
I have to remind myself that she's in the best possible hands. It's way harder on me than it is for her, LOL — she doesn't even know what's happening!
Fortunately for mother and baby, time spent apart due to work won't break that special bond. Fans can likely look forward to many more sweet updates of baby True as she continues to captivate her mommy.