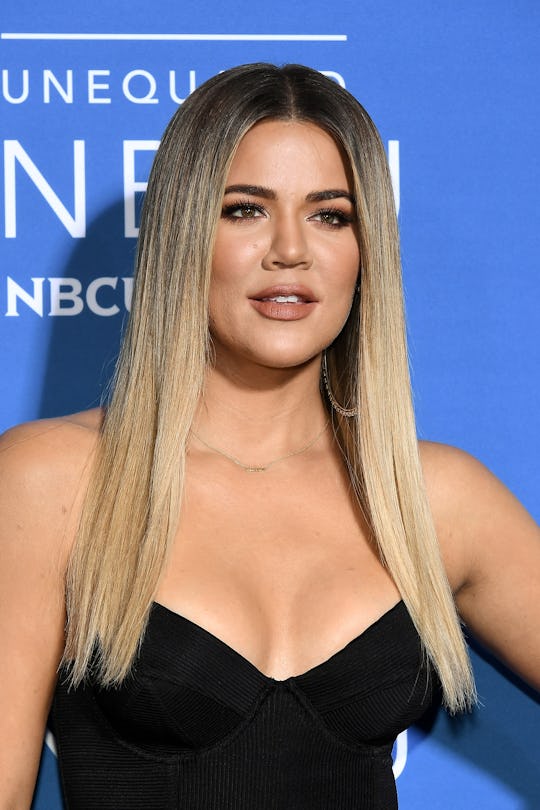 Dia Dipasupil/Getty Images Entertainment/Getty Images
A Troll Dissed True & Khloe Kardashian Was *Not* Here For It
From the moment you first hold your baby in your arms, everything changes. Suddenly, you're responsible for providing food, clean diapers, bathing, stimulation, love, and reassurance for this tiny, helpless human being. When it comes right down to it, you'd pretty much do anything in your power to protect your child from harm, whether it's physical or emotional. Through the years, this doesn't change as that infant grows into a toddler — and then a preschooler, and then a kindergartner, etc. And celebrities are no exception to this universal urge to shield their children from the often cruel, outside world. In fact, Khloé Kardashian clapping back at a troll who dissed baby True is literally every mama bear.
On Saturday, a Twitter user reportedly tagged Khloé Kardashian in a tweet that referred to the reality star's 3-month-old daughter as "not cute at all," Us Weekly reported. (The tweet has since been protected, for the record.) And it's safe to say mama Koko certainly did not take this caliber of disrespect lying down. "She's a loser for that," Kardashian tweeted, in reference to the troll. "No respect for people like that. People are entitled to their own opinions and feelings but why on earth would you tweet that and if you must why would you tag me?"
Plenty of Kardashian's followers were quick to lift up the disgruntled mama with their encouraging words. "Nah sweetie, don't let these miserable people affect you. True is a perfect, cute baby," one faithful follower reassured the Good American designer, with a heart emoji for good measure.
Another person replied, "True is the most beautiful baby ever! Just like momma," also with a heart emoji.
Yet another Twitter user chimed in with, "Don't for a second let that comment get to you! Enjoy your happy, healthy, beautiful baby and ignore unhappy people!"
As People reported, the troll — after first attracting a firestorm of hate for her rude comments, mind you — quickly protected her tweet, and then issued an apology. "[I] honestly didn't mean for my tweet to get as many replies and whatnot to it. I apologize for my actions and I shouldn't have said what I said. I wasn't thinking at all," the person tweeted. *Sigh* It seems this is a classic case of someone forgetting there are actual people affected by what is written from behind their phone/computer screen. Which doesn't excuse their actions in the slightest. But still.
Of course, Kardashian is no stranger to standing up to hateful comments directed at her or the people she loves the most. E! Online reported the Keeping up with eh Kardashians star took to Twitter back in May to shut down those who felt the need to dish out unsolicited relationship advice. "People spend too much time finding other people to blame, too much energy finding excuses for not being what they are capable of being," Kardashian tweeted at the time. "People these days are focused so much on someone else's life instead of their own." (Ohh, burn!) But she does have a point, folks.
Just a few days later, Kardashian clapped back at a different Twitter user who tagged her in yet another confrontational tweet about her relationship with NBA player Tristan Thompson, People reported. This particular user wrote, "A year from now @khloekardashian will be over all of this and feeling salty for her super passive IG posts. She's just in the stage of 'but I love him!' Until then let her pretend he's changed and they'll be a happy family. #WednesdayWisdom." (Oh no, she didn't!) Kardashian expertly shot back with, "Babe that's not wisdom at all because you're assuming you know who I'm talking about and you're assuming you know my feelings. Assuming anything is anything but wisdom."
So yeah. I think it's safe to say you don't mess with his mama bear. Because it's pretty much a guarantee that if it has anything to do with Khloé Kardashian's family — and her daughter, in particular — she won't passively ignore it. And I know for a fact there are plenty of other mama (and papa!) bears out there who won't, either.