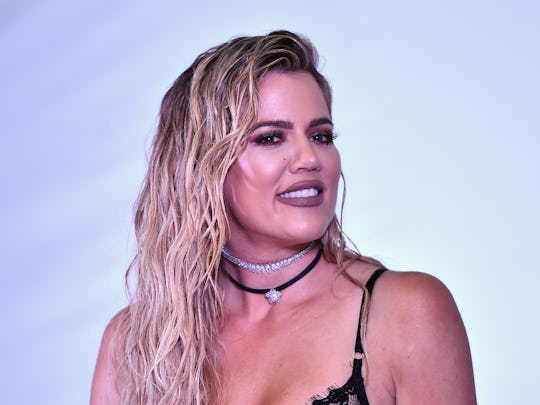 Alberto E. Rodriguez/Getty Images Entertainment/Getty Images
Khloé Kardashian Confirms Her Pregnancy, & OMG, You Can Officially Freak Out
Back in September, the internet was thrown for not one but two loops after reports surfaced that two Kardashian/Jenners would be expecting their first child. After the internet finally digested the news that Kylie Jenner is reportedly pregnant back in mid-September, fans had yet another meltdown when an Us Weekly article reported that exclusive sources said Khloé Kardashian is pregnant with her first child with Tristan Thompson. And now, finally, fans have been vindicated, because Khloe Kardashian has actually confirmed her pregnancy. In an Instagram post Wednesday evening, Khloé posted a photo of her baby bump, and fans are reacting appropriately on social media, of course.
The photo is of Khloé in a Calvin Klien bra while Tristan Thompson stands behind her, and it's pretty damn beautiful. She captioned it:
My greatest dream realized! We are having a baby! I had been waiting and wondering but God had a plan all along. He knew what He was doing. I simply had to trust in Him and be patient. I still at times can't believe that our love created life! Tristan, thank you for loving me the way that you do! Thank you for treating me like a Queen! Thank you for making me feel beautiful at all stages! Tristan, most of all, Thank you for making me a MOMMY!!! You have made this experience even more magical than I could have envisioned! I will never forget how wonderful you've been to me during this time!
She continued:
Thank you for making me so happy my love! Thank you to everyone for the love and positive vibes! I know we've been keeping this quite but we wanted to enjoy this between our family and close friends as long as we could privately. To enjoy our first precious moments just us ❤️ Thank you all for understanding. I am so thankful, excited, nervous, eager, overjoyed and scared all in one! But it's the best bundle of feelings I've ever felt in my life! ❤️❤️❤️
During the early stages of the reports, People sort of confirmed the news, speaking to another source who told the publication:
Yes, Khloe and Tristan are expecting and they are absolutely thrilled. This isn't something they were in a rush to announce to the whole world, and it's only been in just the past week or so that they've felt comfortable telling most of their inner circle.
Then, the source said that Kardashian and Thompson had been delaying the announcement because of Jenner's announcement the week before Kardashian's news was released, according to People, though that information hasn't actually been confirmed by the couple:
This is something Khloe has wanted for years and years and yet it's more than that: she didn't want it unless she was in the right relationship for it. She never let it happen with Lamar, intentionally, and she never considered it with James or French or anyone else she has seen. But this is such a wonderful moment for her: not only is she going to be a mother, she is going to be raising a child with a man she truly loves. Everyone is over the moon for them both.
Kardashian's confirmation makes Kardashian the (possibly) third pregnant Kardashian-Jenner, Kim Kardashian confirmed her pregnancy via surrogate in September.
Kardashian's pregnancy shouldn't come as too much of a surprise, though, if you have read her past interviews about her boyfriend, Thompson. In an interview with You magazine Thompson she said she definitely wants a family, but doesn't "feel any pressure," according to The Daily Mail, and then she made that answer super specific to Thompson:
Tristan is a great dad [he has an eight-month-old son with his previous partner] and he definitely wants more children, but we both feel that it will happen when the time is right. We're still in a new relationship and I love us having time together. Once you have kids you can't get back your non-kid years. My sisters and I bother my mum all the time, so I know it's not, like, 'When they're 18, you don't worry about them again.' You worry about your children for the rest of your life. The concern I have is raising little human beings in a world that's filled with such hate and terror. That seems very scary.
All of Kardashian's quotes about Thompson are adorable and make it very clear that her relationship with him is pretty strong and really sweet. I don't know them, but I can say that I wish the best for them, and it's clear that fans do too.
Check out Romper's new video series, Romper's Doula Diaries:
Watch full episodes of Romper's Doula Diaries on Facebook Watch.