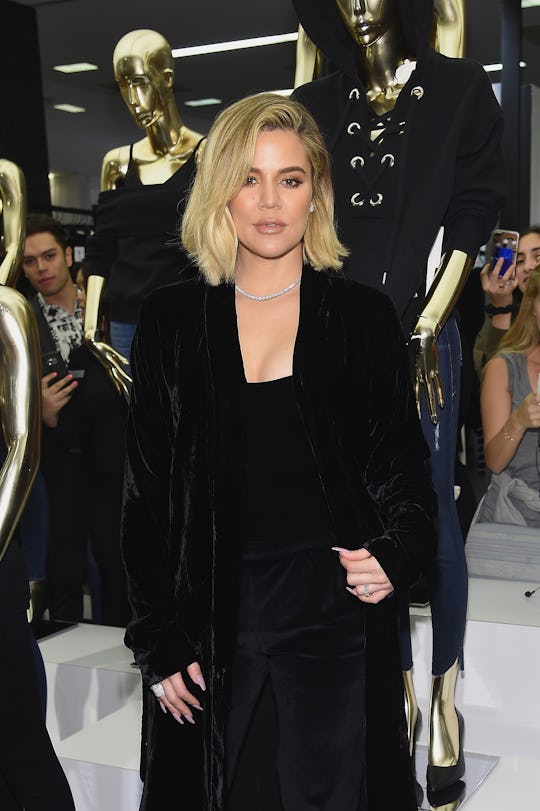 Jamie McCarthy/Getty Images Entertainment/Getty Images
Khloé Kardashian's Pregnancy Will Definitely Be Featured On 'KUWTK,' So Get Excited
Now that reality star Khloé Kardashian has confirmed to the world that, yes, she is in fact pregnant with her first child, we can finally all move on from our endless speculating to more important things — like whether or not we'll get to watch it all unfold on TV. Thankfully, it sounds like fans won't be disappointed: after revealing her big news in an Instagram post Wednesday, Khloe Kardashian confirmed that her pregnancy will be featured on Keeping Up With The Kardashians, and it means we'll all get an inside glimpse on her road to motherhood.
Though rumors of Khloé's pregnancy started circulating months ago, the couple — as well as the entire Kardashian-Jenner family — remained completely mum on the topic until her Instagram announcement earlier this week. In the post, Khloe shared a photo of her growing baby belly, according to People, and in the caption, she wrote that the pregnancy was her "greatest dream realized," before thanking boyfriend Tristan Thompson "for making [her] a MOMMY!!!" After the announcement, a fan tweeted the star to ask if she planned to share her pregnancy on KUWTK, and on Friday she replied, "Yes! It all happened during production so yes! Super cool to have that documented."
Given the fact that Keeping Up With The Kardashians rocketed the entire family to fame — and that this year also marked the show's 10th anniversary — news of Khloé's rumored pregnancy (along with big sister Kim Kardashian's then-unconfirmed pregnancy by surrogate, and younger sister Kylie Jenner's still-unconfirmed pregnancy with boyfriend Travis Scott), some fans wondered if perhaps the alleged triple pregnancy was somehow all just an elaborately-planned ratings grab by "momager" Kris Jenner.
But aside from being a pretty far-fetched idea to begin with, Khloé's Twitter response was a sweet reminder that, while she may be a successful businesswoman who must at least sort of care about ratings, her decision to have her pregnancy be part of the reality show storyline is predominantly just a really beautiful way to document it all for posterity. And honestly? As much as I would never want a bunch of cameras following me around, I do think it would be pretty cool to have that kind of footage to look back on now that my kids are a bit older. Yes, it might be great news for fans of the show, but it's also pretty great news for Kardashian and Thompson, who will have those memories saved forever.
In her Instagram caption, Kardashian also acknowledged the fact that she'd continued to keep her pregnancy under wraps despite the widespread speculation. It should go without saying that no woman — not even a woman famous for sharing intimate details of her daily life with the world — has an obligation to speak publicly about being pregnant, but Khloé explained that their decision was just an attempt to savor the experience as parents-to-be before opening it up to everyone. She wrote,
I know we've been keeping this quiet but we wanted to enjoy this between our family and close friends as long as we could privately. To enjoy our first precious moments just us. Thank you all for understanding. I am so thankful, excited, nervous, eager, overjoyed and scared all in one! But it's the best bundle of feelings I've ever felt in my life!
Given the widespread speculation over Kardashian's rumored pregnancy, though, it seems that she should have at least been able to anticipate what the reaction to her official confirmation would have been. But on Twitter Wednesday, Kardashian admitted that, actually, she was really surprised by all the love being sent her way, and wrote, "I was so nervous to post our announcement but WOWWW I am overwhelmed with the response by you guys!!! Thank you! Thank you!"
Even if you aren't a fan of Keeping Up With The Kardashians, you have to admit that there's something so heartwarming about Khloé's pregnancy announcement and follow-up tweets. And if you are a fan? Well, you better brace yourself, because with three new KarJenner babies thought to be on the way, the upcoming season will probably be the best one yet.
Check out Romper's new video series, Romper's Doula Diaries:
Watch full episodes of Romper's Doula Diaries on Facebook Watch.