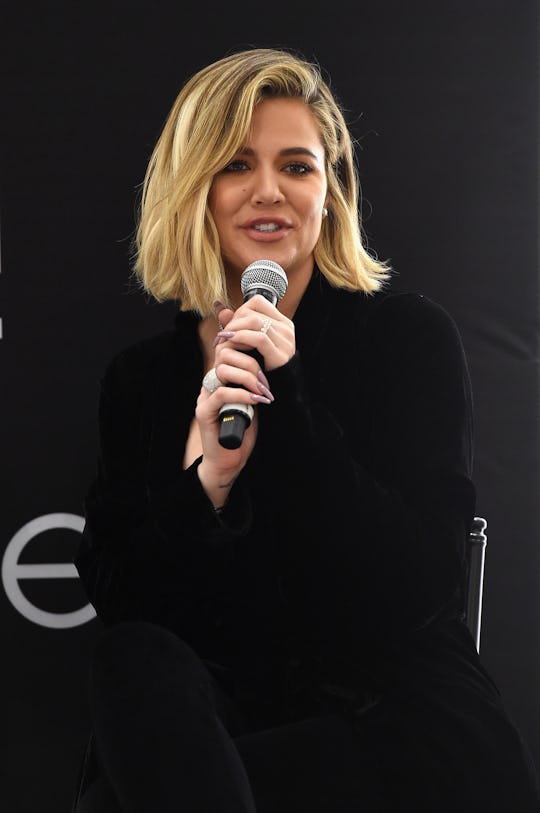 Jamie McCarthy/Getty Images Entertainment/Getty Images
Khloe Kardashian Explained Why She Spent True's First Thanksgiving In Cleveland
There is no denying that the Kardashian sisters are close. The siblings do practically everything together — they raise their kids together, they work together, and they celebrate their holidays together, too. So, when Khloé Kardashian spent this Thanksgiving outside of California, people had to wonder if something was amiss between the siblings. Luckily, Khloé Kardashian explained why she spent Thanksgiving in Cleveland, Ohio — and her explanation for this makes so much sense.
Over this holiday weekend, so many people — from celebrities to your closest friends and family members — shared photos and videos from their Thanksgiving dinner table. Among these celebrities was Kardashian, who posted photos and videos of her fabulous spread, along with her daughter, True, to social media on Thanksgiving day, according to Refinery29. But there were a few people that were noticeably absent from Kardashian's videos — her mom, Kris Jenner, and siblings, such as Kourtney and Kim Kardashian.
This was because Khloé's family was spending this Thanksgiving at Jenner's home in Palm Springs, California, according to People, while Khloé decided to spend her Thanksgiving in Cleveland, Ohio. Since everyone was there celebrating in California, fans were curious if there was any bad blood going on between the sisters — especially since this season of Keeping Up With The Kardashians has shown them fighting a bit more than usual.
But, Khloé assured everyone on Twitter over the weekend that there was no (current) drama between her and her family members. Instead, she chose to host Thanksgiving in Cleveland to be closer to her boyfriend (and True's father), Tristan Thompson.
Khloé stated that she has spent the past three years with Thompson in Cleveland for Thanksgiving, so it has become a new family tradition. Because of this, it makes sense for Khloé to have spent this Thanksgiving in Cleveland in particular. In April, Khloé gave birth to True in Cleveland, according to E! News. Cleveland is not only the location of True's first home, it is where Thompson plays basketball for the Cleveland Cavaliers, according to Page Six. So, it's a pretty special city to Khloé — and because Thompson was working, he couldn't travel to California for her family's Thanksgiving.
So, she held her Thanksgiving in Cleveland this year, just as she has in years past, according to the Daily Mail.
"My sisters and I are perfectly fine, thank you!" Kardashian tweeted over the weekend. "All of their families were able to travel but [Tristan Thompson] being in season, he can not."
Although she might have had to spend some time away from her extended family, Kardashian's Thanksgiving this year looked like so much fun. From the impressive dessert spread, to Kardashian's gorgeous table decor, to her family's matching outfits, you can tell that Kardashian was able to make the holiday her own and make Cleveland feel like home.
While it's not ideal to see the full Kardashian family apart from each other on Thanksgiving, fans might have to get used to it — because they might be spending the holidays away from one another more often.
After Kim hinted that the annual Kardashian Christmas card may no longer be happening earlier this week, according to Cosmopolitan UK, she suggested that fans could see individual Christmas cards from the siblings and their families. This might just mean that the Kardashian siblings are starting their own, personal, family traditions with their kids. This should be so exciting for their fans, because it means seeing how each sister decides to celebrate the holidays in their own ways.
But who knows? From now on, Kardashian could be spending every Thanksgiving in Cleveland, Ohio, just because it is now a family tradition or they may travel back to California to see family. Either way, that is perfectly OK.
Season 2 of Doula Diaries shares the stories of fearless doulas helping their clients take control of their births and make tough choices that feel right to them. Watch the first episode of the new season Monday, November 26th.