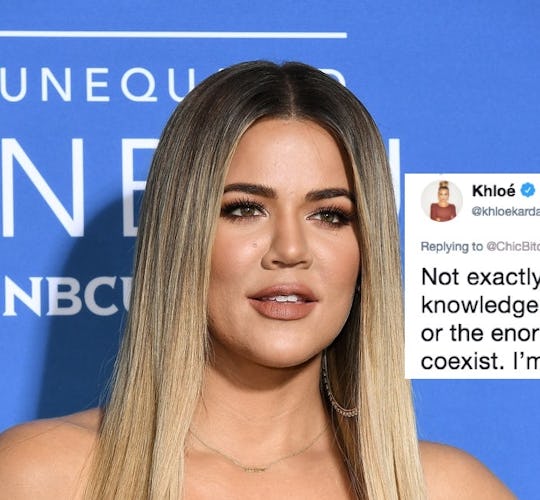 Dia Dipasupil/Getty Images Entertainment/Getty Images
Khloé Kardashian Has Finally Addressed Her Relationship With Tristan Thompson With This Tweet
In April, Khloé Kardashian gave birth to her first daughter, True, but the news was all but eclipsed by rumors that her boyfriend, Tristan Thompson, was allegedly unfaithful while she waited to give birth. The Daily Mail and TMZ both released videos purporting to show Thompson allegedly with other women, though neither Kardashian nor Thompson's reps have confirmed the rumors, or responded to Romper's immediate request for comment. In the following weeks, speculation ran wild: would Kardashian stay in Cleveland? Would Thompson be a part of his daughter's life? Were they even still a couple? It's was anyone's guess, but at long last Khloé Kardashian finally addressed her relationship with Tristan Thompsonwith some scathing words to a fan who passed judgment on her decision to stay in her relationship.
On Monday, Kardashian responded to a fan on Twitter who said she was "disappointed" that she decided to stay with Thompson, as Us Weekly reported. "I love, adore & root for @khloekardashian but I'm so disappointed she stayed with that wasteman Tristan," the tweet began. "She preaches about women knowing their self-worth and when to walk away but when it's time to walk the walk, she's a hypocrite."
Kardashian responded, saying: "Not exactly Queen Persia, you have no knowledge of what goes on in our household or the enormous rebuilding this takes to even coexist. I'm proud of my strength. I appreciate your opinion and I hope you hold that same opinion to everyone else who has stayed in situations."
There's a lot to unpack there. Kardashian's use of the phrase "enormous rebuilding" hints that she and Thompson are trying to maintain their relationship, which had been rumored for a while. (Kardashian stayed in Cleveland, Thompson's hometown, after she gave birth to True, according to Us Weekly, and People reported that she was also wearing a diamond ring on a recent date together, fueling engagement rumors.)
Though Kardashian nor Thompson have really spoken out about their relationship directly, Kardashian has left what fans believe to be hints in the form of cryptic Instagram stories. The Daily Mail reported back in May that Kardashian uploaded a post with a quote that said: "It's all about who you look for in a crowded room. That's who your heart belongs to." Fans seemingly took that as a justification for her relationship with Thompson. E! News reported just a few days prior that Kardashian "really wanted to make things work" with Thompson, though she "wasn't sure how she'd be able to" do that.
Regardless, Kardashian has made it abundantly clear that her priority is her daughter, and that as a couple, both she and Thompson understand putting True first is what really matters. People reported that was the reason Kardashian opted to give True her father's last name, as a source told the publication it was "never in question," and that True is "one half his" no matter what. People also reported that earlier this month, Kardashian's mom Kris Jenner expressed her support for their relationship, saying:
I think you just have to be there for your kid and follow their lead. I'm not in that relationship or in that situation, so I really trust Khloé. She's so smart, and such a great girl, and she'll figure it out.
Despite Jenner's niceties, not everyone in the KarJenner family has been so unanimously supportive. During an appearance on The Ellen DeGeneres Show, Kim Kardashian West called her sister's situation "so f*cked up," as TMZ reported. Later, Kardashian West retracted her statements, reportedly saying that Thompson blocked her on social media, as Entertainment Tonight reported. "I'm always rooting for her, always rooting for love. I'm always rooting for family," she said. "She's so focused on her baby... [she] is gorgeous, gorgeous. She's so happy."
It's clear that regardless of who does or doesn't support her, Kardashian is doing what's right for her child and herself. Her message is an important one: If you aren't in the relationship, you aren't in a place to judge it.