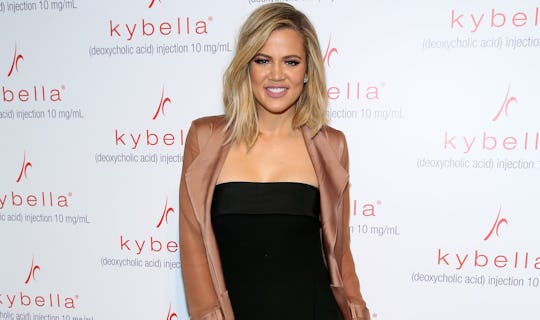 Cindy Ord/Getty Images Entertainment/Getty Images
Khloé Kardashian Got Real About Breastfeeding True, Because New Mom Life Isn't Easy
The first few weeks with a new baby can be grueling. Not only are you suddenly responsible for someone else's life, but often, you're dealing with sleep deprivation and out of whack hormones on top of it. Once you settle in, the other shoe drops: you realize that you're now saddled with the impossible task of trying to #HaveItAll. It looks like that just happened to one of the most recent members of the mom club, because Khloe Kardashian got real about balancing True's feedings with her schedule on Snapchat, and famous mothers don't have it much easier than the rest of us, I'm afraid.
Of course, Kardashian's schedule might be a bit looser than yours or mine; while we might have to run errands, work 40 hours a week, or cook dinner, she's trying to find time to go to the gym. But remember, that is actually part of her job; the reality star and Good American fashion designer needs to look good in order to make that cheddar, and it's important for all of the Kardashian-Jenner family members to keep that social media presence on point. This Kardashian in particular is known for her inspirational workout Snapchats, so getting back to the gym was a priority.
Just four weeks after giving birth to her first child, True Thompson, Kardashian was back in her workout gear filming her first postpartum fitspo video, and she was super candid with her fans.
Today is the first day that I have been allowed to work out with my trainer and, um, I'm super excited. I had my workout. I'm exhausted, but it felt so good to finally sweat again and feel like that I'm evolving and doing something progressive for my body and my mind. It is a struggle getting back into the groove of working out. Oh man... it's... mentally, I'm strong, but physically, it's just not the same. My body is not doing what I feel like my mind is telling it to do. So that's a struggle, but it's only day one. I need to motivate myself. And it's also a struggle trying to fit in working out between feedings. No two days are the same. You know, True is so great, but still I can't predict if shes gonna sleep for the full two hours or if she's —
At that point, Kardashian hit Snapchat's story time limit, but she had more to say.
"Rude that I got cut off," she said at the beginning of the next Snap. "But, um, baby True is a month old today, so it's a big day for the both of us." Those who follow the family closely might be confused by that comment; the story was posted on May 10, and Kardashian gave birth on April 12. But remember that she's been pregnant for the better part of the year; she's counting four weeks as a month. "So, yeah," she continued, "I'm going to be documenting me trying to get this body back, my mind, everything strong ... and trying to now do this with my sweet little baby girl."
And while the notion of getting your body "back" after pregnancy is troubling — her body didn't go anywhere; it changed, like it was supposed to, and it's never going to be exactly the same again — it's perfectly fine to want to be healthy and strong, and lose that baby weight safely. And anyone whose seen Kardashian's Snaps knows that this isn't torture for her; she seriously loves to work out, and loves to share that with her followers. "I love you guys," she said as she wrapped up her last post. "Here's to hopefully motivating some of you guys out there, and, yeah, have a great day." You too, girl. Just take it easy, and remember, everything's harder with a baby.