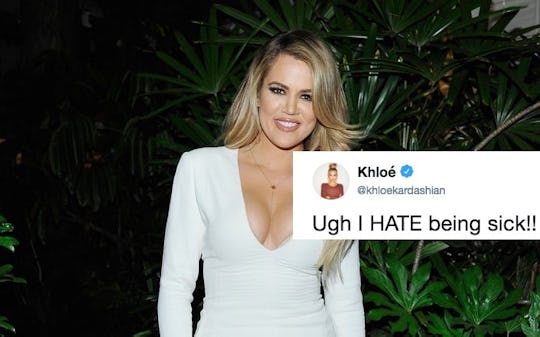 John Sciulli/Getty Images Entertainment/Getty Images
Khloé Kardashian Hates Being Sick Around Baby True For This Sweet & Relatable Reason
No one ever enjoys feeling under the weather, and when you have kids, it's even harder. Unless you have someone who can come and take over all your mom duties, lying in bed and watching Netflix until you feel better might be a no-go. But it turns out that even when you're a wealthy celebrity who could literally hire someone to make chicken soup and then spoon-feed it to you while you're simultaneously receiving some fancy detox massage, there's still a downside. According to a tweet penned on Sunday, Khloé Kardashian said she hates being sick around baby True because it means she can't snuggle up with her and give her kisses, and well, she's right, that does totally suck.
The Keeping Up With The Kardashians star welcomed her daughter three months ago, and since then, it's pretty much been a constant love-fest between the two. The proud mom regularly posts about her little girl on social media, and it sounds like she's totally loving motherhood despite the inevitable ups and downs (in fact, in a recent tweet, Kardashian called True her "BFF 4Life"). But after falling ill recently, Kardashian has discovered that it's super upsetting not to be able to smother her tiny bestie with kisses — and as usual, her fans were totally there for support and advice.
In response to her tweet, many of her followers chimed in to say they understood her pain, and that not being able to kiss their babies when they were sick *was* totally the worst. But they also offered up a variety of home remedies — everything from elderberry syrup, to putting garlic in her socks — while some just suggested other ways to cope until the illness made its way through her system.
One thing that didn't seem to be such a popular idea though? Kardashian's suggestion that perhaps she could just kiss True's feet, with a number of users saying that it probably wasn't a good idea:
Actually, it sounds like avoiding feet-kissing is pretty sound medical advice. In a blog post, Kansas-based pediatrician Dr. Kristen Stuppy suggested that any parents who are sick should "resist kissing Baby on the face, hands, and feet." The reasoning is that giving kisses on the face can let germs enter through their eyes, nose, and mouth, but since babies also put their hands and feet in their mouths on the regular, they could get sick that way, too.
Some commenters did suggest that passing her germs onto True wouldn't be that big of a deal, but Stuppy wrote that avoiding contact as much as possible is a better way to go. What happens, though if you're the only one who is there to care for your little one? Stuppy suggested wearing a mask and washing your hands often to reduce risk.
Kardashian didn't say exactly what kind of illness she had, but pediatrician Dr. Tanya Remer Altmann told WebMD, that the risks involved with certain illnesses means that the best strategy really is to protect your baby from germs as much as possible in the first three to six months, even if that does mean you'll have to do without some baby snuggles yourself. It also means, though, that you shouldn't feel bad at all about limiting the number of visitors, or about not letting anyone who is sick be around your child — while it is true that some germ exposure can help the immune system, Cincinnati Children's Hospital Medical Center pediatrics professor Robert W. Frenck Jr., MD, told WebMD that a baby "will get all the germ exposure he or she needs naturally," so it's wise to take extra precautions.
That might not be the news Kardashian was hoping for, but at the same time, having to stay away from your baby for a while is definitely the easier option than having a sick infant (especially if you were the one who passed along the germs!). Of course, even with the most stringent germ-killing practices, babies can, and do, get sick, and if True catches her mom's illness, Kardashian shouldn't feel bad. But, for the next little while, staying away from baby kisses sounds like a really good idea, even if it's understandable hard to resist.