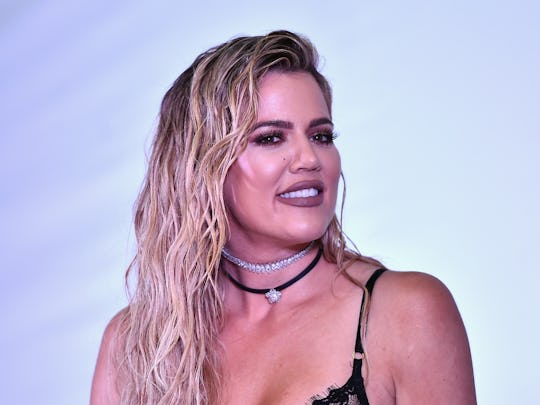 Alberto E. Rodriguez/Getty Images Entertainment/Getty Images
Khloé Kardashian Instagram "Clues" That Prove She's Not Pregnant
Since news broke back in September of Khloé Kardashian's alleged pregnancy, fans have been on the lookout for any and all signs that a baby could be on board. Paparazzi photos have been scrutinized for evidence of a bump and social media posts have been scoured for double meanings, subtle hints or hidden clues, but alas — the reality star has neither confirmed nor denied the reports. And yet, between Kardashian and her younger sister, Kylie Jenner, these the rumors continue to swirl on a daily basis. However, it seems most fans have chosen to ignore the Khloé Kardashian Instagram "clues" that prove she's not pregnant. Because what if she isn't?
Just days after Kylie Jenner's alleged pregnancy nearly broke the internet, reports of Khloé Kardashian's alleged bun in the oven started pouring out. No one, as it turns out, can actually Keep Up with the Kardashians — because at that point, it was a full-out family baby boom. Reportedly, though, Khloé is expecting her first child with her pro basketball player Tristan Thompson. Except, the world has pretty much taken these reports as facts from day one. However, there is plenty of evidence on Instagram that suggests otherwise, like ...
1. Khloé's Halloween Costume
Kardashian and Thompson showed off their Game of Thrones-inspired Halloween costumes in October — a perfectly-convincing Daenerys Targaryen and Khal Drogo. Teen Vogue actually suggested that Kardashian wasn't pregnant, based on the photo. Plenty of fans seemed to agree, arguing that since Khloe looked so trim in her costume, that she couldn't possibly be carrying a child, according to the publication. It's worth mentioning, though, that every women "shows" her pregnancy differently — and each experience can vary widely for the same woman. Just because Khloé isn't sporting an "obvious" bump doesn't mean she isn't carrying a child.
2. Photos Like This On Instagram
Entertainment Tonight reports that fans thought they were looking at bump in a photo Khloé posted on Instagram on Oct. 5. The image in question featured Kardashian promoting her Good American clothing line. "You can see how her outfit pops outward from the bottom seam just under her arm!" one Instagram user commented. "What's the big deal! Just show us your tummy!" However, Khloé was quick to indirectly dispute this theory in the replies. She wrote:
This is a peplum shirt. It flairs [sic] out at the bottom. It's just the way the shirt is designed. In some of the next pictures coming up from the SAME shoot, I'm in a crop top. Showing a lot of skin.
3. Khloe & Kylie Joking About 'All Their Babies'
On Oct. 24, Kylie Jenner posted on Instagram a video teaser she created with Khloé about the Koko Collection they created together for Kylie Cosmetics. If you look at the full video on YouTube, you'll see the sisters poking fun at "all their babies." (Skip to about the 4:20 mark, if you're not interested in watching the full clip.)
Us Weekly reports that Kylie and Khloé joked about "all our babies" in a recent video they tease on Instagram. In the video, Kylie says her favorite in the Koko Collection is a color named "Baby Girl," which apparently is a "subtle melon color." The sisters try out a bunch of hues and then Khloé points out, "We created them. It's our baby together. We have eight!" Kylie then chimes in with, We have so many babies. Who knew?" Yeah. So either these sisters are trolling us big time, or they're just poking fun at the fact that the world assumes they're pregnant when they're not.
4. Her Silence on The Pregnancy Rumors
Seriously. Has anyone considered that maybe Khloé (and Kylie, for that matter) haven't publicly commented on the pregnancy rumors because they're not actually pregnant. I know it seems like a stretch at this point, since their sister, Kim Kardashian, and mother, Kris Jenner, have both done everything in their power (including drinking a sardine shake!) to avoid addressing the elephant in the room. When Khloé decides to finally confirm or deny the pregnancy rumors, fans shouldn't be too surprised if she wasn't pregnant all along.