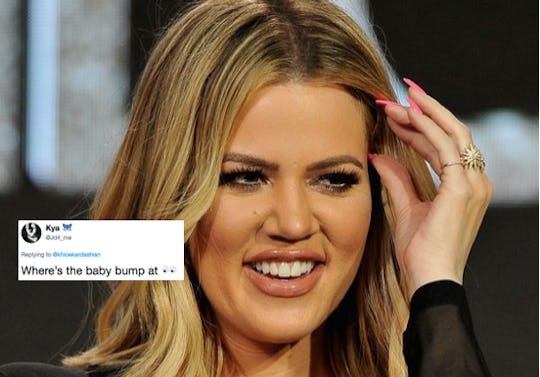 Jerod Harris/Getty Images Entertainment/Getty Images & @Jd4_me/ Twitter
Khloe Kardashian Is Driving The Internet Mad With These New Photos Amid Pregnancy Rumors
Khloe Kardashian has neither confirmed or denied (or even flat out addressed) the pregnancy rumors surrounding her. Yet, the reality star and fashion designer who is reportedly expecting her first child with boyfriend Tristan Thompson has kept fans guessing and speculating for months over whether she's actually pregnant. Really, every photo taken of Khloe has been investigated to the fullest extent. Take this weekend, for example, because Khloe is driving the internet mad with these photos taken of her amid all of the pregnancy rumors.
One pregnancy in the Kardashian family is for certain — Kim Kardashian's third pregnancy reportedly via surrogate. In late September, a trailer for the new season of Keeping Up With The Kardashians revealed that Kim was expecting her third child with husband Kanye West (although that episode has yet to air). And this past Saturday, according to E! News, friends and family gathered to celebrate this at Kim's "tea for 3" themed baby shower.
Khloe was there in attendance to support her big sister and celebrate the life of her soon-to-be new niece or nephew. And of course, cameras were there to capture her appearance. Khloe looked stunning in a powder blue dress, but — according to a lot of fans, she also looked really pregnant and, at the same, time not pregnant at all.
The evidence on both sides is kind of alarming. In the full body shot, some say Khloe does not look pregnant at all but from another angle, people claim to see a bump. The tweets, providing "evidence" of whether she actually is pregnant, are worth seeing for yourself, if only to be entertained by the different theories.
Some People Are Totally Convinced...
... But Others Aren't At All
And Khloe's Instagram photo, posted to her account over the weekend, certainly adds fuel to this "is she or isn't she" fire. In the photo, Khloe is seen in a track suit from her clothing line, Good American, looking good. But if you look at the photo closely, you can see what some are saying is a "hint of a pregnancy bump." But let's be real, that sitting-down angle isn't the best angle for many people. And in another photo, taken from that same photoshoot, there is no evidence that this alleged bump is actually there.
In both of the photos the possibility of a pregnancy bump looks a little slim, but possible. But, as one Twitter user pointed out, photos can be photoshopped. In the candid photos, taken from the wedding shower, the "bump" does come into focus just a bit more. Now you can understand why everyone is going crazy over these photos this weekend.
But because photo editing is so advanced and camera phones can be quite unkind, it is not fair to Khloe for people to jump down her throat and assume she is pregnant or not pregnant enough. Every pregnancy is different and every woman who has ever been pregnant knows this to be true. Therefore, it is wrong to criticize Khloe's alleged bump and its size, especially since no one knows for sure how far along she is or if she's even pregnant.
This bump watch began in late September, when multiple sources confirmed to People that Khloe was expecting her first child. But she (along with the rest of her family members) has kept quiet about the news, refusing to address, confirm, or deny the rumors. Kim, Khloe, and their mom, Kris Jenner have all come out at some point to tell people to not believe anything they read until they address the news themselves — and this is completely fair.
At some point in time, Khloe will have to address the rumors head on. But until then, the speculation will continue and people will continue to talk about it.
Check out Romper's new video series, Romper's Doula Diaries:
Watch full episodes of Romper's Doula Diaries on Facebook Watch.