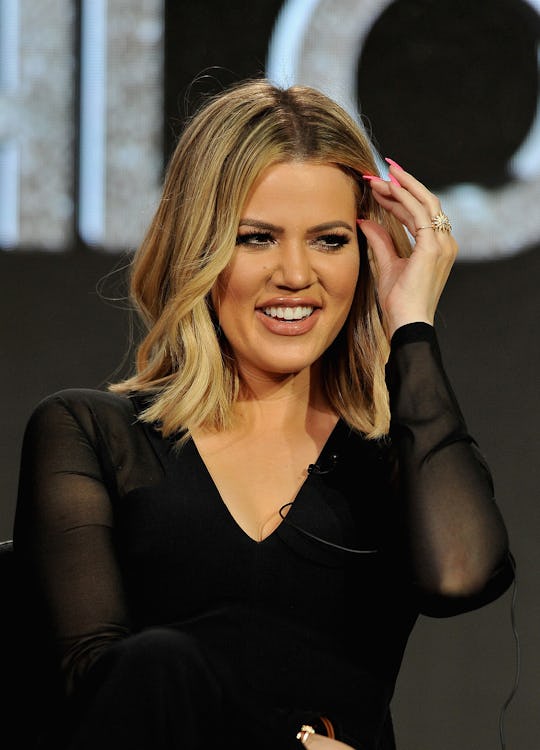 Jerod Harris/Getty Images Entertainment/Getty Images
Khloé Kardashian Can't Wait For This Pregnancy Stage As She Begins Her Third Trimester
Although Khloé Kardashian kept her pregnancy on the DL for quite a while — much to the dismay of her fans — ever since she officially confirmed the baby news, the reality star seems to be an open book. The mom-to-be has shared about her pregnancy cravings, feeling her little one kick, insecurities about her pregnancy body, and more. Most recently, Khloé Kardashian revealed she's excited for this pregnancy stage, and moms are so there.
For anyone who has already experienced a pregnancy, there are definitely certain "stages" a woman goes through. Although every person's journey is unique, the first trimester is commonly wrought with unpleasant side effects like nausea, bloating, constipation, and fatigue. By the second trimester, however, many women tend to feel better physically. Their bumps finally begin to "pop" and a good number of women find out whether they're expecting a boy or a girl. The third trimester comes with growing discomfort, frequent urination, heartburn, and of course, nesting.
It's this last portion of the third trimester that Kardashian is apparently looking forward to. People reported the Keeping Up With The Kardashians star took to her app to share her thoughts on nesting. "I heard later in your third trimester you go through a stage called 'nesting' where you just want to clean and organize everything," the expectant mama wrote on her app on Monday, according to People. "My sisters said I would love that, LOL."
For those who aren't familiar with Kardashian's tendencies, the 33-year-old has a pretty solid reputation for her very organized home. BuzzFeed reported that everything from her refrigerator, to her pantry, medicine cabinet, booze, and even her car snacks are meticulously sorted and neatly arranged. It's so over-the-top that Kardashian lovingly refers to her affection for organization as "Khlo-C-D," reported People.
So I guess it only makes sense that the idea of nesting would seem like an attractive concept for the first-time expectant mama.
"I am actually looking forward to it," Kardashian said on her app, as reported by People. "I just want everything organized and planned and as perfect as possible before the baby comes."
Still, the urge to nest isn't the only thing the third trimester brings along with it, as Twitter users pointed out. "Exciting times, but get ready for heartburn and plenty of night time toilet breaks," one person tweeted to the KUWTK star.
Another Twitter user shared what happened to her, "You're getting close! I was a swelled up mess but I loved the third one bc I was getting closer to meeting my love. All the struggle was worth it."
According to WhatToExpect.com, nesting is a typical urge that strikes for parents-to-be around week 38 or 39 of pregnancy. It's a human's way of "preparing their nest for their soon-to-arrive baby" — just as animals literally do in the wild, according to the publication.
Still, considering what other Twitter users — who are currently in the throes of a cleaning/organizing mania — are saying, maybe Kardashian should just enjoy her pre-nesting days while they last. "The nesting has started," one person tweeted. "Over 7 months pregnant and I'm pulling wall paper of the wall."
The partner of a pregnant woman also chimed in with nesting woes of his own. "And so it begins. My pregnant wife started the nesting phase! This is both an endearing and lovely phase normally. When you work from home and she has a day off then not so much." LOL. The final weeks of pregnancy are no joke, man.
While I consider myself to be somewhat of a neat freak, I'm nowhere near Khloé Kardashian's caliber of organization. (Especially since I have three young children constantly undoing all of my hard work.) With that said, the nesting phase for me definitely kicked everything up another notch — and it was exhausting. Organization and cleanliness simply wasn't enough. Nope. About a month before my due date, I took to obsessively deep cleaning, re-cleaning, and delegating my poor husband to endless tasks around the house. On top of my aching, stretched-out body, it was utterly draining. (During the early stages of labor with my third baby, I even vacuumed the entire house.) But I couldn't help it!
Here's to hoping Khloé Kardashian doesn't drive herself (and everyone else) bonkers when she finally reaches the nesting stage!
Check out Romper's new video series, Romper's Doula Diaries:
Watch full episodes of Romper's Doula Diaries on Facebook Watch.