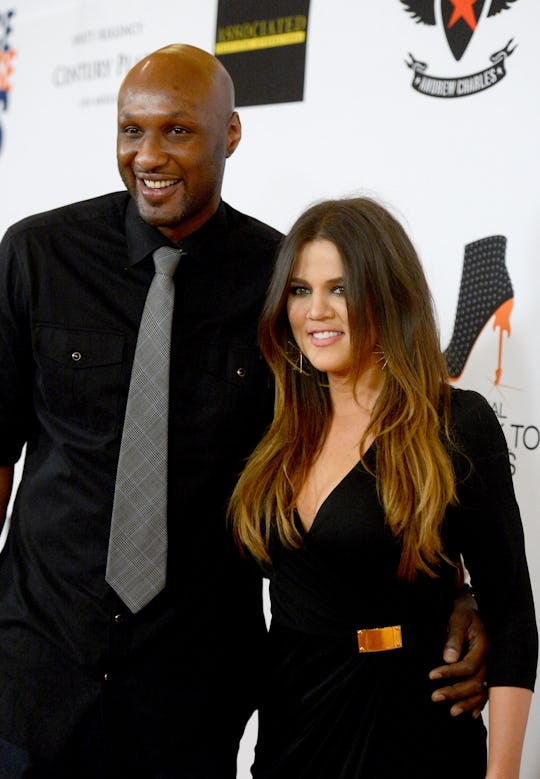 Khloe Kardashian Is Planning Lamar Odom's Birthday Party, Proving Love Transcends Relationship Status
It should be a happy birthday for Lamar Odom, thanks to a birthday celebration planned by Khloe Kardashian. Insiders told People that the Keeping Up With the Kardashians star orchestrated an intimate party in a room at the hospital to mark Odom turning 36 today. And there certainly is plenty to celebrate, considering Odom's miraculous recovery after he was found unconscious in a Nevada brothel on Oct. 13.
"It's something very small and very short but will make him feel amazing," a source told People of Kardashian's plans. "Then Khloé will be with him for the rest of the day." The source said the fête was approved by Odom's doctors with the stipulation the group had to be small "because Lamar cannot handle too much stimulus." Several of Odom's former NBA teammates plan to attend, with others calling via FaceTime in to share their warm wishes. Everyone who is present will celebrate with a cake, balloons, and party hats.
Despite being just one step away from a finalized divorce, Kardashian dropped everything to be by her estranged husband's bedside when his medical crisis began last month. Kardashian and Odom later made the joint decision to dismiss the divorce for now. Fans of the former Khloe and Lamar stars celebrated that news as though it meant the relationship was back on, but Khloe told People late last month that isn't quite the case: "It's out in the media that we are back together, but I wish people understood that's not in our thought process right now... There are too many other important things, too many medical things. It's not even in our brains thinking about us as a couple or having a relationship right now."
Complicating matters, E! News reports that Kardashian is still dating James Harden. "Khloe and James never broke up. He's been so understanding and he knows that Khloe's love for Lamar is deeper than what most people can understand," an insider said of NBA-player Harden's feelings. "He's been very understanding and supportive. Lamar has a long road ahead of him and Khloe will always have the love she has for Lamar." 
Kardashian added at the time that she's taking everything "day by day." And as her willingness to put everything aside (including her own book tour for Strong Looks Better Naked) for Odom's sake demonstrates, Kardashian's approach shows love can exist without a defined relationship status.
Image: Frazer Harrison