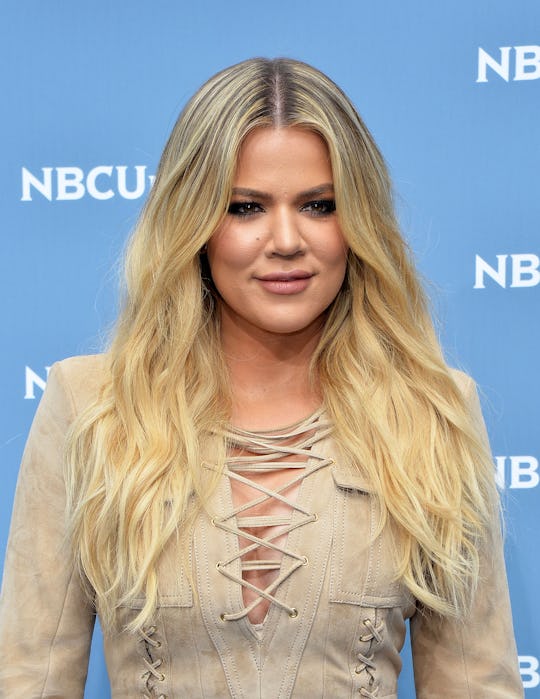 Slaven Vlasic/Getty Images Entertainment/Getty Images
Every Mom Will Totally Get Why Khloé K. Gets "Annoyed" When She FaceTimes With True Lately
As difficult as it can be to be away from your children for work obligations (or otherwise), sometimes a parent's gotta do what a parent's gotta do. Luckily though, technology makes it a lot easier to keep in touch with your kiddos — even when you can't physically be there with them. Thanks to FaceTime and Skype, parents and kids are still able to have face-to-face conversations from pretty much anywhere. However, it doesn't necessarily mean that little ones are always up for a video chat. In fact, Khloé Kardashian is "protesting" FaceTime with baby True for the most relatable reason.
On Thursday morning, Kardashian was attending an event launching her new Good American activewear line when the topic of baby True came up. And apparently, the new mom is feeling rather rejected due to her daughter's lack of enthusiasm during FaceTime calls while she's away, as Newsweek reported.
"I do get annoyed because she doesn't give me any play time on FaceTime, she like doesn't really care about me," she told a panel during Thursday's event, according to Newsweek.
What makes True's behavior even more insulting is the fact that the infant acts completely different when she's FaceTiming with Tristan Thompson. "With her dad, she smiles, and her tongue sticks out, and it's like why can't you do the same thing with me?" Kardashian added, according to Newsweek. "I'm protesting, I'm not going to FaceTime her."
LOL. Poor mama.
As Cosmopolitan reported, Kardashian also touched on the subject of getting unsolicited parenting advice — even before baby True was born — during the same panel interview. "You get so much unsolicited advice that it drives you crazy, and you get really stressed out, but you're pregnant, you're nine months, and you're like, 'What is this? You're freaking me out. I'm already in this. I don't know what to do. There's no turning back.' And people just say the craziest things to you."
Kardashian went on to say that out of all of her sisters, Kim is the one who gives that best parenting advice because she's not judgmental, as People previously reported.
But back to FaceTime for a second... Because it seems like Apple's video chat feature has played a pretty important role when it comes to baby True. If you remember, Kardashian actually revealed her pregnancy to Thompson with the help of FaceTime, as Us Weekly reported.
"Tristan was the one who kept telling me, 'I think you're pregnant!' He was leaving town to go back to Toronto and I went to get a pregnancy test," Kardashian wrote on her app back in January, according to the publication. "I actually had to FaceTime him to tell him. I was nervous and he was so excited!"
As E! News reported, True Thompson was born on April 12 of this year — which makes her just shy of 4 months old at this point. So in all honestly, I'd give it a few more months before True even realizes what's going on during a FaceTime chat. (In the meantime, I wouldn't take it too personally, Khloé.) I still totally get where the new mama is coming from. Because my husband works full-time outside of the home, I'm the default primary caregiver to my children. Even though I never actually FaceTimed my youngest when she was a baby, somehow my husband was always able to get better reactions from her when he was home. In fact, he was the one that coaxed out her first giggles. (Not fair!) Apparently, I just wasn't funny/interesting enough to warrant a laugh.
So I guess my unsolicited advice to Khloé Kardashian would be this: Sometimes, your child responds "better" to one parent or another in certain situations , and that's OK. Still, I can still imagine it would be incredibly frustrating to be missing your baby from afar, and yet she gives zero effs about seeing and hearing you on the phone. Perhaps, after a short FaceTime hiatus, baby True will fully appreciate her video chats with mama.