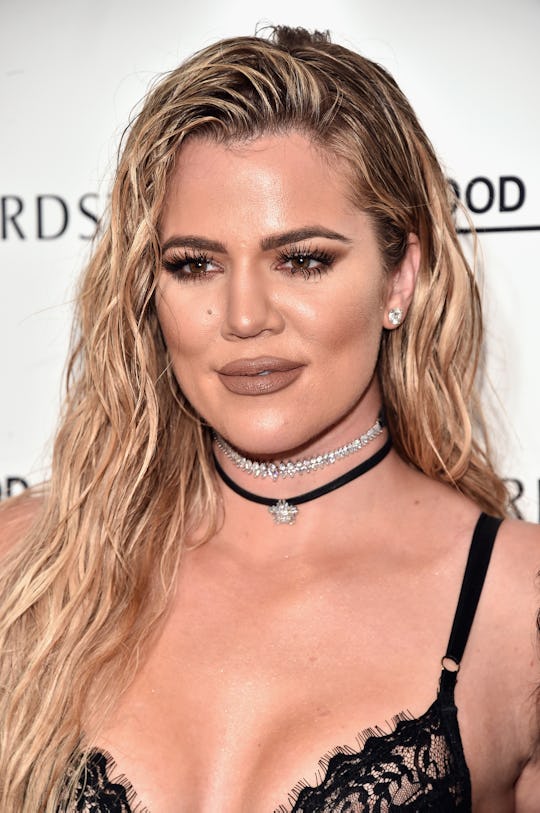 Alberto E. Rodriguez/Getty Images Entertainment/Getty Images
Khloe Kardashian Is Reportedly Expecting A Baby Boy
The news that Khloe Kardashian was expecting a baby with boyfriend Tristan Thompson was beyond exciting, but now it seems that the couple has even more great news. Khloe Kardashian is reportedly expecting a baby boy, and it's the latest update in what has become a total Kardashian baby boom bonanza. While the couple has yet to confirm the news themselves, Us Weekly reported that the reality star went for her 20-week checkup at a Los Angeles hospital two weeks ago, and learned that they would be welcoming a son together.
From the sound of it, Kardashian and Thompson's little boy will definitely have plenty of playmates: in addition to two new infant cousins (both Kylie Jenner and Kim Kardashian are said to be welcoming babies around the same time as Khloe), baby boy Kardashian-Thompson will join his older half-brother, Prince, Thompson's 10-month-old son from a previous relationship. And it also seems like his parents will be totally ready for his arrival: according to Entertainment Tonight, Kardashian told YOU Magazine in September that Thompson was already a great dad to his first son, and that they both wanted kids together. Plus, Kardashian has already had plenty of practice caring for her nieces and nephews. She told the magazine,
We do arts and crafts and bake a lot. We like to play outside and in the pool, just being goofy. I have water balloons and we have water fights. I'm like a big kid myself. At night when I babysit them we have dance parties. I love to give their moms the evening off.
Although both Kardashian and Jenner have so far stayed mum on their respective pregnancies, the sisters filmed a YouTube video Tuesday to promote their makeup collaboration, the Kylie Cosmetics In Love With the KoKo Kollection, according to E! News, and it seemed like the pregnant duo were dropping some major hints. While chatting about the different lip colors in the collection, Kardashian joked, "We created them. It's our baby together. We have eight!" Jenner's reply? "We have so many babies. Who knew?"
As for other details of Kardashian's pregnancy, well, so far it's all just speculation from unnamed sources. But those sources have told Us Weekly that Kardashian is "hungrier than ever," (because, uh, pregnancy) and that she's eating small meals throughout the day to help her stick to a healthy diet. She's also apparently staying pretty active: Us Weekly reports that the mom-to-be is maintaining her fitness routine while pregnant, but that she's swapped out her more vigorous workout elements and increased her cardio.
One Kardashian family member who is at least sort of talking is matriarch Kris Jenner. Though she stopped short at specifically confirming either of her daughters' pregnancies, Jenner told Entertainment Tonight that she was "over the moon" for Khloe, and was quick to praise her partner. Jenner said,
We love Tristan so much, and she's so happy, and she's been through so much. Just seeing her be able to do something so creative with [her denim line] Good American — that's her passion. On top of it, to be in such a great place in her personal life is amazing. She's really happy.
Another detail shared by Jenner? That Khloe and Thompson might not actually raise their little one alongside the rest of the KarJenner clan, thanks to NBA star Thompson's contract with the Cleveland Cavaliers. Jenner said, "[Khloe] lives most of the time now in Cleveland, so that's interesting, because she's not around every day."
Given all the excitement over all of the Kardashian/Jenner babies-to-be, it is a little frustrating that the family has still confirmed so little. At the same time though, given that the sisters have reportedly signed on for another five seasons of Keeping Up With The Kardashians, according to TMZ, it's probably a safe bet that plenty of pregnancy details will play out soon on reality TV.