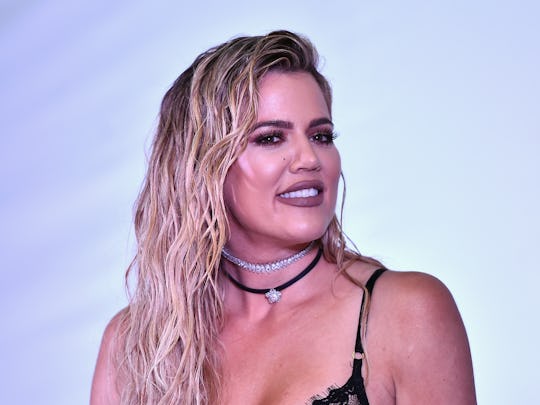 Alberto E. Rodriguez/Getty Images Entertainment/Getty Images
Khloé Kardashian Is Reportedly Having Contractions, & Her Family Is OTW To Cleveland
You might want to sit down for this one, Keeping Up With The Kardashian fans. Following nine months of anticipation and excitement, TMZ reported on Wednesday that Khloé Kardashian is reportedly having contractions. Translation: Kardashian's baby girl *might* arrive any minute. The good news is Kardashian's loved ones are supposedly on their way to Cleveland, Ohio, to lend their support during this special time.
For the past few weeks, Kardashian's fans have anxiously awaited the arrival of her first child. Heck, even Kardashian expressed frustration that her little one hadn't arrived yet. "We are ready whenever you are little mama," Kardashian captioned an Instagram post on Tuesday.
So, is it finally go time for Kardashian? As it turns out, Kardashian is supposedly having "early contractions" and it's possible that she could deliver the baby "soon," according to TMZ's report. But what's a bit troubling about this rumored development is that Kardashian reportedly isn't due until late April. Sadly, one has to wonder if the cheating allegations about her boyfriend, Cleveland Cavaliers player Tristan Thompson, is somehow related to her supposed early labor. Of course, this is all speculation, and neither Thompson or Kardashian have addressed the scandal publicly.
Drama aside, it sounds like Kardashian will be surrounded by her family members throughout her delivery. Kris Jenner reportedly flew out to Cleveland on Wednesday morning, and Kim Kardashian (plus her gaggle of siblings) will supposedly touch down in the city sometime between Thursday and Friday, according to TMZ.
As for Thompson's whereabouts, that remains unclear. One can assume Thompson is in Cleveland because it's the Cavaliers last home game of the season, but who knows.
What is obvious, however, is the sympathy fans have for Kardashian during this sensitive time.
"That stress is probably putting Khloe into early labor," one fan tweeted. "I feel bad. Pregnancy is hard. But i mean, what else was expected? It's all sad really."
"I truly wish her well during her labor," someone else added. "It is hard enough going through it when all seems right in your world, but now? It's very selfish of him to take this moment and tarnish it for her."
Another commenter chimed in: "Y'all done sent Khloe into labor with this foolishness. I feel so bad for her rn."
Fans have also taken to Jenner's Instagram account to send words of encouragement.
"Please destroy tristan and take care of khloe," one particularly concerned follower wrote to Jenner.
Another fan added: "Ok boss momma it's time to destroy Tristan let's go.. Nobody does this to ur babies... Protect ur cubs."
"@krisjenner can you go save @khloekardashian," someone else asked.
Although Jenner has yet to speak out on Thompson's alleged infidelity, sources claim she is extremely disappointed by the rumors. "They are heartbroken for Khloé," an insider said about the family's frustrations, according to People. "They didn't realize how deceptive Tristan could really be."
Furthermore, the famous fam is reportedly trying to keep Kardashian away from the news until things die down. "Khloé is absolutely devastated," a supposed source explained, according to Yahoo. "Everyone is trying to make sure she sees as little [of the news] as possible."
Well, it sounds like Jenner and co. are doing the best they can at the moment to keep Kardashian's spirits up during this trying time. And it goes without saying that this type of support is *so* important right now given Kardashian's less than ideal circumstances — stress is not healthy for a pregnant person.
So, here's to hoping that if Kardashian is in labor, it goes as smoothly as possible. Fans, along with Kardashian's loved ones, only want what's best for her.