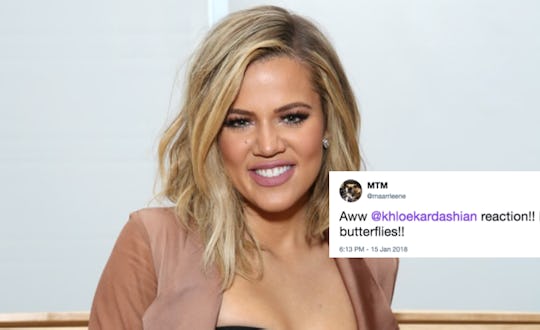 Cindy Ord/Getty Images Entertainment/Getty Images
The Moment Khlóe Kardashian Found Out She Was Pregnant Has Fans Tearing Up
In case you've been living under a rock for the past several months, the world has been abuzz with the fact that Khloé Kardashian is currently with child. Fans have been anxiously waiting to see when this would be revealed on Keeping Up With The Kardashians, and now the time has finally come. Khloe Kardashian learned that she's pregnant on KUWTK and it was all documented on Monday night's episode, and the internet is thrilled to finally see how it all played out on TV.
"I'm pregnant ... and I felt that I was," Khloé said as she showed her assistant a positive pregnancy test, which had two confirming lines that were "clear as day."
"I'm super nervous, but really excited," she said in a confessional moments after. "There's a million different emotions going on in my brain, but I think I'm in a state of shock, I almost can't believe it, but a good shock."
Khloé went on to explain that she and boyfriend, NBA player Tristan Thompson, would start trying to have kids in August and explained that she went off birth control a couple months prior. The episode then transitions into the couple's big reveal to both of their families.
"I think it's perfect timing that my family's here and all your family's here to unite as one... and we have an announcement KoKo, wanna throw the hammer down?" Thompson says. "We're having a baby!" Khloé then exclaims as everyone screamed and jumped up to hug them. "Yes we are!"
It was an incredibly sweet moment that both fans and Khloé are so happy that was caught on camera. Khloé even took to Twitter on Monday night to share how "good" it felt to tell everyone she's pregnant.
Now that Khloé has revealed her pregnancy on KUWTK, fans are also crying tears of joy after being able to watch the moment she learned she was pregnant and broke the news to their families.
Fans Can't Stop Tearing Up
Last year, whispers and tweets started spreading that Kim, Kylie, and Khloé were all having a baby. Kim was the first to confirm these rumors, revealing that she and her husband Kanye West were expecting their third child via surrogate in a preview for an episode of KUWTK. On the phone with sister Khloé she squealed, "We're having a baby!"
Since then, naturally, Kardashian-scholars all over the world have been watching the show to see if either Kylie or Khloé would also admit that they are pregnant as well. Weeks turned into months as no announcement was made, with viewers turning instead to the sisters' social media accounts in the hopes of getting a clue.
Kylie, who was mysteriously MIA during the Khloé's pregnancy announcement on Monday night's episode, has still remained silent on the matter of her rumored pregnancy. But luckily, Khloé didn't keep her fans in the dark for too long and shared the exciting news in an Instagram message in late December.
"My greatest dream realized! We are having a baby!" Khloé wrote on Instagram when she first confirmed her pregnancy. "I still at times can't believe that our love created life!" She went on to thank Thompson in her post:
Tristan, thank you for loving me the way that you do! Thank you for treating me like a Queen! Thank you for making me feel beautiful at all stages! Tristan, most of all, Thank you for making me a MOMMY!!! You have made this experience even more magical than I could have envisioned! I will never forget how wonderful you've been to me during this time! Thank you for making me so happy my love! Thank you to everyone for the love and positive vibes!
With this sweet moment captured on camera, fans can only hope that she'll continue to share more details about this journey. And, fortunately, fans can expect to learn the sex of her and Thompson's baby on an upcoming episode. In fact, Khloé revealed in a tweet that this news will break on the hit reality show, although it's not clear exactly when it'll happen.
Even though fans already knew that Khloé is currently pregnant with her first child, it's undeniably exciting to watch these exciting moments unfold. Hopefully more will be shared before her baby-to-be arrives, which should reportedly happen sometime in April.
Check out Romper's new video series, Romper's Doula Diaries:
Watch full episodes of Romper's Doula Diaries on Facebook Watch.