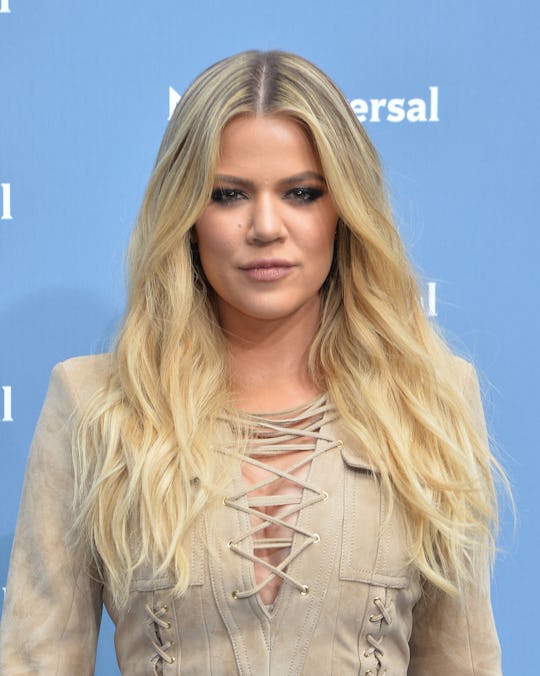 Slaven Vlasic/Getty Images Entertainment/Getty Images
Khloe Kardashian Makes Her First Public Appearance Since The Pregnancy Reveal
Keeping Up with the Kardashians has already been on the air for a decade and just started Season 14 of the hit reality show. So while one might expect the storylines for the show to slow down, the surprises keep on coming with the Kardashian family, including three new reported pregnancies from the Kardashian sisters. In September, People confirmed that Kim Kardashian, Khloe Kardashian, and younger sister Kylie Jenner are all reportedly expecting their own children. While not much is being said by the sisters themselves, Khloe's first public appearance since the pregnancy reveal didn't necessarily answer any of these rumors and has left a lot more up in the air.
After struggling with getting pregnant for so long, according to the Daily Mail, Khloe would have a lot to celebrate with the news of her reported pregnancy, should these rumors be true. But on Saturday, she was only publicly celebrating the one year anniversary of her denim line with Nordstrom, Good American. Dressed in an all black outfit, Khloe looked absolutely incredible in the photos from the event, proving that her "revenge body" training has been well worth all of the hard work. And because Khloe was attending the event to talk about her fashion line's success, that is what she focused on — not any of the other very exciting news that might be circulating around about her reported pregnancy.
Romper has reached out to Khloe's representative for comment, but has not heard back by this time.
When it came to questions about her body, according to People, Khloe ignored mentioning anything about those pregnancy rumors. Instead, Khloe talked about embracing her body size and type, according to People:
My weight fluctuates all the time and I love that at any size I feel comfortable. When I was bigger and wore bigger clothes I looked even bigger. I love embracing my curves no matter what size I am.
Still, despite her efforts to divert from the topic, internet sleuths had their own comments and grabbed photos of Khloe at every angle.
"Looking for the bump like," one Twitter user wrote. "You mean her non-existent baby bump?," another Twitter user commented.
According to People, Khloe is avoiding talking directly about the pregnancy rumors, and that is totally fine. Khloe has every right to talk about her pregnancy when she wants to on her own terms. Just because everyone is talking about, it doesn't mean that Khloe has to.
In a way, Khloe has already addressed the pregnancy rumors. On Instagram, people were commenting on a photo of Khloe taken from a Good American photoshoot, stating they could see her bump, according to Glamour. But in the comments, Khloe was quick to shut those people down. Khloe said, according to Glamour, that the shirt made her look wider and that, in other photos, she is wearing a crop top showing a lot of skin (therefore implying that she might not be pregnant). However, it could be that these photos were taken before Khloe was pregnant or in her early stages of pregnancy.
But you can see why people might be anxious for Khloe to speak about her reported pregnancy. In late September, People confirmed that Khloe was expecting her first child with Cleveland Cavaliers basketball player, Tristan Thompson. A source told People that Khloe and Thompson were thrilled, but were trying to keep a low profile. "This isn't something they were in a rush to announce to the whole world, and it's only been in just the past week or so that they've felt comfortable telling their whole inner circle," the source said.
In the mean time, Khloe and her beau have been keeping an incredibly low profile, spending time in Indiana, according to E! News, rather than the paparazzi-filled California. The couple has been dating for a year, according to People, and in the premiere episode of Keeping Up with the Kardashians last week, Khloe did admit that she wanted to have kids with Thompson eventually. Khloe said, according to E! News, "I honestly wish we could just be together and when it happens, it happens," Khloe said on the show. "When you make plans, god laughs."
It might be only a matter of time before Khloe confirms (or denies) the rumors. Until then, though, fans will have to sit tight and listen to her comments as they come in.
Watch Romper's new video series, Romper's Doula Diaries:
Check out the entire Romper's Doula Diaries series and other videos on Facebook and the Bustle app across Apple TV, Roku, and Amazon Fire TV.