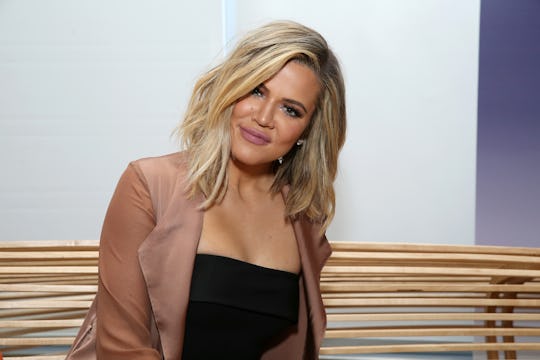 Cindy Ord/Getty Images Entertainment/Getty Images
Khloé Kardashian Says This Product Made Night Feedings *So* Much Easier
It has only been a few months since Khloé Kardashian gave birth to her daughter True, but it seems like she's already gone out of her way to share so many of her tips and tricks with fans. Whether it's what went into her hospital bag or the kind of wallpaper she uses in her nursery, Kardashian is not short for mom hacks, which is why when she says something is life-changing, she really means it. Khloé Kardashian says this product saved her life as a mom, and it's actually something you could pick up at your local hardware store.
In a new blog post on her website, Khloé With a K, Kardashian opened up about the lighting trick that's helped her feed true. "Words I never thought I'd say: A red light bulb has changed my life," she began. "I'm not kidding! I've been using one during True's late-night feedings because a red light doesn't really interfere with a baby's sleep. As opposed to white or blue light, which tricks the brain into thinking it's daylight, a red light has a much higher wavelength and doesn't inhibit the body's secretion of melatonin, the hormone that helps you sleep. So right after she's done eating, she easily goes right back to sleep for the night."
Kardashian even revealed that her favorite brand is Lucero Smart Bulb, because you can control it with an app on your phone. But if you don't have a baby to keep you up late at night, Kardashian explained that you could still potentially benefit from a red bulb. "Who doesn't love a little mood lighting, right?" she continued. "It's perfect for parties, relaxing, and Netflix and chilling, LOL. You can even schedule a specific color to go on just as you're waking up so you can ease into the morning with a soothing light."
But mood lighting isn't the only trick Kardashian has up her sleeve. People reported that she also talked about the specific stroller she uses on walks with her daughter. "True and I made it out of the house! It's perfect springtime weather in Cleveland, so we hit the park and it was so much fun," she wrote in another blog post. "I covered our Nuna Mixx stroller with a swaddle to protect little mama from any sun (also in hopes that it would help her catch a snooze, lol)."
Another product that Kardashian has been open about relying on is True's crib, which Harper's Bazaar reported is somewhat of a family affair: her sisters Kim Kardashian West and Kourtney Kardashian also used a Lucite Vetro crib for their children. "It's feminine but still cool, which is the vibe of the nursery," Kardashian explained on her Instagram story, where she gave fans a tour of True's room.
Is clear that Kardashian is an amazing mom who will do anything she can to make sure her daughter is happy and comfortable. When she first got pregnant, Us Weekly reported that she said it was her "greatest dream realized," and in another interview, she said that having a child put so much into perspective for her. Kardashian told Ross King on the U.K. morning show Lorraine:
I mean, people say that once you have a baby your life really begins and you're going to realize everything you were doing was nonsense. But honestly, I'm so happy that this is happening in my life right now. I feel so ready … I feel the timing really is perfect and I do feel like, I mean, it's going to be so exciting, everything that's about to happen.
Happen it has, and whether she's picking out perfect accessories or getting real about everything from breastfeeding to late nights up with her daughter, Kardashian is making motherhood her own.