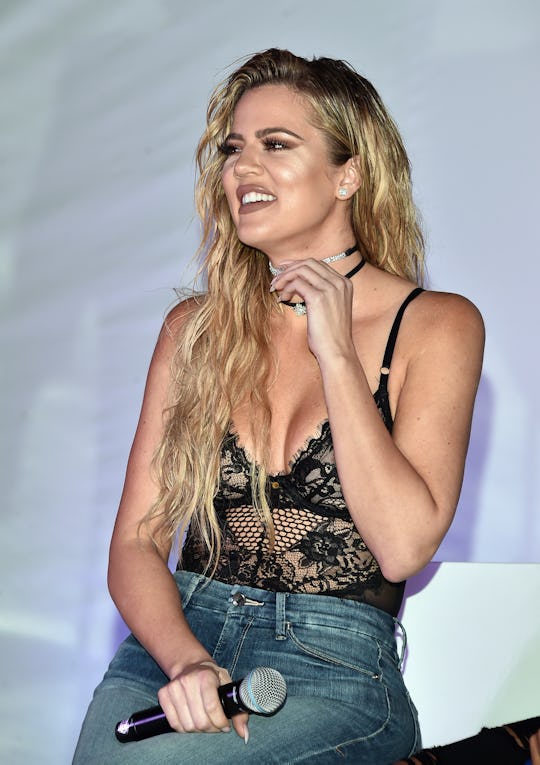 Alberto E. Rodriguez/Getty Images Entertainment/Getty Images
Khloe Kardashian's Photo Of Dream Is So Sweet
The Kardashians may or may not be totally approving of Rob Kardashian's rocky relationship with Blac Chyna, but when it comes to their daughter, Dream, it's clearly an entirely different story. Case in point? Khloe Kardashian posted a photo of Dream to her Instagram account Tuesday, and in it, the two look completely smitten with one another. In the pic, Khloe can be seen holding her two-month-old niece, who has a huge smile on her face, while Kylie Jenner stands beside them. As for the caption, Khloe kept it short and sweet, simply writing, "Dream," along with a heart-eye emoji, according to Us Weekly.
It's a super loving moment, but given Khloe and Rob's feud prior to Dream's birth, it wasn't always clear whether or not she'd be close with her brother's first child. According to The Daily Mail, the once-super-tight siblings didn't speak to one another for over a month as a result of Rob's relationship with Blac Chyna — and the fact that they didn't give Khloe and her family the heads up about Chyna's pregnancy before announcing it to the world. The feud played out on Keeping Up With The Kardashians — along with Kris Jenner's attempts to help her children bury the hatchet — but their truce was pretty short-lived.
In September, Rob took to social media to skewer his famous family for reportedly throwing a baby shower in his honor, yet not actually inviting his pregnant fiancée. After tweeting that his mom and sisters "must have lost [their] damn minds," he followed it up with a second tweet, in which he appeared to share Kylie's phone number with his followers. But according to Entertainment Tonight, the argument was all one big misunderstanding: a source told the outlet that Chyna actually couldn't make it, and that she'd previously discussed it with Rob's sisters, but Rob was unaware. The source said,
Rob was told that the shower was still going on for him but Chyna couldn't make it, but he misunderstood the entire thing and overreacted. The girls knew Chyna couldn't make it, and Chyna was cool with it, but Rob thought something was being done behind closed doors to make sure she couldn't be there.
In fact, the Kardashians' reported dislike for Chyna might be much less an issue than it actually seems. The source told ET that Rob's family "thank[s] her every day for coming into Rob's life and changing him," and noted that Rob is "such a better person with Chyna, and all the girls see that."
Either way though, the one thing it looks like they can all agree on is that Dream is a total sweetheart. In addition to having her own Instagram account (with 950,000 followers!), Dream is a regular fixture on her family's social media accounts as well. And from the looks of Khloe's latest post, it seems like the Kardashian love-fest is totally mutual.