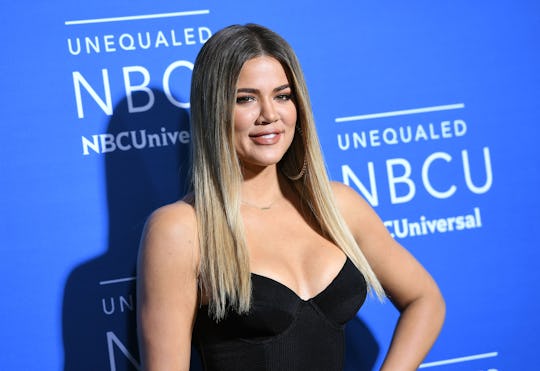 ANGELA WEISS/AFP/Getty Images
Khloe Kardashian Pregnancy Updates Continue The Long String Of Clues
Anyone attempting to keep up with the Kardashians these days is in for a headache. In rapid-fire fashion, two separate pregnancies were alleged in the Kardashian-Jenner camp in a matter of days. The most recent reported mother-to-be is Khloe Kardashian. Updates on her pregnancy are few and far between, and at this time Koko has yet to even confirm the rumors, but here's what we've got so far. (Kardashian's representative has not responded to Romper's request for comment.)
TMZ first broke the news of Khloe's pregnancy by boyfriend Tristan Thompson on Sept. 26, sharing a few details that came from multiple alleged inside sources. According to TMZ, the sources said that Khloe was three months along at the time, had conceived naturally, and still did not know the sex of her baby. Since that first announcement, the details released by TMZ were circulated by a number of news outlets, but not much else surfaced aside from additional unnamed sources "confirming" the rumor. One such source told People:
Yes, Khloe and Tristan are expecting and they are absolutely thrilled. This isn't something they were in a rush to announce to the whole world, and it's only been in just the past week or so that they've felt comfortable telling most of their inner circle.
There was reportedly some concern that Khloe's announcement would dim the shine of sister Kylie Jenner's recent announcement, which may have been cause for some of the secrecy.
The same source said as much to People and also added that Khloe is confident Thompson is the right person to have children with:
This is something Khloe has wanted for years and years and yet it's more than that: she didn't want it unless she was in the right relationship for it. She never let it happen with Lamar, intentionally, and she never considered it with James or French or anyone else she has seen. But this is such a wonderful moment for her: not only is she going to be a mother, she is going to be raising a child with a man she truly loves. Everyone is over the moon for them both.
Much to the dismay of fans everywhere, there was no official confirmation of either Khloe's or Kylie's pregnancy on Sunday's episode of Keeping Up With The Kardashians. In fact, Kylie didn't even make an appearance on the episode. But the episode did feature a look into Khloe's life in Cleveland with Thompson and what can only be described as the most anti-climactic discussion of pregnancy by two reportedly expectant parents in the history of humanity. Khloe said, "When you make plans, God laughs," and added that she could have kids with Tristan "in the next 70 years." What.
Also premiered on Sunday night was a teaser trailer for the new season of KUWTK that showed Kim Kardashian confirming rumors that she and Kanye West are expecting a baby via surrogate, but no word on any other pregnancies. Interestingly, Kourtney Kardashian mentioned that she would be willing to have another child with Scott Disick if surrounding circumstances were "right," but told her family not to "get ideas." Given Disick's recently confirmed relationship with model Sophia Richie, I wouldn't be so quick to assume that Kourtney is the next in line to announce a baby.
The show has not shied away from confirming news of the family, such as Kim and Kourtney's past pregnancies months after rumors began circulating, according to BuzzFeed, which likely had fans expecting some news of the more recent unofficial announcements. When the show failed to provide, many fans were more than a little disgruntled.
While there was sadly no visible bump, Khloe was spotted this weekend out and about with Thompson for the first time since the news of her alleged pregnancy hit the internet. She was wearing a loose, baggy sweatshirt that may be hiding a baby bump. Also this weekend, Thompson posted a sweet video of the two of them cuddling in which Khloe's stomach is conveniently hidden behind him.
The lack of official comment on the pregnancies has fans looking for confirmation elsewhere, including the depths of social media. An Instagram post by Kim in early September featuring the three reported moms-to-be captioned "The 3 of us..." has many fans believing that Kim herself confirmed the pregnancy early on. Another popular theory is that Khloe herself cryptically confirmed her pregnancy back in June with a post labeling the two "mom" and "dad." TMZ reported that these were just the couple's pet names for one another, keeping anyone from thinking much until news of Khloe's alleged pregnancy broke.
As fans around the world (not so) patiently await word from Khloe on her rumored pregnancy with Thompson, they are forced to rely on theories and whatever updates make their way out of the Kardashian-Jenner universe. Who knows, maybe the next KUWTK episode will be a bit more satisfying.
Watch Romper's new video series, Romper's Doula Diaries:
Check out the entire Romper's Doula Diaries series and other videos on Facebook and the Bustle app across Apple TV, Roku, and Amazon Fire TV.