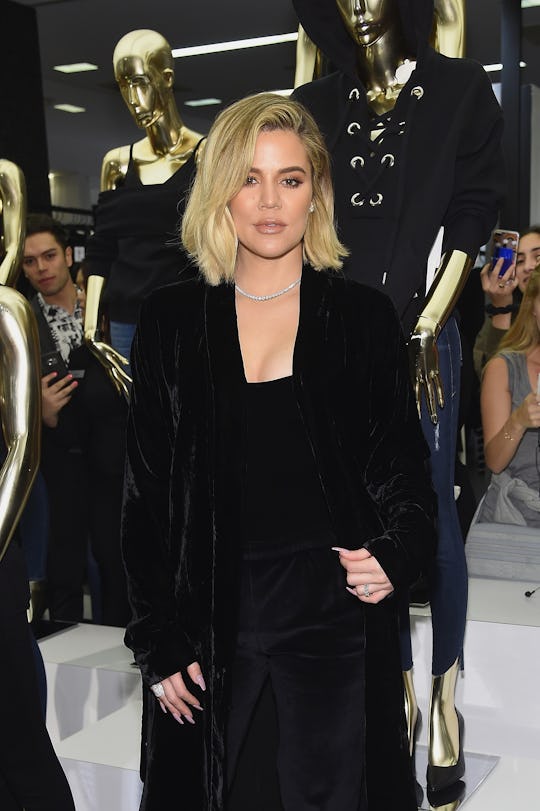 Jamie McCarthy/Getty Images Entertainment/Getty Images
Khloé's Response To A Fan Calling Her "Passive" About The Tristan Rumors Was So Classy
The newest KarJenner mama is not here for other people's drama... or rumors about her relationship. After a month and a half of speculation on where she and Tristan Thompson really stand, Khloé Kardashian responded to a fan who called her too "passive" about the Tristan rumors in the best way.
On May 30, a fan tweeted at Kardashian referencing some of her now infamous cryptic Instagram story posts, suggesting that in the future, she'll look back on this time of her life and wish she responded differently. "A year from now @khloekardashian will be over all this and feeling salty for her super passive IG posts," they said. "She's just in the stage of 'but I love him' Until then let her pretend he's changed and they'll be a happy family." She tagged the post "#WednesdayWisdom."
However, Kardashian wasn't just going to let that comment slide, and she promptly responded in her own defense, noting that she never confirmed her posts were about Thompson, and that, well, people should just mind their own business. "Babe that's not wisdom at all because you're assuming you know who I'm talking about and you're assuming you know my feelings. Assuming anything is anything but wisdom."
People reported on May 21 that Kardashian uploaded an Instagram story with the following quote: "Your mind will always believe everything you tell it. Feed it faith. Feed it truth. Feed it with love." While it seemed as though it could be a dig at Thompson, a Cosmopolitan survey revealed that more fans thought it was a message to the media who was, at the time, scrutinizing Kardashian and her relationship to an agonizing degree.
But Kardashian's comeback actually made a really great point: not only is it unclear who her messages are directed at, it's nobody's place to be judging her regardless. There's no right way to handle a situation like this, and however Kardashian deems it best for herself and her family is ultimately what's correct for them.
The "situation," of course, is the cheating scandal that went down days before Kardashian was due to give birth to her daughter. The Daily Mail and TMZ each released footage that purported to show Thompson cheating on Kardashian with multiple women. Thompson nor Kardashian's reps responded to Romper's immediate request to comment.
Though Kardashian has not yet released any official statement addressing the rumors, some members of her family have. During an appearance on The Ellen DeGeneres Show, Kardashian described the situation as follows: "Like I don't even know how to describe it besides it's just so f*cked up." She continued:
We really were rooting for Khloé, and we still are, you know. She's so strong and she's doing the best that she can — it's a really sad situation all over. I kind of made this rule... if there's a baby involved, I'm going to keep it cute, and keep it classy, and not talk too bad. I'm going to try not to say anything so negative because, one day, True is going to see this and you know, it's so messed up.
On Friday, Us Weekly reported that Kim's husband Kanye West has also officially shared his thoughts on the couple, as he rapped in his new album: "All these THOTs on Christian Mingle / Almost what got Tristan single / If you don't ball like him or Kobe / Guarantee that b*tch gonna leave you."
Other than that, the rest of the family has remained mum on the rumors, though there are other signs that Kardashian has been trying to make it work with Thompson. For example, she stayed in Cleveland for a while after True's birth, and she gave the baby his last name. An insider told E!: "Although she is crushed by the scandal, Khloe desperately wants things to work and wants to have a complete family."
Be that as it is, it drives home the point that Kardashian is handling the situation in the best way she sees fit. Though fans may feel close to the family after 10 years of watching their lives unfold on TV, they are technically strangers, and as outsiders, it's no one's place to judge.