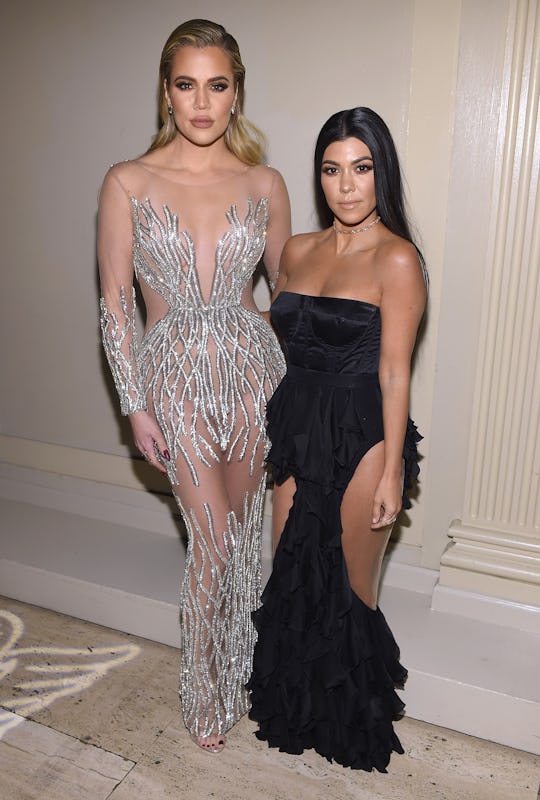 Dimitrios Kambouris/Getty Images Entertainment/Getty Images
Khloé Threw So Much Shade At Younes Bendjima Following His Reported Split From Kourtney
No matter how many fights the Kardashian sisters get in to on Keeping Up With the Kardashians, fans know that at the end of the day, the sisters are there for one another through thick and thin. After Kourtney Kardashian and her boyfriend, Younes Bendjima reportedly split this week, Khloé Kardashian was there to stand up for her big sister. Although they just had a big fight on Sunday night's episode of KUWTK, Khloé's response to Kourtney's reported break-up with Younes Bendjima was filled with shade. Romper's request for comment from Kourtney Kardashian's rep regarding the reported split was not immediately returned.
Kourtney and Bendjima reportedly "called it quits" on Tuesday, according to People. Although the reason for their reported split is a little unclear, some people drew conclusions after photographs were taken of Bendjima purportedly showing him hanging out with another woman, according to TMZ.
Bendjima quickly took to social media to set the record straight. "They really want me to be the bad guy," Bendjima wrote on his Instagram Story on Tuesday. "Can't have fun with your friends no more."
But Khloé, who has had her own fair share of relationship drama, reportedly had enough — taking to the comment section of a screen cap of the story, reposted by The Shade Room, to voice in on the matter. "Alexa play 'Heard It All Before' by Sunshine Anderson," Khloé commented.
Kourtney's younger sister, Kim Kardashian, also chimed in with some serious shade of her own. "Nice pics from your 'boys trip'," Kim wrote in the comments section of another repost from The Shade Room, followed by an emoji with a long nose.
A little confused why Khloé would be typing a command to Alexa in the comments of an Instagram post, rather than typing it? Don't be. "Alexa, play..." is a popular meme, according to New York Magazine, where people ask their Amazon Echo to play a song for what they think is "a tragedy." Typically, "this is so sad" is said before "Alexa play," according to New York Magazine. Given Khloé's great sense of sarcasm, it's likely that she doesn't think the post is sad, and at some point in her life, has heard things like this said before.
Khloé, of all people, understands what it is likely to have her private relationship drama aired out in public. In April, shortly before she gave birth, Khloé's boyfriend, Tristan Thompson had been accused of allegedly cheating on her, according to the Daily Mail, after a video emerged of Thompson purportedly kissing another woman. Thompson and Khloé's reps did not immediately respond to Romper's request for comment.
And since then, Khloé has spoken up about the allegations, according to ELLE. In a tweet written in June, Khloé told fans to respect her privacy and her relationship. "...You have no knowledge of what goes on in our household or the enormous rebuilding that it even takes to coexist," Khloé tweeted, according to ELLE. "I'm proud of my strength. I appreciate your opinion and I hope you hold that same opinion to everyone else who has stayed in situations."
Throughout her whole relationship, Khloé's sisters stayed loyal to her, standing behind her and every decision she made in her relationship. In April, during an appearance on The Ellen Show, according to Cosmopolitan, Kim said that their family was going to stick by Khloé's side, no matter what decisions she made in her relationship, according to Cosmopolitan. "We really were rooting for her and we still are," Kim said. "She's so strong and she's doing the best she can. It's a sad situation all over."
It's clear that both Khloé and Kim will support Kourtney — no matter what goes on in her relationship, even if the most recent episode of KUWTK, showed the sisters getting into a pretty big fight. The best thing about having sisters is that they will support you and stand up for you, no matter what happens. "I was just raised, you know, that blood is thicker than water and family first, and that's what keeps us sane," Kim said in an interview with Extra in July.
Khloé and Kim's responses to Bendjima's Instagram Story show that the family bond is strong with the Kardashians.