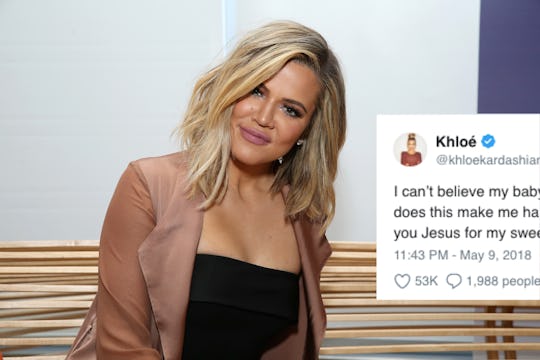 Cindy Ord/Getty Images Entertainment/Getty Images
Khloé K Tweeted For The First Time Since Having Her Baby & New Motherhood Looks Good On Her
It feels like yesterday that Khloé Kardashian delivered her baby girl, True. But on Thursday Khloé returned to Twitter for the first time (aside from sharing links to her app) to talk about the most relatable mom moment ever: True turns one month old tomorrow, and Khloé is feeling all sorts of feels. She and Cavaliers star Tristan Thompson welcomed their daughter around 4 a.m. at a hospital outside Cleveland on April 12, according to E!, but it seems that time has flown by.
Update: On Thursday afternoon, a fan tweeted at Khloé, referring to True, "i thought she was 1 month on 12th May?!" And Khloé responded, "Guess what... until this tweet I thought it was the 12th the entire day lol so, technically you are right. Lol I'm so immersed in feedings, sleeping and diapers -REPEAT!! Wow lol ok so we have two days." Poor gal was two days ahead of herself. Talk about a seriously legit new mom moment. Hang in there, Khloé!
Previously: The couple announced they were expecting their first child together via Instagram on Dec. 20, 2017, according to Us Weekly — they'd began dating in September 2016 and were excited to share the news with their followers. Time seemed to move quickly, as Khloé then revealed the sex of her baby on the season finale of Keeping up with the Kardashians back in March, just before she threw her daughter an epic baby shower full of pink balloons, TMZ reported. Then she delivered in April, announced the baby's name shortly thereafter, and, suddenly, a whole four weeks have flown by before the new mom's eyes.
Early Thursday Khloé tweeted about her disbelief that her baby will be a month old tomorrow. She asked, "Why does this make me happy and sad all at the same time?" And she expressed just how thankful she was: "Thank you Jesus for my sweet peanut."
Her tweet sums up the most relatable mom moment ever, since most moms have probably felt the bittersweet joy that is the first few months of parenting: your baby is growing so quickly, and it's beautiful, but it's also a little sad, because the newborn days are over.
For Khloé, it's been a long time coming, too. She's wanted to be a mother for years when the time was right, and she's finally able to see that to fruition and watch her daughter grow up before her eyes.
"My house is the fun house for my nieces and nephews," Khloé told Mail on Sunday's You magazine back in August 2017. "We do arts and crafts and bake a lot. We like to play outside and in the pool, just being goofy." She added that she has water balloons at home and she'd have water fights with her nieces and nephews, as well as dance parties, because she feels like "a big kid" herself. "I love kids," she told Cosmopolitan in February 2014. "I hope and pray I have kids when the time is right."
And when she met Thompson, she said that she finally felt that maybe it could be the right time. She wasn't putting any pressure on their family plans, but she reportedly felt it in her soul, according to The Evening Standard.
"I would love to have a family," she told The Evening Standard in April 2017. "He [already] is a father and I know for a fact that he would be an impeccable father. I definitely want to be a mom, but I don't put the pressure on it." She said the clock wasn't ticking for her, so she didn't feel the need to rush anything.
And now, True is finally here and, needless to say, watching her turn a month old probably feels surreal for the new mom.
Now followers of the Keeping up with the Kardashians star are probing for photos of the newest addition. "WHEN DO WE GET TO SEE HER!?!?!" one fan commented. Another asked, "When are we seeing our peanut vele?" And another tweeted, "We would love to see True but honestly take all the time you need! She is going to have such a public life so she deserves all the privacy she can get!"
Although one month has already passed us by, like all new moms, Khloé deserves all the time in the world to spend with her little one in privacy.