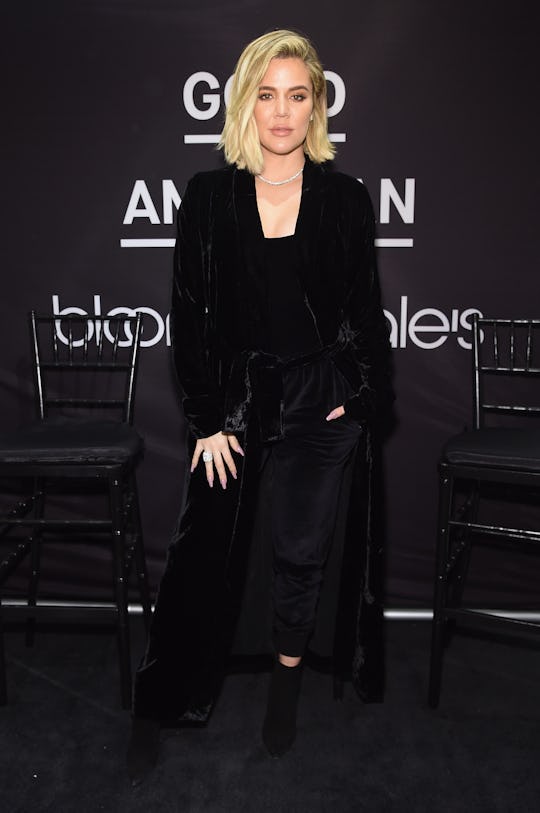 Jamie McCarthy/Getty Images Entertainment/Getty Images
Khloe Kardashian Revealed Her Mother's Day Plans & They're Surprisingly Low Key
2018 is proving to be a huge year for Khloé Kardashian. She welcomed the year relishing the fact that she was pregnant, kicked off a new season of her E! reality show, Revenge Body with Khloe Kardashian, released her maternity denim line, Good Mama, and finally gave birth in April to a daughter named True. Needless to say, her life has been going pretty well and it's about to get even more eventful when she celebrates her first Mother's Day. If you were ever curious about what she plans to do this weekend, Khloé Kardashian revealed her Mother's Day plans and they're not exactly what you'd expect — she isn't doing much.
Mother's Day is the one opportunity for kids to really go all out and show their parents how much they mean to them. It's also the one the day for moms to really be celebrated (not that they aren't enough). It really is an exciting day for all moms and their kids, so it shouldn't come as a surprise that Khloé is excited for her first Mother's Day — even if her daughter, True, is too young (she'll be a month old on Mother's Day, according to Us Weekly) to know what Mother's Day is.
In a post on her app, according to People, Khloé revealed that she plans on keeping this Mother's Day pretty low key, taking the day to relax and spend time for herself. Not that there is anything wrong with that.
Khloé detailed her plans for Mother's Day on her app, according to People:
As of now, there aren't any special plans (that I know of, LOL). I'm really enjoying spending quality time with True and loving just hibernating with her.
This means that Khloé will spend the holiday over the weekend in Cleveland, Ohio, where Khloé currently lives with True, according to People, and where True's father, Tristan Thompson, plays basketball for the Cleveland Cavaliers (and they're currently in the NBA playoffs). Cleveland is the same place where Khloé gave birth to True, according to Us Weekly, and where she has been raising her child for the past month. It's understandable why she might want to keep her first Mother's Day a little low key — her family lives in California and she is busy spending every moment raising her young daughter.
But that isn't to say that Khloé won't miss spending time with her family this Mother's Day, especially since there are so many powerful moms (like her mom, Kris Jenner, and sisters, Kourtney and Kim Kardashian) in her family. "I've always loved Mother's Day and celebrating Kris Jenner, MJ, and my sisters — but this year will be even more special because now I'm a mommy, too!," Khloé wrote on her app, according to People.
This isn't the first time that Khloé posted about Mother's Day on her app, according to Cosmopolitan. Last week, Khloé said that this upcoming Mother's Day felt like an even bigger occasion to "honor all of the amazing women" in her family, now that she was a mom herself. Some people interpreted this as Khloé wanting to spend time in California on Mother's Day to be with her family, according to Elle, especially since it will be the first Mother's Day for her younger sister, Kylie Jenner, as well.
But judging from Khloé's newest post on her app, spending this upcoming Sunday with her family won't be likely, but you shouldn't be sad for Khloé. At the end of the day, she will have a lifetime of Mother's Days to make up for her first one being a little uneventful.