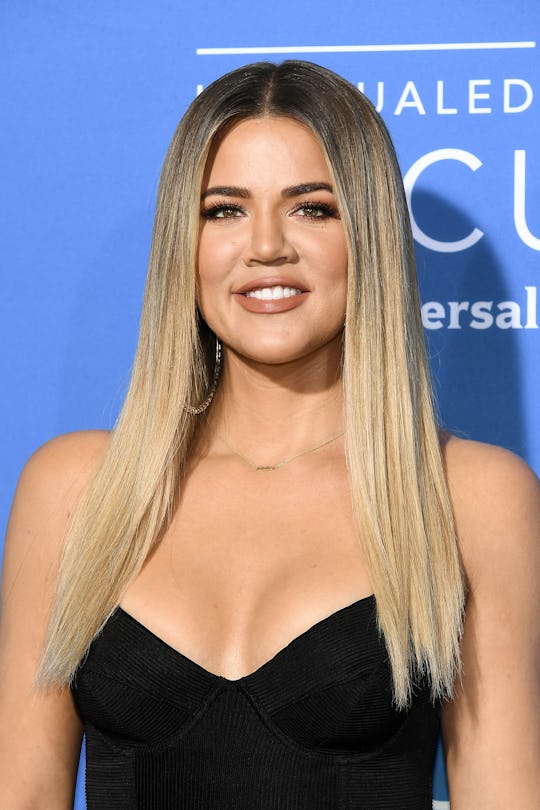 Dia Dipasupil/Getty Images Entertainment/Getty Images
Khloe Kardashian Revealed How Far Along She Is & Fans Are So Excited
Fans of Keeping Up with the Kardashians received an early Christmas present last week when Khloé Kardashian finally confirmed she is expecting her first child with boyfriend Tristan Thompson. Rumors had been swirling since reports of a pregnancy began back in September. Yet somehow, the sneaky reality star managed to keep quiet about her baby news for three whole months. Well now, on Christmas day, the mom-to-be is gifting her fans with a couple more gifts. That's because Khloé Kardashian revealed how far along she is and she shared her first ever full-body bump shot!
"My greatest dream realized! We are having a baby!" Khloé wrote on Instagram on Dec. 20, alongside her first bump photo, reports People. "I had been waiting and wondering but God had a plan all along. He knew what He was doing. I simply had to trust in Him and be patient." The gushing mom-to-be went on to thank her boyfriend/professional basketball player, Tristan Thompson, for his love and support. Khloé also thanked her fans, writing, "I know we've been keeping this quiet but we wanted to enjoy this between our family and close friends as long as we could privately. To enjoy our first precious moments just us." She continued:
Thank you all for understanding. I am so thankful, excited, nervous, eager, overjoyed and scared all in one! But it's the best bundle of feelings I've ever felt in my life!
Fast-forward to today. A Twitter follower — who probably never thought in a million years that Khloé would respond directly to her question — asked how far along the star was. "If you don't mind us asking, how many months are you?" a follower named Katie tweeted. Miraculously, the expecting mama replied with, "I'll be 6 months next week." Say what?!
It's safe to say Khloé's fans pretty much lost it from there. Some were just so darn happy.
Others couldn't believe that her bump was so "small" at that far along. "You are so tiny for 6 months," one person commented. To which another Twitter user responded, "It's probably because she so damn fit. Wow! Can't believe she's six months!" Yet another person chimed in with, "Girl 'your 6 months pregnant belly' and mine[sic] 'after Christmas food belly' look the same lmaoooo."
One person even tried to use the same tactic on Khloé, except asking about her younger sister, Kylie Jenner, who is reportedly pregnant as well. (But still hasn't confirmed for denied anything yet!) "If you don't mind us asking, how many months is @KylieJenner ??" the Twitter user wrote. LOL.
Nice try. But as Kim Kardashian told Ellen DeGeneres in November, the Kardashians/Jenners have a "don't speak on anyone else's behalf" policy going on, reports Us Weekly. Kim told Ellen:
When there are lots of rumors, we have these family group chats. And we threaten each others' lives if we speak for the other one. So, for the safety of my life ... we just decided there's so much that goes on, that we respect each others' right to speak for themselves. So I will speak about myself and hopefully they can come on and address whatever rumors you might have.
So yeah, no dice. If we're going to find out that Kylie Jenner is for real pregnant, she's going to be the one doing the confirming.
And as if Christmas couldn't get any better, only a half-hour earlier, Khloé shared a glamorous shot of herself on Instagram. (I spy a bump!) "Merry Christmas!! May you sparkle and shine this festive season, may all of your wishes and dreams come true," she wrote. "I pray that we all may feel this happiness all year round. God bless you!"
She looks fantastic! Although many of her social media followers seem to think her bump is on the small side for being six months pregnant, it's important to remember that pregnancy is different for every women — and it can even vary from baby to baby for the same woman. I know that if (in some parallel universe) I was a celebrity trying to hide my bump, I wouldn't be able to wear any of the clothing Khloé does without a very obvious belly sticking out for the world to see. My torso is so short that there's really only one way for a baby to grow, and that's out. Wayyy out. Aside from my slight pregnancy body envy, I'm digging the additional details and full-body photos that Khloé is sharing with her followers now that her baby news isn't a big "secret" anymore. And now that we have a rough idea of when she's due, the countdown is really on!