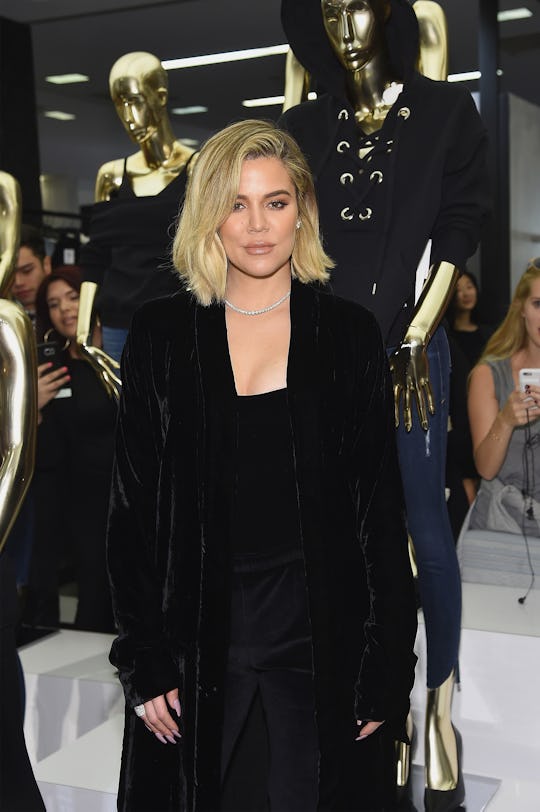 Jamie McCarthy/Getty Images Entertainment/Getty Images
Khloé Kardashian Is Launching A Maternity Line, & It's Gonna Be So, So Cute
Moms-to-be, get excited. It seems that Keeping Up with the Kardashians star Khloé Kardashian is launching a maternity line, and fans are seriously excited about the news. Kardashian announced on Snapchat and Instagram Stories that Good American, the clothing brand she cofounded in 2016, would soon be launching Good Mama — maternity jeans for expecting moms. The line isn't even available yet, but fans are already losing their minds over the jeans.
On Instagram, Kardashian explained that Good American had started working on a pair of maternity jeans about six months before Kardashian even got pregnant. "[Good American cofounder Emma Grede] and I have been working on this for honestly like six months even before I got pregnant, which is crazy," Kardashian said in her Instagram story. She continued:
I feel like we're just putting things into the universe. Ask, believe, and receive — I'm all about it.
In her story, Kardashian showed fans two pairs of Good Mama jean prototypes. One seems to have stretchy fabric over its two front pockets (so cute), while the other has a fabric band that stretches to support a mom's growing baby bump. Since they're still in the prototype phase, it seems like the jean designs are still being tested — but so far, both versions are looking pretty good.
Considering that Kardashian just passed the six-month mark in her own pregnancy, the Revenge Body star is probably the perfect person to give the new jeans a try. And her reaction? She's loving them.
"I really miss wearing jeans during my pregnancy," Kardashian said in her Instagram story. "I think you look so cute and chic, and there's only so many dresses or leggings I can wear everyday."
She continued:
They're so cute. ... They fit so well. These are like the dream.
This is just the latest development in Kardashian's pregnancy journey, and — like pretty much all other aspects of it — Kardashian seems super excited about it. Ever since late December, when Kardashian first announced that she and boyfriend Tristan Thompson were expecting, she's been more than happy to share her pregnancy experience with fans. She's talked to Ellen Degeneres about potential baby names (Tristan Junior for a boy, or a name starting with a T or a K for a girl), discussed marriage plans (she's not in a hurry), and shared her gratitude for how the whole pregnancy has unfolded.
And now, it seems, Kardashian's excited to craft the perfect jeans for other expecting moms. Here's a first peek at the two Good Mama samples Kardashian received:
The jeans aren't available yet, but fans are already feeling all kinds of excited about Good American's new maternity line. On Twitter, one user wrote, "Khloe Kardashian is coming out with maternity jeans y'all! I can't wait to wear them with my rainbow baby." Others expressed similar excitement, while some fans were ever-so-slightly furious that the jeans were coming out after their own pregnancies had ended.
"As if Khloè Kardashian is coming out with maternity jeans 4 MONTHS AFTER I'M NOT PREGNANT ANYMORE," Twitter user Lakheysha Denny wrote. Yet another user offered to test-drive the maternity jeans for Kardashian, a tweet that Kardashian responded to with a bunch of heart emojis.
No word yet on whether Good Mama will evolve to include clothing other than jeans, but something tells me that any maternity-related pieces Good American does produce will sell super well. And if Kardashian rocks them while she's pregnant, those sales numbers will probably go through the roof. Now, can we get a release date on those Good Mama jeans, please, Kardashian?