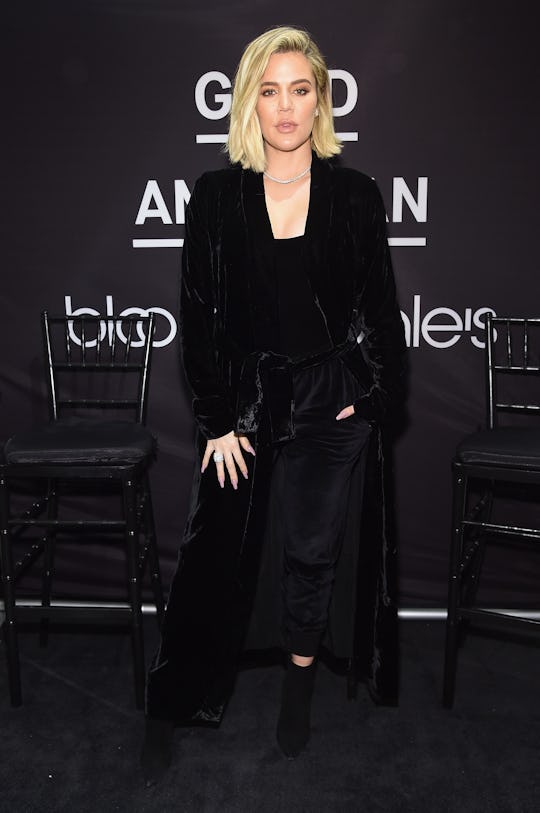 Jamie McCarthy/Getty Images Entertainment/Getty Images
Khloé Kardashian Reveals Her Birth Plan, & It's Pretty Unexpected
Mom-to-be Khloé Kardashian may have kept quiet about her pregnancy for months, but these days, she seems more than happy to share her excitement about her little one's impending arrival. On Thursday, Khloe Kardashian revealed her birth plan to Jimmy Kimmel, and told the late night host that, while she and partner Tristan Thompson still have to work out some of the details, she already knows exactly where and how she plans on delivering her first child. Unlike her famous sisters, who welcomed their own children in Los Angeles, Kardashian said that her baby will be born in Cleveland, Ohio, according to People, where NBA star Thompson plays for the Cavaliers.
That's not the only sort of surprising detail of her delivery she confirmed though: despite admitting that she's been on the receiving end of a lot of "unwanted" and unsolicited parenting advice from her mom and sisters, Kardashian said she still plans to have them in the delivery room with her when it's time — which, from the sounds of it, is actually somewhat of a family tradition. Kardashian told Kimmel that not only has she witnessed all of her sisters' babies being born, but when she was 14 years old, she was even in the delivery room to watch the birth of her youngest sister, Kylie Jenner (who is rumored to be welcoming a baby of her own as well this year).
Of course, that precedent doesn't necessarily guarantee any of her relatives automatic delivery room access: Kardashian concluded that while she'll definitely want her mom, Kris Jenner, to be with her when her first child is born, anyone else present will simply be "whoever is going to be the calmest," and "whoever will annoy [her] the least" (which, honestly, sounds like a pretty good plan). One person who absolutely has to be there though? Thompson — no matter what his basketball commitments may be.
Although Kardashian (totally reasonably) assumed that it goes without saying that her partner would absolutely be there with her as she gives birth, Kimmel claimed that "a lot of athletes will not be there" if they have a game that night. Thankfully, Kardashian shut that nonsense down immediately with the perfect response: "Hell no. No. He has to be there."
Even with Thompson's basketball career tying him to the Ohio city, it does seem at least a little unexpected that the Kardashian-Jenner clan will be descending on Cleveland, of all places, to await the birth of Khloé's first baby. But even though Kardashian and Thompson are said to split their time between the Midwest state and her native California, it seems like they have definitely made themselves at home in Ohio, and that they're totally ready to put down roots as their family grows.
In a Sept. 2017 with Steve Harvey, Kardashian gushed about her adopted home, and said "I do really love Cleveland, I really enjoy it," according to Hollywood Life. One surprising reason? The weather. Kardashian said, "It's so different from L.A. and I love the seasons. I spend Christmas out there and I've never had a white Christmas." And from the looks of it, Christmas is a holiday that Kardashian takes pretty seriously: in November, the reality star shared a series of photos on Snapchat showing her preparing to decorate her Cleveland home for the holiday, according to Us Weekly — including with not one, but two, separate Christmas trees.
As anyone who's ever given birth will tell you, planning the details of your first-ever delivery experience is basically just about making your best guess as to what you think might actually happen. And from the sounds of it, Kardashian is no different — although she's anticipated certain details, she's totally aware that there's a lot she can't really know ahead of time, and so far at least, she seems pretty chill about it. Then again, given that it's totally reasonable to expect that she will be able to have the family-filled birth experience she's hoping for in a city that she loves, there's really no reason why she shouldn't be.
Check out Romper's new video series, Romper's Doula Diaries:
Watch full episodes of Romper's Doula Diaries on Facebook Watch.