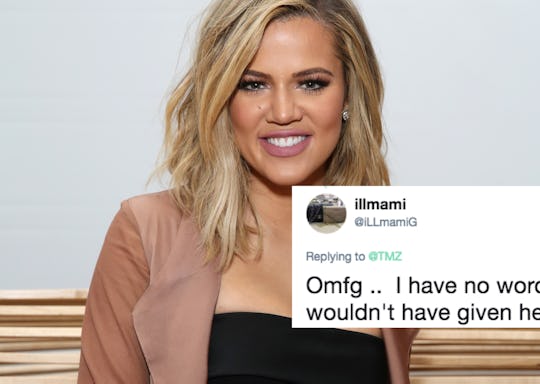 Cindy Ord/Getty Images Entertainment/Getty Images
Khloé Kardashian Just Revealed Her Daughter's Last Name & People Are Outraged
Ever since Khloé Kardashian gave birth to a baby girl on Thursday, April 12, fans have been eager to find out her name. Well, the reveal of Khloé Kardashian's daughter's full name is here, and it's prompted some mixed feelings. Specifically, people are upset that the baby, True Thompson, has her father's last name.
For those who've been hiding under a rock over the past week, NBA star Tristan Thompson made headlines when allegations that he was cheating on Kardashian surfaced. The Daily Mail published video footage that purports to show Thompson kissing another woman just days before Kardashian gave birth to their child. Thompson's and Kardashian's reps didn't immediately respond to Romper's request for comment on the cheating allegations.
Some fans thought that perhaps Kardashian would respond by giving the baby her last name (and kicking Thompson to the curb while she was at it), but Kardashian's Instagram announcement on Monday made it clear that was not to be.
"Our little girl, True Thompson, has completely stolen our hearts and we are overwhelmed with LOVE," Kardashian wrote in the caption of her new photo, which showed off a bunch of pink balloons. "Such a blessing to welcome this angel into the family! Mommy and Daddy loooooove you True!"
Kardashian may be overwhelmed by love right now, but many fans made it clear via social media that they were still feeling plenty of outrage and disappointment on her behalf:
And many others couldn't get over the irony of True's first name, too, at least if the cheating allegations are to be believed:
Ultimately, a baby's name is a decision for the parents to make, and for the rest of the world to just deal with. And now, so soon after the baby's birth, is a great time for the newly-expanded family to focus on love and gratitude. But also, yes, it would've been really freaking nice to see Kardashian make a big statement and give her own last name to the baby she was nourishing and carrying inside of herself while Thompson was allegedly unfaithful.
And, while on the subject of a baby's last name, isn't it about time that ladies (and gents, and others!) started talking more about babies having their mothers' last names? Sure, more and more women are keeping their maiden names, according to a 2015 article by The New York Times. And plenty of couples are hyphenating, or smushing their last names together to create a new hybrid for their family. But how often does a baby born to a male partner and a female partner end up with the female partner's last name? It's very much a rarity, even though the woman is the one doing the majority of the work during that pregnancy, and then she's often the one doing the majority of the childcare work too, according to Quartz, especially when the baby is young.
Even as women make great strides towards equality, why do so many people still take it for granted that a child has to have the father's last name?
Sure, to go back to the wise William Shakespeare for a second, a rose by any other name would smell as sweet, and True Thompson is still as much Khloé Kardashian's daughter as she would be if her name were True Kardashian. But it's not hard to see why fans are having a lot of feelings about Monday's baby name reveal.
Check out Romper's new video series, Bearing The Motherload, where disagreeing parents from different sides of an issue sit down with a mediator and talk about how to support (and not judge) each other's parenting perspectives. New episodes air Mondays on Facebook.