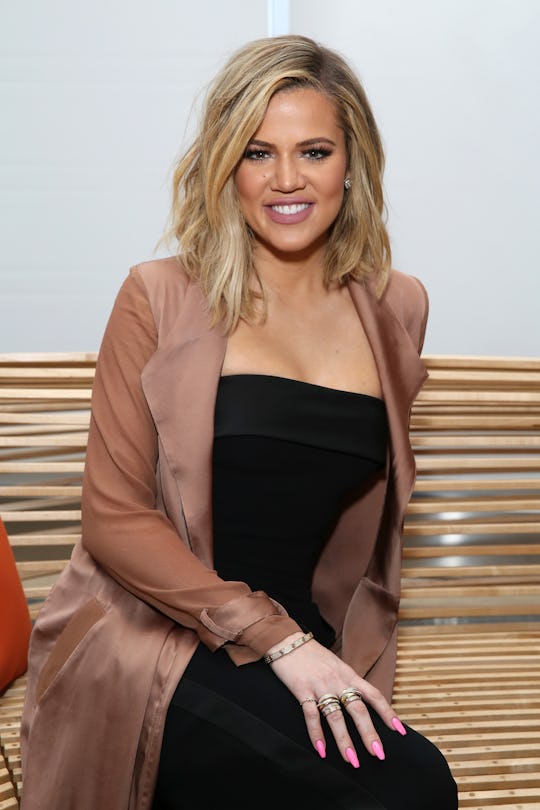 Cindy Ord/Getty Images Entertainment/Getty Images
Khloé Opens Up About Maintaining A "Different Type Of Self-Care" During Her Pregnancy
Keeping Up with the Kardashians star Khloé Kardashian has become somewhat of a health and fitness mogul in recent years, ever since she got into a workout habit and kicked off her Revenge Body series. Khloé is now expecting her first child with boyfriend Tristan Thompson, but she's still clearly keeping wellness top of mind: on Wednesday, Khloé revealed how she's staying healthy during her pregnancy on her app, in a blog post about her resolutions for 2018.
Khloé started by clarifying that her health was even more important to her now that she was expecting — but that her ways of staying healthy had changed a bit. "For me, health and wellness resolutions are especially important this year," she wrote, according to E! News. She continued:
Being pregnant, it's a whole different type of self-care. I still exercise to maintain my sanity and also to feel good about myself, but my workouts are not as intense as they once were. I'm also eating differently because, of course I have cravings, but I want to make sure I'm supplying my baby with the proper nutrients. So I'm focused on being healthy mind, body and soul for myself and the baby.
Khloé first announced her pregnancy with Thompson in an Instagram post on Dec. 20 — after months and months of media speculation — and on Jan. 2, she let fans know that she was officially six months along. "I am so thankful, excited, nervous, eager, overjoyed and scared all in one!" Khloé wrote on Instagram when she first announced that she was pregnant. "But it's the best bundle of feelings I've ever felt in my life!"
Despite all the excitement, however, Khloé does miss her more intense workouts, sharing on her app that she was excited to get back to being "a beast in the gym," according to E! News. But she admitted that she felt great and was happy with how active she'd been able to stay during her pregnancy. "So my new year's resolution will be to stay as healthy mentally and physically as I can!" she wrote.
Just before sharing her 2018 health resolutions on her app, Khloé also clapped back at critics who thought her workouts were unhealthy during a pregnancy. "For the ones who think they are physicians all of a sudden," she wrote on Twitter in December, sharing a link to an article about the benefits of exercising while pregnant. She continued:
MY doctor and I communicate and my workouts are cleared and highly recommended. Thanks kiddos! Don't make me stop sharing sh*t.
Season 2 of Khloé's health and wellness show, Revenge Body with Khloé Kardashian, will be hitting TV screens on Jan. 7. The day after the second season's first episode airs, Khloé will be kicking off her 2018 Health and Wellness Week on her app, with recommended workouts and self-care tips for her fans. She might be heading towards her third trimester of pregnancy, but Khloé definitely isn't slowing down when it comes to staying immersed in the health and wellness world.
A new episode of Keeping Up with the Kardashians will also air on Sunday. Khloé has already promised fans that her official pregnancy announcement will make it onto the show, and a reveal of the baby's sex is also expected in upcoming episodes, according to People. (Unnamed sources reportedly told People that Thompson and Khloé are expecting a baby boy, but fans will simply have to watch the show to confirm that detail.)
It sounds like 2018 is going to be Kardashian's year — both for building her health and wellness empire and enjoying motherhood for the first time.
Check out Romper's new video series, Romper's Doula Diaries:
Watch full episodes of Romper's Doula Diaries on Facebook Watch.