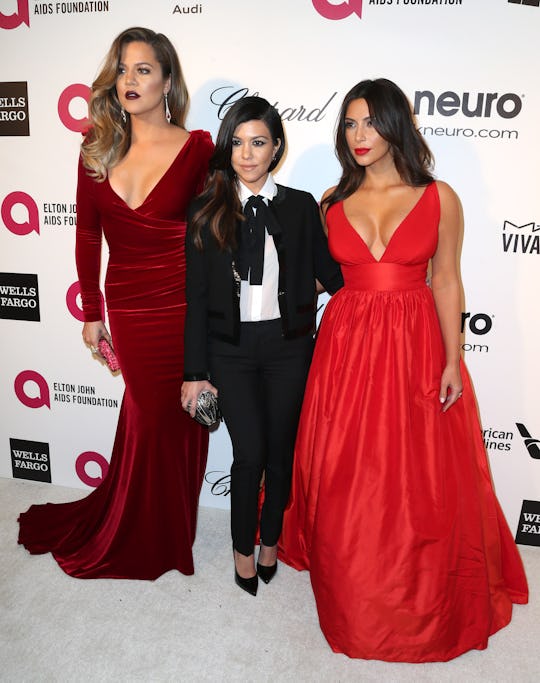 Frederick M. Brown/Getty Images Entertainment/Getty Images
Between Kim & Kourtney, Here's Whose Parenting Style Khloé K. Says She'll Relate To Most
Khloé Kardashian knows a thing or two about parenting, if only from observing the people around her. Her older sisters Kourtney and Kim Kardashian have three kids each and her younger sister, Kylie Jenner, just gave birth to her first child, a daughter, last month. Khloé is now weeks away from giving birth to her first child and has more than likely taken a few notes from her siblings. But when it comes to raising her own kid in the near future, Khloé revealed whose parenting style she relates to the most and while it might not totally surprise you, it's super cool to realize that she has so many moms around her to look up to.
Outside advice can be a blessing, especially when you're a new mom. Which is why it's awesome for Khloé to have her sisters in close proximity helping her out in times of need and it sounds like she might be relying on her sisters a little more than you'd expect. In a post on her app on Wednesday, Khloé revealed that she relates to Kim's parenting style the most, according to Entertainment Tonight.
But Khloé did not elaborate any more on her connection to Kim's parenting style (unfortunately). But, based on what people know about Kim and how she is a parent to her three children — North, Saint, and Chicago — people can get a good idea about what Khloé might like about Kim's parenting style so much.
Kim is a super connected parent to her children, according to Redbook. She gives her children the freedom to dress themselves, she lets them influence her children's clothing line, The Kid's Supply, and has taught her kids about important social issues (like bringing them to the March For Our Lives this past weekend). Kourtney, on the other hand, is a "pretty involved" mom, according to the Daily Mail, and is more likely to take natural approach to parenting, according to StyleCaster.
But let Kim describe their differences in parenting, herself. In a 2014 interview with the Daily Mail, according to Us Weekly, Kim perfectly explained how different her and Kourtney's parenting style really is. Kim said, according to Us Weekly:
We have our own styles and ways of how we do it and we respect each other's ways and we just learn a lot from each other. I'm really fun and playful but I'm more strict on nap times and sleeping in her own crib, where Kourtney does more of an attached parenting style where her kids sleep in her bed.
But their differences in parenting style are what make them so unique. Kim told the Daily Mail, according to Us Weekly, that it's important for them to differ as parents and is something that Khloé now, four years later, can take to heart. "What I've learned is you just have to parent your own way...whatever works for you and your household," Kim said in the same interview. "It's really hard to give people a whole lot of advice when you really have to figure it out for yourself."
But it seems like Khloé's sisters have already attempted to give her advice. During an appearance on Jimmy Kimmel Live! earlier this year, Khloé told host Jimmy Kimmel that her sisters have tried their hand at providing her with some some notes on parenting already. Khloé told Kimmel, according to People, that a lot of the advice she has been given has been unwanted. And what she said then could indicate why she agrees with Kim's parenting style so much. "I don't know if it's the worst, but Kourtney gives a lot of advice," Khloé said, according to People. "I think it's so sweet but I don't want to do some of that stuff."
In the same interview with Kimmel, according to People, Khloé revealed that she had been fighting with Kourtney "a lot lately" — so it's completely understandable as to why she might agree with one sister's parenting style over another. But when Khloé's baby arrives in a few short weeks she will soon figure out her way as a mother (apart of her sisters) and develop her own parenting style.
Check out Romper's new video series, Bearing The Motherload, where disagreeing parents from different sides of an issue sit down with a mediator and talk about how to support (and not judge) each other's parenting perspectives. New episodes air Mondays on Facebook.