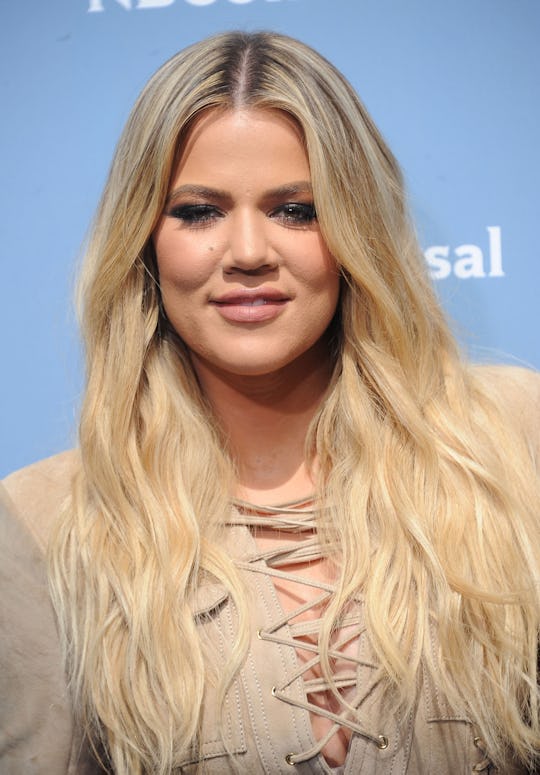 Brad Barket/Getty Images Entertainment/Getty Images
Khloe Kardashian Was Not Happy Returning To Work After A 12-Week Maternity Leave
It's no secret that being a mom in the United States — one of the few countries in the world that doesn't actually offer new mothers a paid maternity leave — often means leaving your baby to go back to work way sooner than you'd like to, simply because you have to pay the bills. But sometimes, even women who can more than afford to stay home with their infants indefinitely find themselves seriously stressed when their pre-baby work commitments come calling. On Snapchat Thursday, Khloé Kardashian said she's anxious about returning to work and leaving baby True, according to People, and though it's not even sort of the same situation as the moms who have no choice but to head back to work right away in order to provide for their families, the feelings of fear and sadness are pretty universal.
Given that Khloé and her famous sisters are celebrity mamas who totally seem to be living their very best (and more glamorous) lives at all times, I'd more or less assumed that she'd simply be able to spend as much time away from any work obligations as she wants to. But in her Snapchat post, Khloé revealed that she'd be heading back to work on Friday after nearly 12 weeks of maternity leave, and it was clear that she was seriously conflicted about it.
Editor's Note: The Instagram post has since been deleted.
In the clip, Khloé snuggled with her baby girl while nursery rhymes played in the background, and explained to her followers that the fact that she was scheduled to return to work on July 6 had definitely been weighing heavily on her mind for quite some time. She said,
I've been thinking about 'the 6th, the 6th, the 6th, oh my God, I have to start work on the 6th.' And I've been getting just anxious about it. And today I'm very anxious. I don't know how I'm going to leave her all day tomorrow.
Though Khloé's version of returning to work might not be the same as most parents', it's pretty clear that, just like any mom, she wasn't happy about having to be away from her little one — especially since they'd reached the 12-week baby sweet spot where they'd figured out a daily routine that was working really well and feeling majorly enjoyable. And it sounds like it's also given her a new appreciation for the struggles her sister Kourtney also faced when it came to returning to work after having kids: in the clip, Khloé said, "Kourtney, I take back all the times I made fun of you."
On Instagram Friday, Khloé shared a screenshot of her early-morning wake-up call — the time on her phone was 4:35 a.m. — and shared that she was specifically heading back to her work commitments at her clothing line, Good American, which she called the "best place to start [her] first day back." And though it certainly must help that she literally co-founded the brand and isn't just an average employee (she and friend Emma Grede started the collection together in Oct. 2016, according to Forbes), it sounds like motherhood has definitely given Khloé a new outlook on her career goals. She wrote, "I'm anxious to leave True but I'm also eager to get back to work now that I have a new push and motivation. It's not just about me anymore."
Unlike like most moms, of course, Khloé likely has the ability to make her return to work a bit easier — not only can she afford a whole squad of top-notch nannies, she probably has more leeway when it comes to things like bringing her daughter to work, or being more flexible with her schedule so that she can spend more time at home. But, either way, it's definitely always a hard adjustment to do anything after you've spent the first few months of your child's life pretty much completely engrossed in parenthood, so it's no surprise Khloé was struggling with the idea.
The good news, at least? Just like all the working mothers who have come before her, Khloé can at least take comfort in knowing she'll figure it out eventually. And when she does, it will mean that her daughter will get to grow up seeing her not just as her mom, but as a successful and hard-working businesswoman too. And that will likely make all the sacrifices totally worth it.