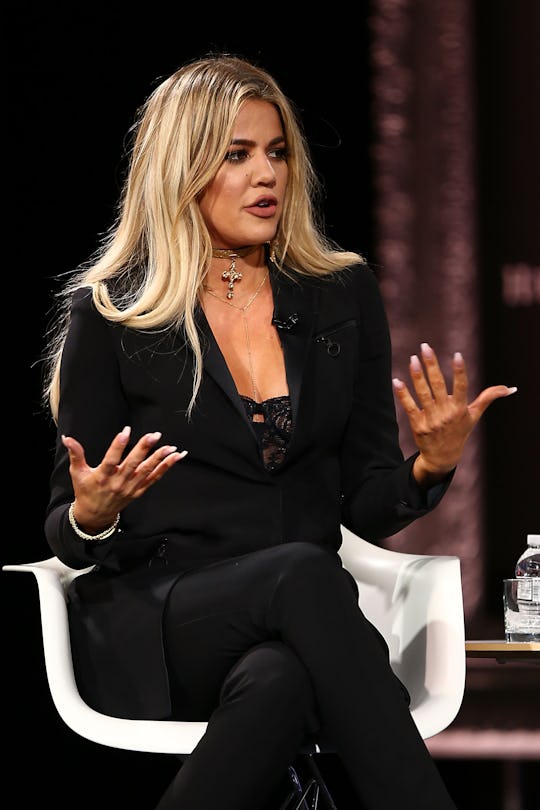 Joe Scarnici/Getty Images Entertainment/Getty Images
Khloé Kardashian Says The Tristan Cheating Scandal Is "Very Hard To Relive"
The show has said it for over a decade, and it's never been more true: keeping up with the KarJenners has become more and more difficult as each member of the family grows up and builds a life and empire outside of their family's reality show. Watching Kourtney, Kim, Kylie, and Khloé start their own families has been particularly bittersweet, thanks to raw moments like the lattermost sister's relationship struggles, which are being aired on TV this week. Khloé Kardashian says the Tristan cheating scandal will be "very hard to relive" on Keeping Up With the Kardashians, but, as she says, "it's just life."
For any fans who aren't familiar with how reality TV shows are filmed, typically, events that air were actually recorded months prior to their release. This is because producers need time for editing and whatnot. What this means in the age of social media is that often, the show's plot is centering on events that have already happened, and have already been discussed widely online. One such event is coming up this week on KUWTK, as the footage of Khloé getting ready to give birth to her daughter airs, and the storm of drama that surrounded it (and no, that's not a pun alluding to Stormi, who was born just a few months prior).
For anyone who doesn't, ahem, keep up with the KarJenners, a debriefer: Khloé had a baby named True earlier this year with basketball player Tristan Thompson, TMZ reported. Around the time she was due to deliver their daughter, footage was leaked by The Daily Mail and TMZ that purported to show Thompson having affairs with multiple women.
Though neither Thompson nor Kardashian have ever directly confirmed that the footage is legitimate, the whole family has done so in a roundabout way, commenting on it at different points throughout the year.
Most recent to grab fans' attention was Khloé's response to a fan on Twitter earlier on Monday. "I feel so bad for @khloekardashian had to go through what Tristan did while filming #KUWTK. If I'm not wrong, next episode will be insane. You're so strong to put that personal issue as part of the show knowing millions of ppl will watch it. I wouldn't be able to do it," the tweet read. Kardashian responded: "Sadly, it will. I signed up to show the for the good and the bad, right? The bad is very hard to relive but it's life."
It's something to which many of us could not even begin to relate (as in, having to publicly share such a personal and vulnerable moment in your life) but Kardashian seems to have accepted it to a degree.
Despite her transparency, Kardashian has been outspoken about how she believes people should be more careful about making assumptions when they really don't know the whole truth of a situation.
In June, a fan on Twitter said the following: "I love, adore & root for @khloekardashian but I'm so disappointed she stayed with that wasteman Tristan. she preaches about women knowing their self worth and when to walk away but when it's time to walk the walk, she's a hypocrite." Kardashian responded:
Not exactly Queen Persia, you have no knowledge of what goes on in our household or the enormous rebuilding this takes to even coexist. I'm proud of my strength. I appreciate your opinion and I hope you hold that same opinion to everyone else who has stayed in situations.
A few months later, Cosmopolitan UK reported that Kardashian and Thompson are "in a good place," and trying to make their relationship work for the sake of their daughter. Either way, it's clear that Kardashian has certainly developed some tough skin.