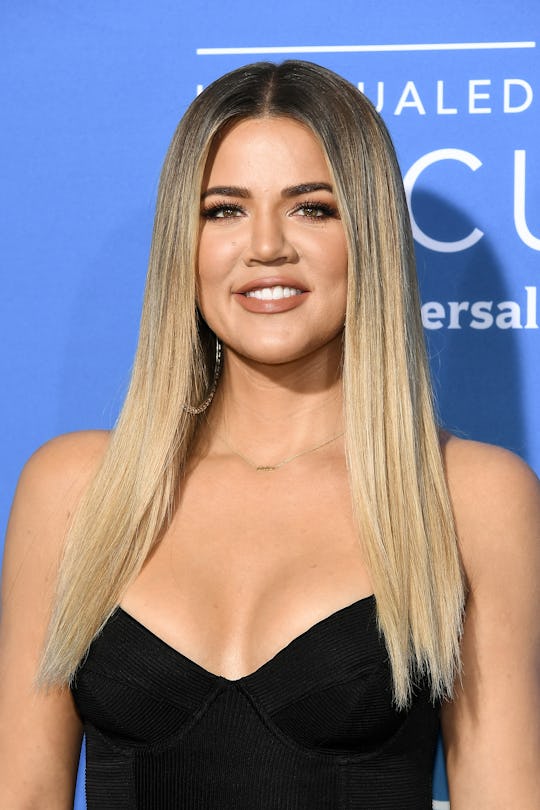 Dia Dipasupil/Getty Images Entertainment/Getty Images
Khloé K.'s Advice On Asking New Moms About Breastfeeding Should Be Printed On A Billboard
I swear, there must be a universal list of questions that friends, family, acquaintances — and heck, even complete strangers — feel the need to ask new mothers. Although they may mean well, the topic of sleep, details about feeding and delivery, and more can be extremely private (and potentially triggering) topics for a new mom in the trenches of those difficult newborn days. Granted, babies don't really do a lot other than sleep, eat, and poop. So I can understand how conversations can easily "go there." But still. Enough with the prying, people! As it turns out, even celebrities aren't immune to the swarm of invasive questions. In fact, Khloé Kardashian really wants you to stop asking new moms about breastfeeding — and when you hear her reasoning, you'll totally understand why.
The Good American designer took to her app on Wednesday to vent about the deeply personal questions she's fielded since giving birth to her daughter, True, whom she shares with NBA player Tristan Thompson. Among the list of 10 "no, no" inquires she mentioned was how her she delivered and how her body is recovering from childbirth.
"My vagina — its past, its present, its future — is none of your business! Period," she wrote on her blog, according to Cosmopolitan. Another question people should avoid at all costs, according to the Keeping Up with the Kardashians reality star? Breastfeeding, as People reported.
"This is just such a personal issue. You never know the private struggles someone could be going through and how terrible it may be making them feel," she wrote, according to People.
So yeah. As innocent as the question, "So how's nursing going?" may seem, it could be an incredibly sensitive topic for a new mom who might be struggling with supply or latch issues.
Just last month, Kardashian revealed that she stopped breastfeeding True, as Us Weekly reported. "I had to stop breast feeding," the new mom tweeted on July 7. "It was really hard for me to stop (emotionally) but it wasn't working for my body. Sadly."
Kardashian went on to explain in another tweet that she "tried every trick in the book," and yet ultimately, nursing her baby girl had to come to an end.
When it was all said and done, though, Kardashian said she realized that ending her breastfeeding journey was actually a much-needed weight off her shoulders. "I fought and fought to try and continue but then when I actually stopped, I didn't realize what a relief it was for me not to stress and worry anymore," Kardashian responded to a follower. "Any sec I had of downtime I was stressing to produce more for the next feeding."
Among the other topics people should avoid bringing up to moms, according to Kardashian, are comments about babies looking like their fathers, as People reported.
"It's annoying when you've carried a child, nourished a child, birthed a child, are newly responsible for a child … and they don't look a thing like you!" she wrote on her blog.
So even though True most certainly looks like a spitting image of her father, Tristan Thompson — mama Koko doesn't want to hear it over and over again. She knows, guys, OK? (But just look at that daddy-lookalike cutie!)
Kardashian's advice is incredibly on point. I have no clue why a new mom's body or personal choices about how she feeds her baby or whether she delivered naturally, etc. are socially-acceptable topics in casual conversation. But until more people like Kardashian call out this nonsense, it's only going to keep happening.
So new moms, if you find yourself fielding questions like these, know that you are under no obligation to entertain them. Stay strong! You're doing a great job — and you've got this.