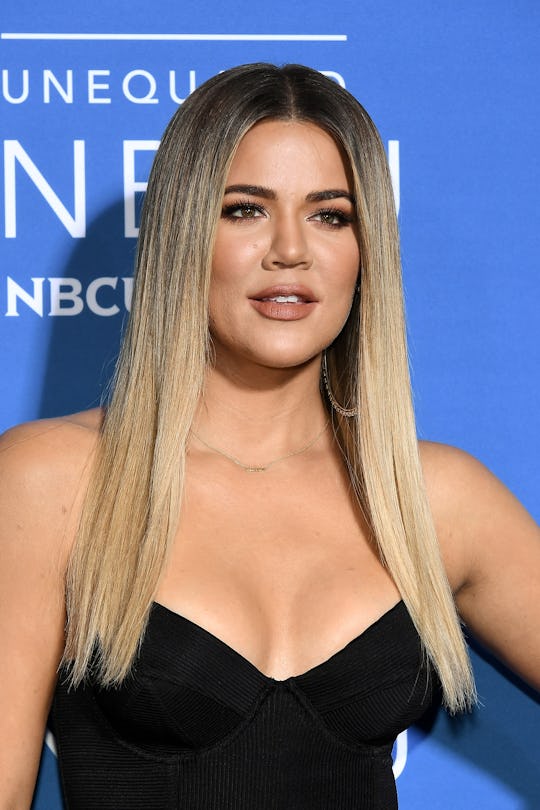 Dia Dipasupil/Getty Images Entertainment/Getty Images
Khloé Kardashian's New Pic Of True's Nursery Is So Extra In The Best Way
When it comes to nursery decor, there's one new mom who takes it to a whole new level in the best, most lavish way possible. She's happy to go for bold decor. In fact, Khloé Kardashian shared a new pic of True's nursery, and the room is just beyond gorgeous. Seriously, with a nursery this extra, True might be destined for life as an interior decorator. Her mom is pretty creative and skilled at it, to say the least.
In a recent post to her blog, Khloé With A K, the youngest Kardashian sister revealed a pic of True's nursery outfitted with a neon sign that reads Baby Thompson. It's a striking centerpiece. Who would even think to use neon in a baby's room? But the vibrant, glowing light totally works.
And as it turns out, this light-up sign has a special meaning for Khloé and the rest of her family. "When I was pregnant with True, I had two of these Baby Thompson neon signs made so I can have one in her Cleveland nursery and one in her Calabasas nursery," wrote Khloé on her blog. "I love them so much, especially since it's my mom's handwriting! This is a shot of the Calabasas nursery, but I tried to keep both rooms as identical as possible—same lucite crib and butterfly mobile—so wherever True is, she feels at home." And if the giant chair with a bunch of fluffy throw pillows is any indication, True Thompson's home is pretty darn cozy indeed.
If the red neon sign feels like an unconventional addition to a baby's nursery, then that's perfectly in line with Khloé's aesthetic. Her nursery decor for True is beautifully unique, modern, and fun. For instance, Khloé chose flamingo wallpaper to decorate True's nursery, as noted in Us Magazine. "I love how elegant the flamingo is," wrote Khloé on her blog. But the quirky bird wallpaper is only the beginning of this Kardashian's lavish nursery. The crib itself is another matter entirely.
Seriously, there's no way to discuss Khloé Kardashian's nursery for baby True without mentioning the crib. Although the crib is a centerpiece for many nurseries, this one exists on a totally different level. Khloé uses a Nursery Works lucite Vetro Crib for baby True, as explained in Refinery 29. It's certainly a gorgeous piece with the clear sides and sleek design, perfect for a modern and fashion-forward baby nursery. Although it's currently unavailable, the Vetro crib retails for $4,500, as shown on the Nursery Works website. The cribs are hand-made and crafted from 100 percent recyclable, non-toxic acrylic. Plus, the see-through design lets you look in at your baby any time.
Granted, plenty of new parents will scoff at the piece of baby furniture that costs more than some used cars. But the price tag is probably well within the range of normal for the Kardashian family, who run so many product lines, TV shows, and other endeavors it's difficult to keep up. Like any new mom, Khloé is caring for her baby while putting her own touch on the whole experience.
Khloé Kardashian proves modern, and even unexpected, pieces of decor can work in a nursery. Her sleek, fun nursery is a fine source of inspiration for anyone who's a fan of unique decor. But if you're into the old-school nursery decorations, well, pastel ducks and teddy bears are timeless ways to make a nursery feel welcoming and homey. In the end it doesn't matter whether your walls are covered in neon signs or cartoon bears. Nursery decor is all about helping you and your baby feel comfortable and at home through all the feedings, diaper changes, and lullabies.