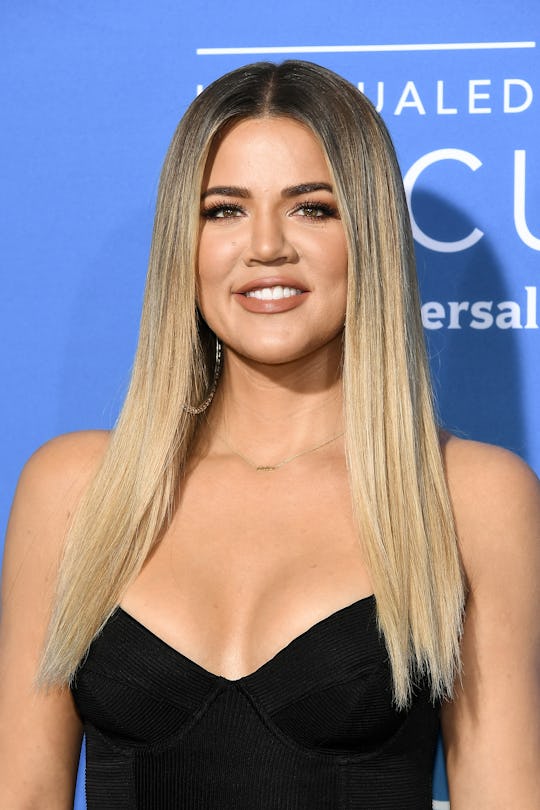 Dia Dipasupil/Getty Images Entertainment/Getty Images
Khloe Kardashian Shared A Selfie With Baby True, & OMG, She Is Too Precious
Following the birth of her first child with boyfriend Tristan Thompson, Khloé Kardashian has frequently updated fans about her life — whether it's information about her baby girl's budding personality, how she's adjusting to new motherhood, or her postpartum workouts. Even though she has been pretty open about her journey so far, the Keeping Up with the Kardashians star still hasn't shared a ton of glimpses of her daughter, True Thompson. Today, though, Khloé Kardashian shared a selfie with baby True. And OMG, she is too precious.
On Saturday, Kardashian took to Instagram to share a sweet photo of herself with baby True, Us Weekly reported. "Mommy's Little Love," the new mom captioned the shot, which featured Kardashian holding her sleeping baby girl. In the photo, mama Koko is wearing a black Nike shirt that reads "Always Believe" — and she chose a filter that places a flower in her hair and gives her subtle cheek freckles. Cue: The barrage of "OMG, soooo cute" comments. "She is so cute I want to squeeze her cheeks," one Instagram follower commented.
"She is absolutely beautiful!!" another follower wrote. "True is very blessed to have you as her mom."
Yet another person commented, "Pretty girls. This picture makes me happy. Being a mom is the best I've ever seen you! You were born ready for this, that little angel is so lucky to have you."
As Metro reported, Kardashian shared the first official glimpse of her baby girl on May 12 — when she turned 1 month old — via Instagram, with a short video clip of True. "Happy one month old, mama," Kardashian said in the video. "I love you, pretty girl."
Kardashian opted to again use a the filter that superimposes a flower into the hair and freckles onto the cheeks — excepted this time, they were on her daughter. And her followers were oddly p*ssed about it. "I'm kinda mad at Khloe for putting a filter on her baby that people use to make themselves look cuter," one person tweeted at the time. "This is the first time we're seeing True and you can't show her true self?"
Another Twitter user wrote, "First time Khloe showing True and she had to slap a snap filter on her smh ohhh the time we live in."
Yet another disgruntled fan tweeted, "So now officially Khloe, Kim, & Kylie introduced their babies to social media with a filter. Sad sad world."
Us Weekly reported that Kardashian had also posted a similar video of True on Snapchat, where she shared her baby girl's case of the hiccups, People reported. "Good morning, mama. How's my little love?" Kardashian said in the clip. "Oh, do we have the hiccups?" (So. Freaking. Cute!)
As harsh as the opinions have been about the baby filters, the comments about Tristan Thompson are infinitely more brutal. That's because merely two days before Kardashian gave birth to their first child a video surfaced of Thompson kissing a mystery woman, the Daily Mail reported. Reportedly, the Cleveland Cavaliers player had repeatedly cheated on her with multiple women throughout the pregnancy.
Via social media, Kardashian has hinted at the difficulties Thompson's infidelity has caused in their relationship, Us Weekly reported. Also on Saturday, the new mom posted in her Instagram Stories, "You can be a good person with a beautiful spirit, and still possess the authority to tell someone: 'You got me f—ked up."
As difficult as it must be for Khloé Kardashian to adjust to being a mom while simultaneously coping with the aftermath of Tristan Thompson's cheating scandal, I'd say it seems like she's doing well. I love that she's choosing to focus on her baby girl — both in real life and on social media. I know I'm adoring the cute photos of baby True, and it's pretty clear that Koko's fans are, too.