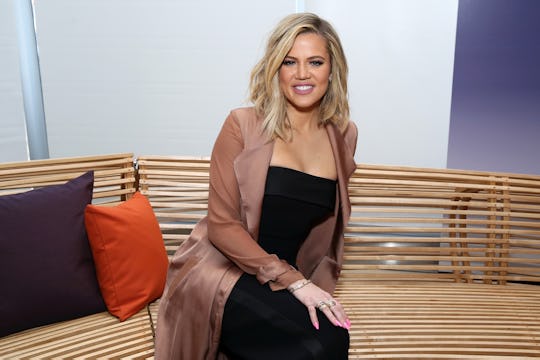 Cindy Ord/Getty Images Entertainment/Getty Images
Khloé Kardashian Shared What's In Her Hospital Bag, & Moms Might Want To Take Notes
There's still one more Kardashian family member who has yet to give birth, and apparently, she's preparing very carefully for the arrival of her first child when it comes to what she wants with her in the delivery room. Khloé Kardashian is still pregnant, and she's passing the time by putting together an epic nursery, enjoying a "magical" baby shower, and carefully planning what she'll have with her at the hospital when the big day finally arrives. Khloé Kardashian shared what's in her hospital bag, both for herself and for her new baby, and moms everywhere will definitely relate to some of the items she chose.
Khloé's sister, Kim Kardashian West, welcomed her third child, Chicago, back in January, according to TODAY. Another one of her sisters, Kylie Jenner, also had a baby recently — she gave birth to her daughter, Stormi, in early February, E! News reported. But by all accounts, Khloé is still waiting to deliver her daughter with boyfriend Tristan Thompson. And as any parent-to-be will tell you, there's a lot to do before you have a baby, and it sounds like Khloé is keeping plenty busy. Making a list of what to bring to the hospital to have her baby girl is probably just another task on the to-do list.
As for the contents of that hospital bag, Khloé wrote on her website:
When it comes time to go to the hospital to deliver my baby girl, I'll be ready. Of course, I'm already packed up and have been for a while, LOL. I knew exactly what I wanted to put in my hospital bag—lots of comfy things for me and for her!
And a lot of moms who have had a baby can probably relate to how important it is to have lots of comfortable, familiar things with you in the hospital when you have a baby. Khloe's list for herself included:
Computer & charger
PJ's that button in front
Going home outfit (sneakers too!)
Pillow
My favorite Barefoot Dreams Blanket
Slides
Camera
Maternity bras
And "For Baby:"
2 gowns (matching hats & receiving blankets)
socks
swaddles
Both lists seem pretty legit to me, and Khloé probably got some input from the other moms in her family. They've been through the experience and know what they had with them to make the stay more comfortable — or, possibly, what they forgot that they believe she should definitely include.
Some of those items might have even come from the baby shower the Keeping Up With the Kardashians star enjoyed back in March. The event was apparently "unbelievable, magical, everything I could have dreamed of and more!!!," in Khloé's own words — which is really what every expectant mother should get to experience.
In general, Khloé has been very open with her fans and followers about her pregnancy since she first announced it back in December. For instance, she recently shared what food "repulsed" her while pregnant. Khloé wrote on her website that she sort of inadvertently become a vegetarian while pregnant — though that wasn't a choice she consciously made. Khloé wrote:
Before pregnancy, I really only ate chicken or turkey—no pork, red meat, most fish, lamb, etc. But now, I find meat absolutely disgusting, LOL. Just the sight of it makes me nauseous. So, I've become somewhat of a vegetarian during pregnancy, but not by choice. Now that I'm nearing the end of my pregnancy, it doesn't repulse me as much anymore. I wonder how I'll feel about meat after I give birth!
Food cravings are not uncommon during pregnancy, but being "repulsed" by meat seems more unique. It will definitely be interesting to see if Khloé still has a problem with it after she gives birth.
Khloé is so close to the finish line for this pregnancy — she's at the eight-month mark, according to Entertainment Tonight. But whenever her daughter decides to make an appearance, at the very least, Khloé's hospital bag will be ready for the big moment.
Check out Romper's new video series, Bearing The Motherload, where disagreeing parents from different sides of an issue sit down with a mediator and talk about how to support (and not judge) each other's parenting perspectives. New episodes air Mondays on Facebook.