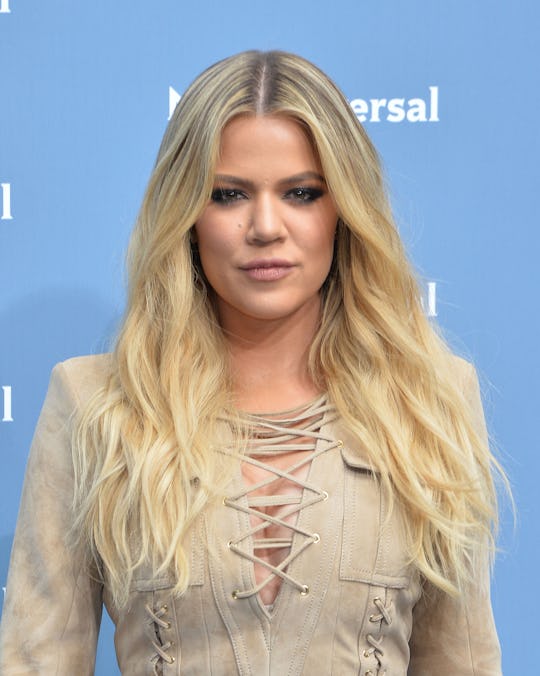 Slaven Vlasic/Getty Images Entertainment/Getty Images
Khloé Kardashian Shares A Video Of Her 8-Month "Bump," & It's Super Sweet
For those of you who aren't keeping track, there is one Kardashian sister who is still expecting a baby. Although Kylie Jenner and Kim Kardashian both recently welcomed their newest additions to the family after months of waiting, Khloé Kardashian is still pregnant. But it sounds like the end is finally in sight. In a recent Snapchat post, Khloé Kardashian shared a video of her eight-month pregnant "bump," which means fans don't have much longer at all to wait before yet another Kardashian baby enters the world — and, let's be honest, Khloé is probably anxiously awaiting that day, too.
Khloé posted the update about her bump during a trip to Japan with her sisters, according to Entertainment Tonight online. Khloé, Kim, and Kourtney Kardashian, decided to go to Tokyo, Japan, to have a "final getaway" before Khloé becomes a mom next month, the outlet reported. Kudos to Khloé for being up to a trip like that this far into her pregnancy.
Khloé is expecting her first baby, a boy with with NBA player boyfriend, Tristan Thompson. Though she won't exactly be new to the whole kid thing, since so many of her sisters have already become moms, according to People.
Khloé captioned the clip showing off her "bump" on Snapchat simply, only putting "8 months bumpin," as shown in the tweet and video above. She's wearing a "seemingly skintight khaki dress" in the shot, according to The Daily Mail, and again, good for her, because that can be a tough look to rock even when you're not almost at the end of a pregnancy.
As far as last hurrahs before having a baby go, I think jetting off to Japan with your sisters is a great choice. A source reportedly told People about the trip:
[Khloé] was excited about the trip. It was her choice to go. She wanted a last, fun trip with her sisters before the baby arrives.
Because, as most parents will tell you, once that baby shows up, international getaways get just a bit more difficult, even if you're a Kardashian.
And it was probably a nice break for Kim and Kourtney, too. Kim has three kids currently, and recently shared the first official photo of her new baby daughter, Chicago, according to Hello! magazine. She also shares 4-year-old daughter North, and 2-year-old son Saint with her husband, Kanye West. Kourtney also has three kids — Mason, Penelope, and Reign Disick, whom she shares with her ex-boyfriend, Scott Disick, according to POPSUGAR. Both women clearly love their kids, but as any mom will tell you, it's still nice to get some "girl time" away from them sometimes.
But as fun as this trip probably is for Khloé, Kim, and Kourtney, Khloé is likely equally as excited, if not more excited, for her baby to finally arrive. Before this pregnancy, she talked about having fertility issues for several years, according to Refinery29. In May 2013, Khloé talked about her difficulty getting pregnant with ex Lamar Odom with Redbook, saying:
It was hard for me to understand what was happening because my mom had six kids and Kourtney got pregnant quickly. People assume I'm desperate for a baby. And yes, I would love to have a baby. But I'm 28, and I've been married three and a half years. I love my life, but it doesn't feel incomplete right now.
But of course, a couple of things have changed since that interview. She got a divorce, started a relationship with Thompson, and became an aunt to several more little ones. Now, Khloé is finally expecting a baby of her own, and though she made it clear in the Redbook interview that she didn't feel "incomplete" without one, it's still probably a wonderful feeling to finally be close to meeting her child and becoming a mom after all that time hoping the dream would come true.
If Khloé wants to post a "bump" photo or video every single day until she delivers, no one should judge her for it, because this pregnancy is something she's wanted for a long while. And, frankly, fans would probably love it. For now, the glimpses of Khloé's baby "bump" that she's shared with the world via Snapchat and social media will have to do.
Check out Romper's new video series, Bearing The Motherload, where disagreeing parents from different sides of an issue sit down with a mediator and talk about how to support (and not judge) each other's parenting perspectives. New episodes air Mondays on Facebook.