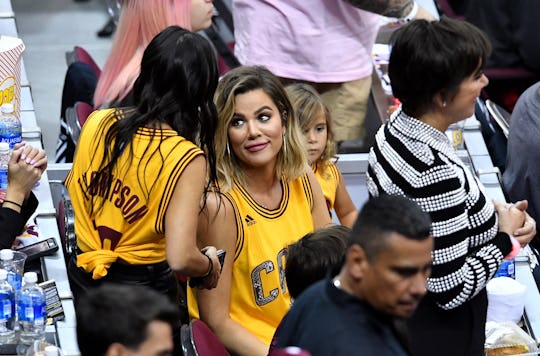 Jason Miller/Getty Images Sport/Getty Images
Khloe Kardashian Shutting Down Body Shamers While Pregnant Proves She's The Queen Of Clap Backs
If there was ever any doubt that the Kardashian-Jenner clan is slowly taking over the world, it's gone now. And not just because the newest season of Keeping Up With The Kardashians is about to premiere, although that certainly has something to do with it. No, America's modern Brady Bunch is beginning to take over the world because there are now, reportedly, three Kardashian-Jenner sisters expecting babies at the same time. So, as news broke yesterday that Khloe Kardashian is allegedly pregnant alongside sister Kylie Jenner, it's also been discovered that Khloe Kardashian shut down body shamers while reportedly pregnant, and people are confused.
Romper has reached out to Kardashian's representatives for comment, but has not heard back at this time.
On Sept. 17, Kardashian tweeted out her annoyance at people saying she was getting fat because she had been photographed wearing sweats. "So rude of people to say I'm getting fat because I wore baggy clothes to get laser hair removal," she wrote, continuing, "It's called being comfortable people."
And obviously, Kardashian's tweet has an important point in that body-shaming is never OK. However, now that it has been reported that Khloe is now about four months along in her pregnancy, according to Hollywood Life, that would mean that she was calling out people for calling her fat when she was really just pregnant. That's if, of course, the reports of Kardashian's pregnancy are even true.
Currently, neither Kardashian, her sister Kylie, or anyone in the family has confirmed or denied the reports of their pregnancies, so most of the news that is circulating is based off of tips from anonymous sources. So, really, nothing is known for sure until the women themselves address the issue.
However, reports are suggesting that Kardashian is expecting her first child with her boyfriend, Tristan Thompson, though Thompson hasn't addressed the speculation either. According to a source who revealed the news to People:
This isn't something they were in a rush to announce to the whole world, and it's only been in just the past week or so that they've felt comfortable telling most of their inner circle.
As avid KUWTK fans will know, having children is something that the youngest Kardashian sister has wanted for years now, so if the news that she's pregnant does turn out to be true, it would certainly be cause for celebration. What's more, if reports should be confirmed, then Khloe isn't the only member of her family preparing to welcome a little one into her world. Of course, reports that Kylie is expecting a baby with her boyfriend, Travis Scott, have been circulating, according to Us Weekly. More so, sources have also confirmed that Khloe's older sister, Kim Kardashian is expecting her third child with husband Kanye West via surrogate, as In Touch Weekly reported.
Of course, as Kim herself pointed out on Twitter Wednesday morning, it's important to acknowledge that literally none of these rumors have been addressed by anyone in the Kardashian-Jenner family, so they really don't have a whole lot of basis to them.
Clearly, Kim's tweet is referring to the multiple pregnancy rumors circling the drain at the moment, and it's all serving incredibly well to intrigue fans and non-fans alike. And, as the new season of KUWTK premieres in just a few short days, many are curious as to whether any, or all, of these pregnancy rumors will be addressed on the show. Perhaps that's why neither Khloe nor Kylie has spoken out about them. Maybe, just maybe, the world will have all the answers to their questions come Sunday night.
But regardless, it isn't really anyone's business. And if Khloe Kardashian wants to continue staving off body shamers, then good for her! Pregnant or not, a woman's body does not define her, and Kardashian shouldn't have to deal with hurtful comments simply because she opted to dress comfy one day.
Watch Romper's new video series, Romper's Doula Diaries:
Check out the entire Romper's Doula Diaries series and other videos on Facebook and the Bustle app across Apple TV, Roku, and Amazon Fire TV.