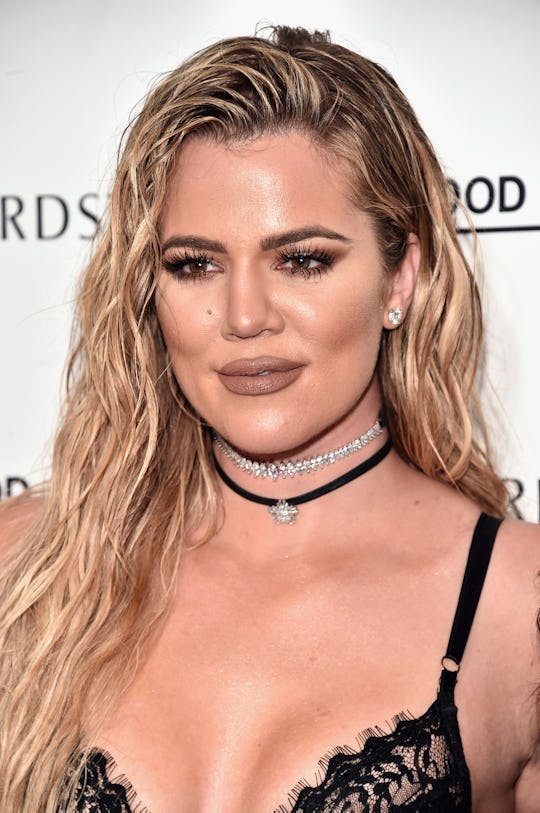 Alberto E. Rodriguez/Getty Images Entertainment/Getty Images
Khloé Kardashian Sets The Record Straight On Those Marriage Rumors With Some Fiery IG Comments
Khloé Kardashian has been in the news a lot recently; sometimes because of her new daughter, but often because of her complicated relationship with her boyfriend, NBA player Tristan Thompson. This week, it seems that she's had enough of internet trolls and has started firing back. In her responses to an article about her relationship, Khloe Kardashian shut down marriage rumors and, also, might have accidentally addressed those past cheating allegations. Maybe...
The internet is not an easy place to be, especially if you're a celebrity. People feel a sense of entitlement to your life, which means they also feel like they're allowed to comment on it. Kardashian has been all too familiar with this phenomenon over the past couple months.
Kardashian's relationship with Thompson is long and extremely complicated. But, as a debrief, Thompson was allegedly caught with other women in April 2018 just before Kardashian gave birth to their daughter. (Romper's requests for comment from both their reps regarding the allegations have not been returned).
Since then, both Thompson and Kardashian have been quiet about whether or not the rumors were true. But while firing back on some Instagram trolls, it seems Kardashian might have let a little something slip.
The Instagram account Comments by Celebs captured the exchange in a screenshot on its account. The screenshot shows a picture of Thompson and Kardashian, shared by gossip blogger Perez Hilton, "Khloe Kardashian and Tristan Thompson talking MARRIAGE."
Kardashian was quick to come through, commenting:
Who makes up this crap you guys post?? This is how slow the news is? You need this ridiculous story?? What a waste.
She then followed up her original comment with, "If you must write such crap please stop tagging me at least!"
From there, Kardashian started responding directly to other people's comments. One user said, "This is so sad who would want a love story like this, it's pathetic to see a strong women become weak over a man."
Obviously, that didn't sit well with Kardashian, who responded, "it's truly sad that you believe blogs and then actually take the time to comment on someone else's life."
The whole thing could have perhaps ended there, but Kardashian went on to respond to an additional comment — this time under Comments by Celebs' post.
"So she's acting like Tristan didn't cheat?" one Comment by Celebs' fan said, to which Kardashian responded with:
I'm not acting as if Tristan didn't cheat. I'm saying the story about marriage and anyone insinuating they know what we speak about privately is "crap." Not upset by commenters. Not upset by anything. Only pointing out when blogs create stories for you all to believe when it's just simply untrue.
Following the thread of exchanges is honestly a lot, but can anyone blame Kardashian for reaching her limit? After having to sit through hearing rumor after rumor for months, while trying to navigate new motherhood, it's a wonder she didn't completely snap on people before.
Many users under Comments by Celebs' post seem to share the same sentiment. "clap back game is strong!" one user said. Another fan commented offering supporting, "what you did was strong. Continue being that and these people posting this crap will continue being weak. 💛."
And one fan said, "even if you were actually talking about marriage, it would be ok! But I'll believe when it comes from you."
Nobody knows what Kardashian and Thompson's relationship holds in the future, except for the two of them. And that's really the point Kardashian seemed to be trying to make with her responses. As stressful as it may be, it seems like Kardashian has some solid fans to back her up and give her the freedom to keep certain aspects of her life private.