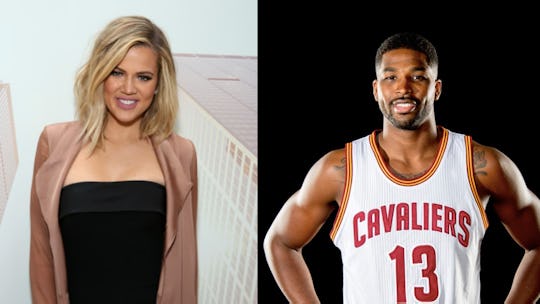 Jason Miller/Getty Images Sport/Getty Images
Why It's Important To Hear That Khloé & Tristan Are Reportedly In Couple's Therapy
Khloé Kardashian gave birth to her first child, daughter True Thompson, on April 12. However, anyone checking into the news cycle at that time will recall that her delivery was all but eclipsed by cheating allegations surrounding Tristan Thompson, catapulted by footage released by TMZ and the Daily Mail purporting to show the NBA player allegedly with other women days before Kardashian gave birth. (Reps for Kardashian and Thompson have not yet responded to Romper's request for comment.) Now, it's been reported that not only are the couple trying to make it work, but that Kardashian and Thompson are reportedly in couple's therapy, according to People, and here's why that's so important to talk about.
The Daily Mail reported that Lisa Stanley — who is a close friend of Kardashian's mom, Kris Jenner — told KIIS FM's Celeb HQ: "One thousand percent they are working through couple's therapy. She's working hard; he's working hard. You can't just earn trust back in two months." She added, according to the Daily Mail, "She doesn't want to look a fool. She was a fool once with Lamar, and she didn't want to do it again."
Previously, People had reported that not only were the couple still together post-cheating allegations, but that they were "figuring out their relationship," despite many people's advocation that Kardashian should leave Thompson.
Though neither Kardashian nor Thompson have confirmed the report, given that it is true, their willingness to try to mend their relationship would actually be a very important message to fans. Not only is therapy not something that should ever be stigmatized, it's something that should be seen as a sign of strength and willingness to change. For that alone, they should be commended.
Beyond that, the intricacies of any given relationship and what happens within it is nobody's else's business. Relationships are inherently complicated, and many do recover from betrayals like the one that allegedly went down between Kardashian and Thompson. Making room in the cultural narrative for what is and isn't OK and what should and shouldn't happen is essential to fostering a more empathetic, understanding society.
Kardashian spoke to this recently, as The Cut reported, when she responded to a fan's tweet criticizing her for staying with Thompson. "I love, adore & root for @khloekardashian but I'm so disappointed she stayed with that wasteman Tristan," the fan wrote. "She preaches about women knowing their self worth and when to walk away but when it's time to walk the walk, she's a hypocrite." Kardashian responded:
Not exactly Queen Persia, you have no knowledge of what goes on in our household or the enormous rebuilding this takes to even coexist. I'm proud of my strength. I appreciate your opinion and I hope you hold that same opinion to everyone else who has stayed in situations.
In June, Us Weekly reported that Kardashian finally moved back to her home city of Los Angeles, after having spent the months following True's birth at home with Thompson in Cleveland, where he is based due to his contract with the Cavaliers.
In May, Kardashian's mother Kris Jenner told Ellen DeGeneres that despite everything that's happening, Kardashian remains focused on her daughter. "She's just concentrating on that, being a mom, her baby," she said, according to E! News. "And I think that's what her sisters are doing, as well."
This is, in part, why Kardashian also opted to give True Tristan's last name, which was speculated upon. People reported that a "source" close to the couple shared, "Khloé still very much loves Tristan, and this baby is one half his. True is their child together. Giving the baby his last name was never in question."
Be that as it is, it seems that Kardashian is making choices that are best for her family and her family alone. Anyone who wants to pass further speculation or judgement should remind themselves that it doesn't need to be anyone else's business or knowledge.