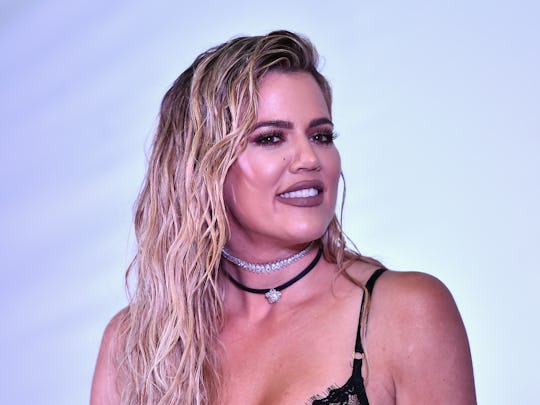 Alberto E. Rodriguez/Getty Images Entertainment/Getty Images
Khloé Kardashian Wants Her Daughter To Excel At This One Thing, & It's Really Touching
The Kardashian-Jenner clan is getting ready to welcome another girl into the family. On Sunday, Khloé Kardashian revealed on Twitter that she and boyfriend Tristan Thompson are expecting a daughter later this year. The Good American co-founder tweeted that she's "so excited" her little girl will have "forever best friends" with cousins Chicago West and Kylie Jenner's first child, Stormi Webster. Now, in a new blog post, Khloé Kardashian revealed she wants her baby to excel at this one thing, and it's both beautiful and honest.
Kardashian wrote in an app post on Monday that her team put together an entertaining "fill-in-the-blank" game about her daughter for the Keeping Up With The Kardashian star to complete. The questions all related to what the 33-year-old fashion mogul wants for her little girl when she grows up, including when she would watch her first episode of KUWTK and what would be her hidden talent. Among the topics, Kardashian answered a question about the one thing she hopes her daughter would exceed at when she is older. And the mom-to-be's answer is quite touching.
Kardashian wrote on her blog post: "If my baby could excel at just one thing I hope it would be: self-love."
I can't begin to explain why Kardashian's response is so great. There is a certain level of vulnerability, compassion, and devotion in wanting your child to accept themselves wholeheartedly and unconditionally. Kardashian could have said anything; she could have talked about a profession or material wealth. But instead, the reality TV star decided to focus on her daughter's personal, spiritual, and emotional growth. She wants her daughter to love herself, full-stop.
It's not surprising, though, that Kardashian would want her little on to excel at self-love. After all, the 33-year-old fashion designer has spoken candidly about her own struggles with self-acceptance and self-love throughout the last decade. It's well-known that Kardashian has undergone a sort-of physical transformation over the last few years, which she chronicled in her 2015 memoir, Strong Looks Better Naked, according to E! News. But in a late-night post to her Instagram account in March 2016, the New York Times best-selling author also opened up about her ongoing journey to emotional self-love, E! News reported.
Kardashian wrote in her Instagram post, in part:
Self-love or personal happiness should never be contingent on success because there are always failures to contend with no matter what level. Self-love is dynamic and runs deep.
She continued,
Self-love is dynamic and runs deep. When we act in ways that expand our self-love, we begin to expand our minds. We start to notice the parts we once abandoned. We will find dimensions of our soul that needs attention too. We begin to know exactly what we deserve and we shouldn't settle for anything less. Don't apologize for your past for it made you who you are today. Make your past fuel your future and the way you choose to live. Be in the now!
Self-love isn't the only thing she hopes for her daughter, though. Kardashian also wrote in her Khloe With A K post that she wants her little one's singing talent to be speaking, and thinks it would be "cool" if she spoke multiple language. She also plans for her daughter to listen to a lot of classic R&B artists, including Anita Baker, Marvin Gaye, and Patti LaBelle. "Real music!," she wrote.
Funny enough, Kardashian didn't plan to have a girl. The youngest Kardashian admitted on Sunday's season finale of Keeping Up With The Kardashians that she was "pretty much convinced" she was having a boy, according to People. Of course, that's not the case, but when it comes to self-love, that shouldn't matter.