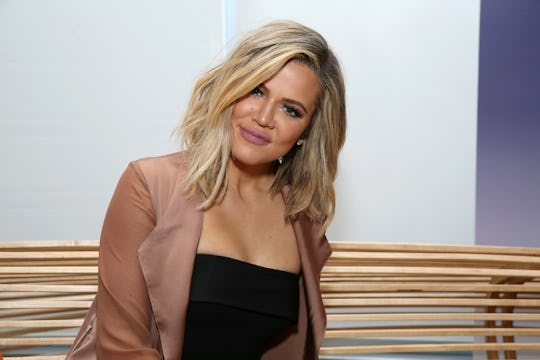 Cindy Ord/Getty Images Entertainment/Getty Images
People Think Khloe Kardashian's Recent Shirt Choice Is Even More "Proof" That She's Pregnant
Proving an unconfirmed pregnancy rumor to be true is tricky business. Without the rumored pregnant person going on the record and saying that it is true, it's all speculation. As for the Kardashian pregnancy rumors, a fallback source of "evidence" has been loose-fitting clothing. Most recently, Khloe Kardashian went out wearing another "baggy" shirt, and fans think it's real *proof* once again. Both Kardashian and sister Kylie Jenner have been spotted in less than skin-tight clothing and both fans and the media have taken it to mean that they have something to hide.
Khloé and her sister Kim were out and about in Los Angeles wearing casual clothes. As People pointed out, Khloé was wearing tight jeans, black booties, and a long-sleeve t-shirt. Kim went for a racier look, in sweatpants, tennis shoes, and a sports bra under an unzipped jacket. The fact that Kim's stomach was visible while Khloé's was concealed has been taken to mean the latter was concealing a bump.
This isn't the first time that Khloé's choice of clothing has added fuel to the fire of rumors. One photo of her with sisters Kim and Kourtney sent fans into a tizzy. The photo was posted to Kim's Instagram page with the caption, "Take San Fran...?" It shows Kim and Kourtney standing a bit in front of Khloé, covering her midsection. Users commented on the post, pointing out the positioning as well as Khloé's flowing outfit while Kim and Kourtney were in bodysuits. One such commenter said, "Covering khloes [sic] belly!!"
In a similar situation, a photographer captured Khloé alongside boyfriend Tristan Thompson. Both of them were wearing black hoodies, but it was only Khloé's that led TMZ to state that it "covered up her baby bump pretty damn well." The outlet also suggested that Khloé change her name to "Komfy." Sigh.
Even before the pregnancy rumors started buzzing around, fans speculated that she was covering up something else by wearing loose clothes: weight gain. In September, paparazzi captured her wearing a long-sleeve t-shirt, sweatpants, and fuzzy slippers on her way to a laser hair removal appointment. Khloé snapped back at her accusers then with a pair of tweets pointing out the inappropriateness of their comments.
Unfortunately, Khloé isn't the only member of her family who has been scrutinized for her clothing choices. Sister and fellow rumored mom-to-be Kylie Jenner has also been accused of dressing in larger clothes to hide a pregnancy. One example is a photo of herself that she posted to Instagram with the caption "Sasha's Shirt." The oversized blue button-up that she is wearing in the photo led fans to believe that she was not only "Hiding that baby b," as one fan wrote, but also expecting a baby boy.
Another photo of Jenner, wearing a big black Yeezy hoody immediately after rumors of her pregnancy began, was described as her "debuting her baby bump" by The Daily Mail. While literally none of her midsection is visible in the photo, the fact that her hoody billowed out was taken as confirmation.
In another set of photos, taken before a "girls trip" with her sisters, paparazzi caught Jenner wearing a black sweatsuit and white tennis shoes, according to People. This photo, too, was supposed to show a "baby bump," but Jenner called B.S. She tweeted out a couple of the photos, saying:
First of all if you're going to photoshop my photos blogs/paps!! Check for the crooked lines in the background. 2nd photo is clearly altered.
The outlet that posted the photos, The Daily Mail, contradicted her statement with a line added to the original article, saying, "DailyMail.com can confirm the pictures have not been digitally altered."
Coming from someone who has been asked more times that she can count if her babydoll tops are "hiding a little bump" when they most certainly were not, using Khloé and Jenner's fashion choices to say that they look pregnant is not only inappropriate, it is just rude. Just because a woman decides that she doesn't want to wear tight clothes doesn't mean that she is growing a human or that she has put on weight. Even if she has, it is frankly no one's damn business.
Watch Romper's new video series, Romper's Doula Diaries:
Check out the entire Romper's Doula Diaries series and other videos on Facebook and the Bustle app across Apple TV, Roku, and Amazon Fire TV.