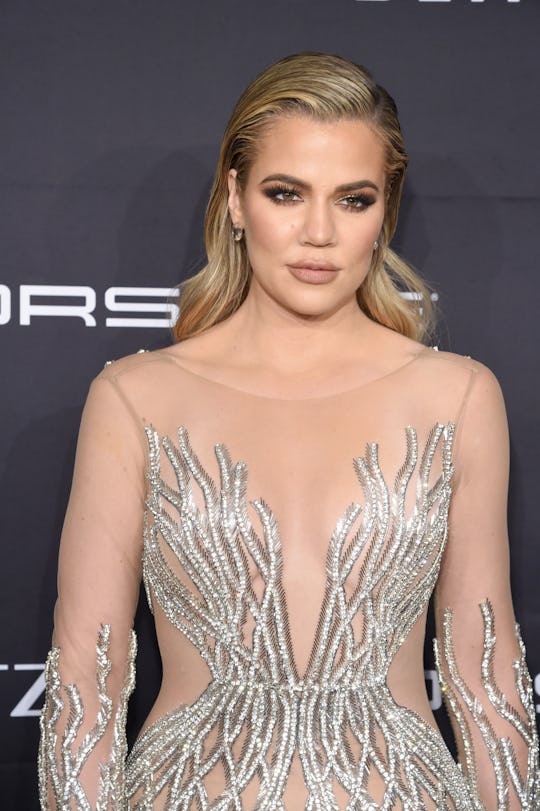 Jamie McCarthy/Getty Images Entertainment/Getty Images
Khloé Kardashian's Baby Is Almost Here & Fans Have So. Many. Feelings.
Nine months of pregnancy can fly by, or drag on, or both, depending on who and when you ask. Those last few weeks can feel like an eternity to the mom-to-be, and sometimes to those around her as well. Khloé Kardashian's baby will probably arrive soon and fans are having the most hilarious responses. From sharing their words of encouragement to obsessively checking news headlines and social media feeds for any updates, it is safe to say that fans have the mama and her baby on the brain.
Kardashian's due date seems to be right around the corner. She announced on March 23 over Twitter that she only had a "few weeks left," meaning that her little one could be here any day now. A source told E! News that Kardashian is well aware of how much time she has left in her pregnancy "Khloe is counting down the days and trying to relax and rest as much as she can," the source reportedly said. "She is excited and nervous at the same time."
She's not the only one who is experiencing a flurry of emotion over her baby arriving soon. Kardashian's pregnancy updates have fans feeling some type of way and they have made their feelings clear. On Monday, she posted a sweet snap of her and boyfriend Tristan Thompson sharing a kiss while he holds her belly. She captioned the photo, "We are ready whenever you are little mama," and fans were quick to share their love for the two — soon to be three.
One of her followers wrote, "This is JUST beautiful. God bless you and your little girl," and another said, "Melts my heart! So much love and positive vibes to you for an amazing birth!" Other moms, both current and expectant, also shared their love with Kardashian. "I know how you're feeling my due date is tomorrow and no sign of our little lady making and appearance any time soon!!" one said. Another explained how a baby changes parents' lives:
I remember being soo anxious n ready to meet my little girl! Enjoy ur last few days as a couple.. She will be here before you know it! Your life will never be the same again..it will be AMAZING!!!
But Instagram isn't the only platform that Kardashian's followers used to share their feelings. Twitter is filled with fans expressing their joy, frustration, and anticipation for the arrival of her baby girl. These are just a few of the emotions fans were having.
Impatience
With the constant media coverage surrounding Kardashian's pregnancy, it's no wonder fans are eager to see her little girl. While they are likely not as ready as the mom-to-be herself, there are quite a few people on baby watch.
Excitement
Along with a little bit of frustration, fans are also beyond excited for any news of Kardashian's baby. Many of her followers wished her well over Twitter and their words are really heartfelt.
Joy
Many of the tweets to and about Kardashian are emotional to say the least. As her followers know, Kardashian has had a long and complicated journey to motherhood, so it is only natural that they would share in her joy.
Confusion
While not technically an emotion, fans are also somewhat confused about Kardashian's pregnancy — specifically the length of it. As someone who is a week or two behind Kardashian in their pregnancy, I can say from experience that pregnancy lasts forever. Those nine months, technically 10 months, can feel like a lifetime when you're anticipating the arrival of your new best friend. After months of tracking her development, many of Kardashian's fans are left feeling like it's been even longer.
It is unlikely that the emotional outpouring will stop once Kardashian and Thompson's baby gets here. If anything, fans will have even more to say. But I'm sure that it is a comfort to Kardashian in this emotional time to know that she has an army of fans behind her. Here's hoping that they won't have to wait too much longer for that little girl to arrive; I know her mama is ready.
Check out Romper's new video series, Bearing The Motherload, where disagreeing parents from different sides of an issue sit down with a mediator and talk about how to support (and not judge) each other's parenting perspectives. New episodes air Mondays on Facebook.