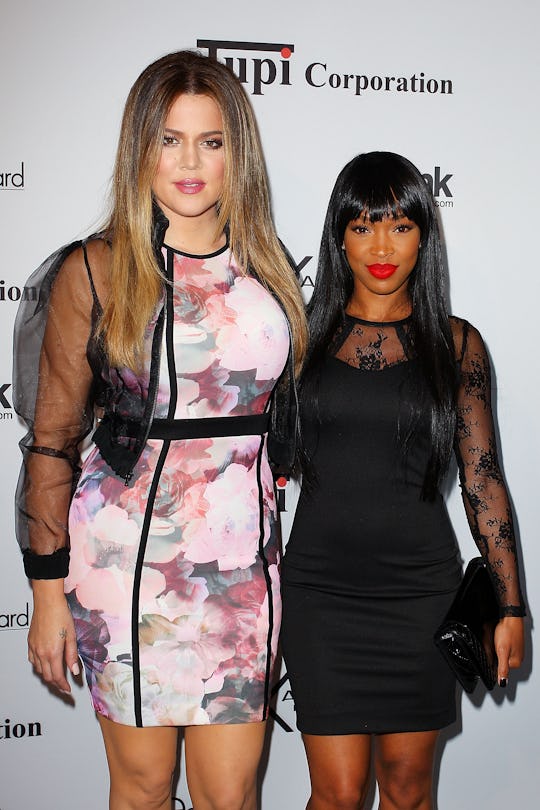 Lisa Maree Williams/Getty Images Entertainment/Getty Images
Khloe Kardashian's Best Friend, Malika Haqq, Had The Sweetest Message For Her
To say that Khloé Kardashian has had an eventful week is a bit of an understatement. After allegations emerged that her boyfriend, Tristan Thompson reportedly cheated on her, according to the Daily Mail, Kardashian gave birth to their daughter a few short days later. If anyone has been through it all, it's been Kardashian. Luckily, she has had her friends and family by her side through it all. And on Friday, Kardashian's best friend had the sweetest message for her after giving birth, showing Kardashian has plenty of support during this super eventful time. (Thompson's and Kardashian's reps didn't immediately respond to Romper's request for comment).
As previously stated, the Daily Mail reported earlier this week that there had been a video purportedly showing Thompson allegedly "cheating" on Kardashian with another woman while she was pregnant. In the midst of these allegations, Kardashian went into labor a few days later. But she had (and still has) the support of her friends through it all.
In Haqq's Instagram and Twitter posts on Friday, she outright showed that support for her best friend in the simplest of words. Haqq captioned the gorgeous photo of Kardashian with a simple statement. "Right by your side," she wrote. "Congrats my love! Thanks for my niece!" You can feel the love coming from the computer screen.
This necessarily isn't a commentary on what Kardashian might be going through but it shows that her friendship with Haqq is as strong as ever. Nothing will change between them, motherhood will only bring them closer together — even if Keeping Up With The Kardashians cameras caught Haqq and Kardashian fighting last month about the lack of time they spent together, according to People (spoiler alert: they made up in that same episode).
But a post like this was bound to come from Haqq — she and Kardashian are really close. If you've "kept up" with the Kardashians, then you're familiar with Malika Haqq, Kardashian's long time best friend. The two have been through thick and thin together — from new relationships to homes to now, babies.
And through it all, Haqq has been by Kardashian's side. The duo first met when they were 15-years-old, according to the New York Post, after Haqq had been dating one of Kardashian's best friends at the time. And when Keeping Up With The Kardashians first aired, according to Wetpaint, fans knew her as Kardashian's assistant. But since then their relationship has continued to evolve.
Since Haqq is so close to Kardashian, of course had an opinion on her friend's relationship — she was so happy for Kardashian, her pregnancy, and her relationship with Thompson. In March, Haqq told Us Weekly that her best friend was doing "amazing." "She's so unbelievably happy and I couldn't be happier for her," Haqq said.
But her opinion might have changed. She definitely is not the only Haqq sister to refer to these allegations about Thompson. On Wednesday, Haqq's twin sister, Khadijah Haqq McCray, posted a very interesting Instagram post to her account, that some assumed could be directed towards Thompson. Khadijah posted a photo of a quote that stated "The best thing a father can do is to love their mother." Some people thought Khadijah was throwing some serious shade, according to People.
But regardless about what her sister might have said (or referred to) about Kardashian's relationship, it is clear that she has so much love for her best friend and she can not wait for this next chapter of their lives together. And at the end of the day, that kind of support is so valuable.