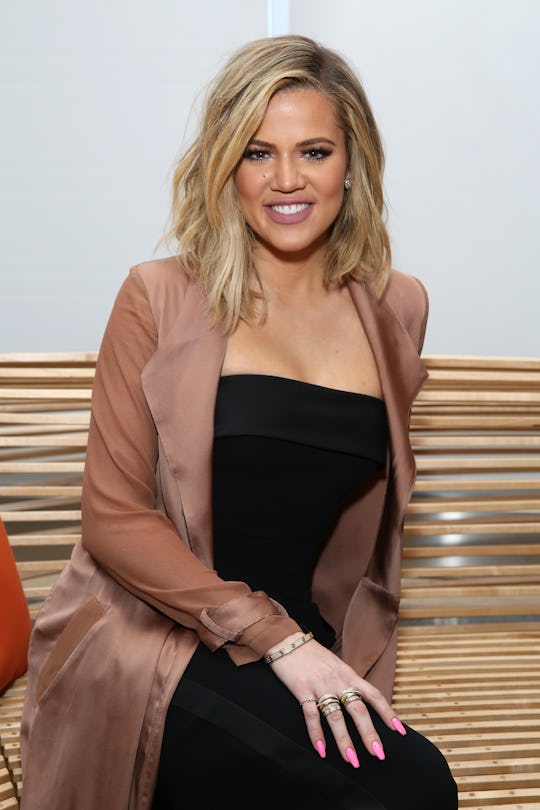 Cindy Ord/Getty Images Entertainment/Getty Images
Khloé Kardashian's "Bump" Photos Show Just How Exciting Her Journey To Motherhood Has Been
When Khloé Kardashian confirmed that she was expecting her first child in December, fans were so incredibly excited. For those who had been following her on her journey throughout Keeping Up With The Kardashians, fans knew just how major this pregnancy is for Kardashian. This could be why looking at photos of Khloé Kardashian's bump throughout her pregnancy on Instagram so far shows just how excited Kardashian is for the arrival of her baby.
Although fans waited months for Kardashian to finally address the rumors about her pregnancy, she confirmed the news in December stating that she was indeed expecting a child with her boyfriend, Cleveland Cavaliers player Tristan Thompson. The wait was worth it — in the weeks since Kardashian's announcement, she has been so open with fans about her pregnancy. During an appearance on The Ellen Show, in January, Kardashian revealed that she was so excited for this pregnancy, according to People. "I've wanted a baby for so long it's just the perfect timing," she said. "God always has a plan and I just wanted to do it on my time and when I felt comfortable to do so."
It's a great thing that Kardashian has felt comfortable to share her pregnancy with her fans, because the photos of her pregnancy bump not only show her progress in her pregnancy but just how excited she is for her baby to arrive.
December
A few days before Christmas, Kardashian announced her pregnancy in the best way possible — by giving fans a clear shot of her bump on Instagram, confirming all of rumors in one go. Kardashian thanked her family for their support and her fans for staying by her in the caption of the post:
I know we've been keeping this quiet but we wanted to enjoy this between our family and close friends as long as we could privately. To enjoy our first precious moments just us. Thank you all for understanding. I am so thankful, excited, nervous, eager, overjoyed, and scared all in one! But it's the best bundle of feelings I've ever felt in my life!
Shortly after her announcement, Kardashian and her bump made their appearances at the Kardashian family Christmas party. It was there where Kardashian showed off her bump on Snapchat, according to Glamour. For people who had been anticipating seeing Kardashian's bump, this was a great Christmas present.
January
Kardashian rang in the new year in Cleveland, Ohio, according to Entertainment Tonight, with Thompson and her bump in tow. Her New Year's celebration might have been champagne-free, but was exciting nonetheless. Kardashian's Snapchats from the night showed that she had plenty of time dancing and hanging out with Thompson, according to Entertainment Tonight.
January also marked the start of Kardashian doing a press tour for a new season of her show, Revenge Body With Khloé Kardashian. On this press tour, Kardashian and her bump made their appearances on several talk shows where she conveniently got to talk about her pregnancy, too. During an appearance on Jimmy Kimmel Live!, Kardashian revealed that she had been getting a lot of unwarranted advice about pregnancy from her older sisters. Kardashian said, according to People:
A lot of it is unwanted. I don't know if it's the worst, but Kourtney gives a lot of advice. I think it's so sweet but I don't want to do some of that stuff. You can never have a plastic toy, ever! If someone buys blocks, I'm allowed to have blocks! Let me experience things. It's either her way or no way. It's not what you say, it's how you say it.
February
At the beginning of February came some very exciting news — Kardashian's youngest sister, Kylie Jenner confirmed that she had been pregnant and gave birth to a daughter named Stormi on Thursday, Feb. 1. This meant that Kardashian and Jenner had been pregnant together, and fans got to see that in a photo posted to Kardashian's account after Jenner announced the news. Kardashian commented about how exciting her sister's pregnancy was in the photo's caption. Kardashian wrote:
I'll miss you bumping along with me. Never in a million years did I think we would do this together but it's been that much more special because of it. God is so great!!
February also marked Kardashian's seventh month of pregnancy. And over on her Twitter account, Kardashian was honest with her fans about all of the details concerning her pregnancy, like her pregnancy cravings. In tweets from February, Kardashian revealed, according to People, that she had been craving spaghetti with a side of strawberries and whipped cream, pancakes, and ice cream sandwiches.
Same, girl. Same.
March
Although March has just begun, that hasn't stopped Kardashian from posting so many photos of her bump in this final stretch of pregnancy.
This month Kardashian has made her way to Tokyo, Japan with her sisters and caused some controversy because of it. Fans mom-shamed Kardashian (before she could even give birth) for traveling so far away this late into her pregnancy, according to Harper's Bazaar. However, in spite of criticism, the American Pregnancy Association states that it is generally OK to travel during pregnancy just as long as there are no complications in the pregnancy.
Kardashian and Thompson's baby could arrive any week now, which is so exciting. But these great bump shots from Kardashian's Instagram show just how exciting her journey to motherhood has been.
Check out Romper's new video series, Bearing The Motherload, where disagreeing parents from different sides of an issue sit down with a mediator and talk about how to support (and not judge) each other's parenting perspectives. New episodes air Mondays on Facebook.