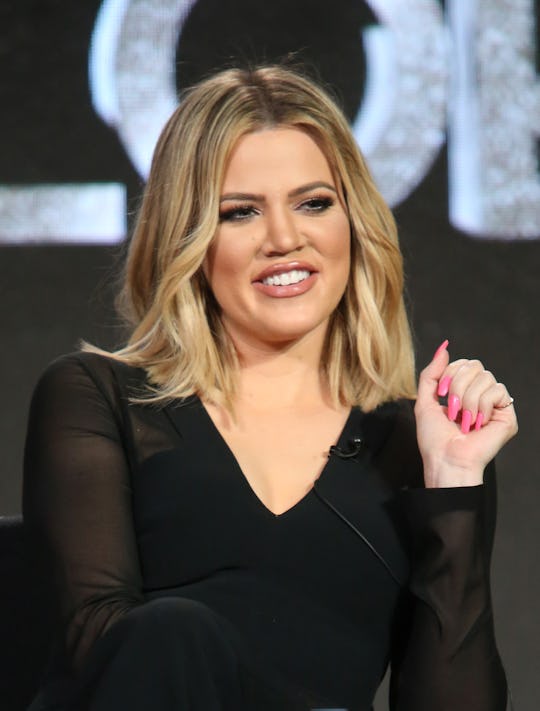 Frederick M. Brown/Getty Images Entertainment/Getty Images
Khloé's Comments About Watching Kylie Give Birth Are Hilariously Real
Khloé Kardashian doesn't have any kids of her own yet, but she is expecting her first child very soon, and she's had a lot of practice with kids as an aunt to several nieces and nephews. In fact, she was actually in the labor and delivery room for each of her sisters' deliveries, which she said was an incredibly special experience. Recently, Khloé Kardashian wrote about Kylie Jenner giving birth, in particular, and how she felt "so lucky" to be there not just for that experience, but for all of the deliveries she got to witness as a member of the KarJenner family.
The Keeping Up With the Kardashians reality star and her boyfriend, Tristan Thompson, are expecting a daughter together, according to Entertainment Tonight. Khloé is reportedly "due any day," according to Us Weekly, and it would be understandable if she was starting to freak out about giving birth to her first child. But Khloé wrote on her website and app that while she's "a little nervous" about labor, "I'm trying to not overthink something that happens all the time."
Part of the reason Khloé isn't too concerned about actually giving birth is because she's seen it so many times before. Khloé wrote in a post on her website titled "Why I'm Not Afraid About Giving Birth" that she's seen more than eight births in person, so she's arguably more prepared for what the experience is like than most people.
On her website, Khloé wrote a piece about how wonderful it was specifically to see her sister, Kylie, have her baby. Kylie gave birth to her first child with boyfriend Travis Scott on Feb. 1, according to Us Weekly, and Khloé was pregnant herself at the time. Khloé wrote of the experience:
I've been so lucky to be in the labor and delivery room for every one of my sisters' deliveries. I'd say the most significant experience was when I watched Kylie give birth. I was six months pregnant, so it was a lot more real because I knew I'd have to do that in three months. You don't miss a beat when you know you have to do it soon! But having said that ... I don't think it's smart to watch another person give birth when you're pregnant, LOL.
While Khloé was there for the rest of her sisters when they gave birth as well, Kylie's birth experience was particularly special partly because Khloé knew she'd be going through something very similar very soon.
Another one of Khloe's sisters, Kim Kardashian West, also welcomed a daughter recently — her baby girl Chicago was born in January, according to People. And while Kim was definitely present when her surrogate gave birth, People didn't say whether Khloé was around for that one. If she's seen so many other births in her family, though, she was almost certainly present for Kim's other deliveries.
There's no doubt that Khloé has a special bond with her siblings. She also recently wrote about what she both loves and hates about each of the Kardashian and Jenner siblings for her website, which must have been interesting for both her family members and fans to read.
Of Kourtney, Khloé wrote that, "She's great at keeping secrets." She also wrote that Kim "wants everyone to be their best self." As for Kendall, Khloé wrote that "Her anxiety makes me so sad," and she also said Kylie is "a hypochondriac," and Khloé wrote that she wished she could take those things away from her younger sisters. That's something a lot of siblings can probably relate to.
But don't worry, Khloé didn't forget to give her brother some love, too. She wrote that her brother, Rob, is "the coolest guy I know!!!!," and that she hates how "he gets down on himself."
Khloé truly seems to admire her siblings — especially her sisters and as they've become mothers to her nieces and nephews. I would agree that she really is "so lucky" to have examples of what she has to look forward to as a mother herself, whenever her baby girl decides to make her debut.