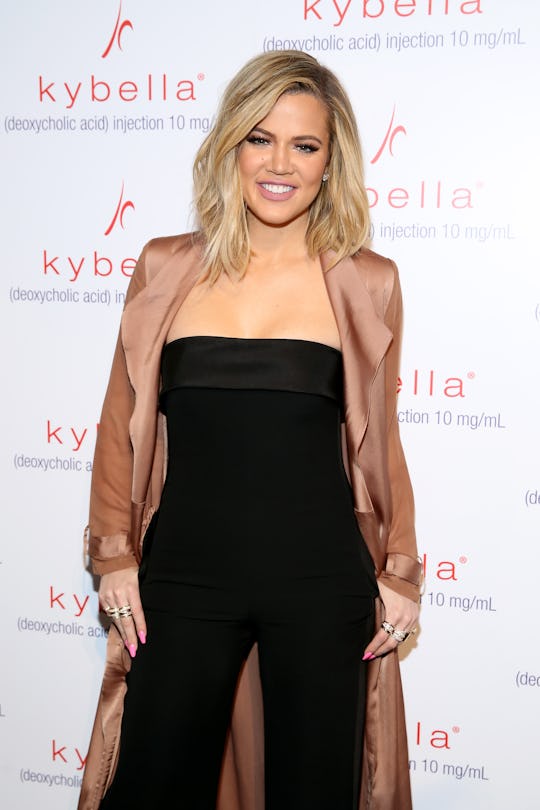 Cindy Ord/Getty Images Entertainment/Getty Images
Khloé's Daughter True Looks So Spooktacularly Cute Dressed Up Like A Pumpkin — PHOTOS
For parents, Halloween provides the perfect opportunity to dress your little ones up in all kinds of costumes and post endless photos of them to social media. Making the most of the spooky season, Khloé Kardashian dressed her daughter True up like a pumpkin and posted the adorable photos to her Instagram Story. And luckily for her followers, the proud mama promised more where those came from. What better way to get in the Halloween spirit than looking at sweet babies in costumes?
Along with those taken by Khloé, Aunt Kourtney Kardashian also took a few of her daughter. The photos of True Thompson, now 6 months old, were taken during a family trip to the pumpkin patch on Sunday. Little True is dressed in an orange pumpkin costume that came with a little hat and jack-o-lantern print, surrounded by real-life pumpkins. "I couldn't resist!!!" Khloé captioned her photo. "My little pumpkin!!!! One of many costumes to come."
All of the Halloween excitement was too much to limit to a single social media platform. In addition to her Instagram Story photos, Khloé also tweeted about the experience of dressing True up, along with the promise of more cute get-ups to come. "I can't help but dress my baby True up!! It's our first Halloween together!" she wrote. "More costumes to come lol God thank YOU! She's just perfect to me."
This year will mark True's first holiday season, offering Khloé the chance to revel in the joys of not only Halloween with her, but Thanksgiving and Christmas as well. The Kardashian-Jenner clan goes all out on Thanksgiving, as momager Kris explained in a 2014 interview with People. "We do a very traditional Thanksgiving dinner," she said. "It's turkey and dressing, gravy, mashies, veggies and stuffing and, of course, a gazillon desserts." The family begins preparations days in advance, Kris told People, and serves their gourmet meal on Hermes dishes — because of course they do:
It takes me that long to get it just right, layer­ing the dif­fer­ent decorations, add­ing and taking away things until I can stand back and say, "Yes, that's it."
Kris isn't the only one who has perfected the art of Thanksgiving dinner, though. Khloé took over for her mom in both 2014 and 2015. The family tradition has been to take turns having dinner at a different sister's house, according to Entertainment Tonight, but E! News reported that Khloé has mostly taken over hosting. Considering what she has said about her love for cooking on Turkey Day, she is more than happy to do so. Like Kris, Khloé begins her preparations early and is meticulous down to the last detail:
I really like to get my table-setting just right. You won't see porcelain turkeys or anything like that on my table. I want the pictures to be timeless and besides, the food should shine. Instead, I do floral centerpieces that I can re-use after Thanksgiving.
Little True also has quite the Kardashian Christmas tradition to look forward to and, as mom Khloé described it to The Mirror, "controlled chaos" of the holiday season:
Christmas Eve we have a huge party, which mum's been hosting for 34 years. It's what everyone looks forward to, it's so fun! Everyone dances and Santa comes. One year, he showed up in a Rolls-Royce, which was bizarre and he wears a Rolex. He's never aged. We look at old home videos and he hasn't changed! I'm convinced he's the real Santa.
On Christmas Day, Khloé said that they all gather in pajamas and exchange gifts. True will also be making her first appearance in the famous Kardashian-Jenner family Christmas card this year. Suffice it to say, Khloé has endless perfect photo ops to look forward to. And her fans can expect plenty more cute True content to come. Happy holidays indeed!