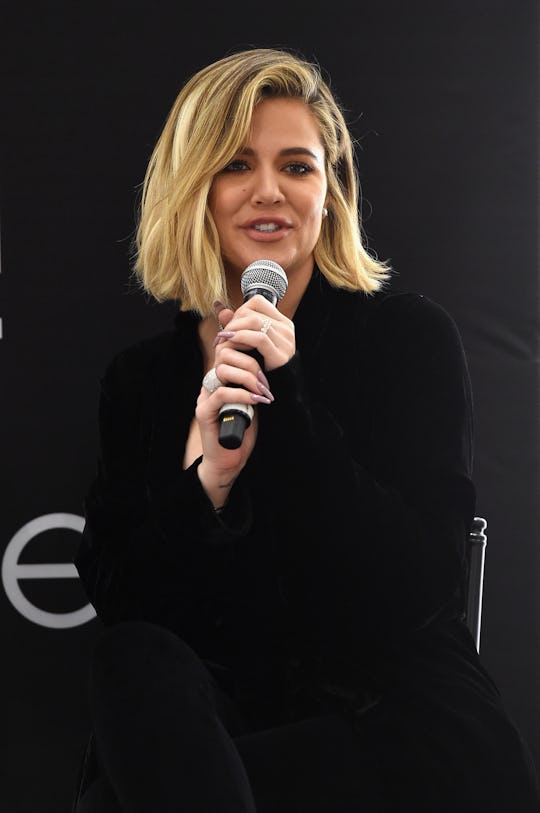 Jamie McCarthy/Getty Images Entertainment/Getty Images
Khloe Kardashian's Feminist Quotes Show She Will Make An Amazing Mom One Day
Khloé Kardashian's badass, take-no-prisoners personality is what makes fans fall in love with her time and time again. But there is more to Khloé than meets the eye. The Revenge Body host, clothing designer, social media personality, and rumored-to-be-mother, is actually pretty outspoken about all of the right things, including feminism. The best of Khloé Kardashian's feminist quotes show that she has a lot to say and will make an amazing mom one day, whenever that may happen.
In 2016, Khloé's sister, Kim Kardashian famously said that she didn't identify with being a feminist because she didn't "like labels" (she later retracted this statement). But all of the Kardashian women are feminists based on their actions alone, according to People, even if they've never publicly made a statement about it before.
Khloé's personal mission, to empower people after their breakups with her show, Revenge Body with Khloé Kardasian, and create clothes to fit all types of bodies with her clothing line, Good American, is a feminist act in itself. Her willingness to help people, combined with her headstrong personality, proves that she will make a badass mom, if and when she decides to become a mom one day.
The Time She Called On People To End Comparison Of Other Women
It is only natural for siblings to be compared to one another, but when you're as famous as the Kardashian sisters, the constant comparison can get pretty annoying. In 2013, according to Contact Music, Khloé called on people to stop comparing her to her sisters and comparing other women in general — a total feminist move. Khloé said, according to Contact Music:
We are sisters and women need to stop being compared to other women! Beauty is not how we look, it is how we act.
The Time She Told Women How Beautiful They Were
Khloé has become outspoken about health and fitness since appearing on Keeping Up with the Kardashians 10 years ago. Her quotes about fitness are super empowering and uplifting and a little feminist. Like the time, according to People, when she took to her Instagram caption to motivate and lift up other women in their own personal weight loss journeys. This message is easily one that she can relay to her possible future children when it comes to everything, not just fitness. Khloé wrote, according to People:
We all have our own journeys in life, make sure your journey is for you and you alone. Remember in the end the turtle won the race. Slow and steady. Dedication and tenacity.
The Time She Told Everyone To Love Themselves
Before you support and love others, it is important for you to love yourself first and foremost. Khloé knows this to be true. In a 2015 issue of Cosmopolitan Body, Khloé told the magazine that plastic surgery isn't for her because self-love is more important. Her message is something that everyone can take to heart — love yourself and then make health your priority before relying on other changes. Khloé told the publication:
I'm not against plastic surgery — if you want to do a tweak, I'm all for it, but you have to love yourself first because no surgery is going to change your heart. It would have been such an easy solution to get liposuction, or whatever, but you have to be healthy to maintain that. I've always felt like "wouldn't it be great to accomplish that on your own?"
There is no denying that, when the time comes, Khloé will make for one empowering mother. And her feminist quotes show that.
Check out Romper's new video series, Romper's Doula Diaries:
Watch full episodes of Romper's Doula Diaries on Facebook Watch.