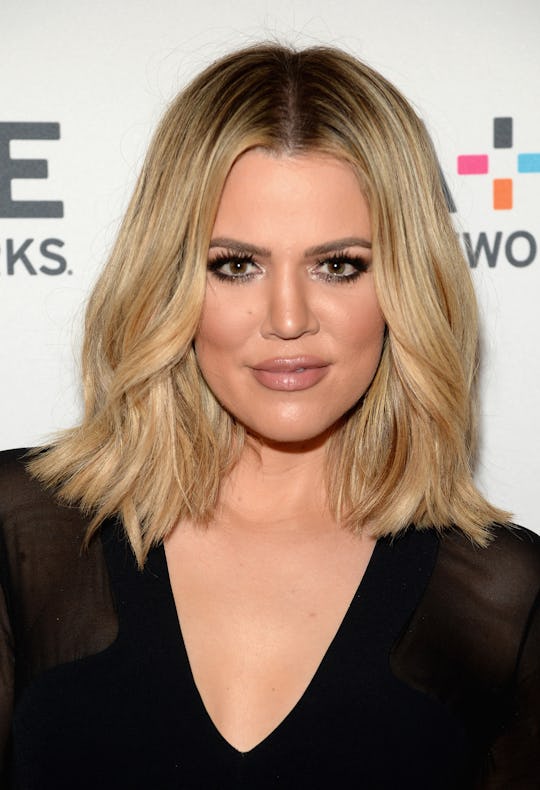 Chris Weeks/Stringer/Getty
Khloe Kardashian's 'Good Morning America' Interview About Lamar Odom Was Super Inspiring
If there's one person who must be seriously relieved that 2015 is over, it has to be Khloe Kardashian. As the 31-year-old reality TV star explained on Good Morning America Wednesday, things got pretty rough after her estranged husband Lamar Odom collapsed at a Las Vegas brothel following a drug overdose — so rough, in fact, that they initially didn't even expect him to live. But not only did he survive, Khloe said that Lamar has left the hospital after almost four months of care:
It was really scary. I know when we got to the hospital in Vegas, we were told, you know, [he has] only a few hours to live and we had to make some medical decisions. There were a lot of challenges but he's a fighter and, obviously, he's here now and he's out of the hospital.
But while Kardashian definitely seems hopeful about the next stage in Odom's recovery, she is also remaining honest and realistic about the very long road he has ahead of him. But perhaps more importantly, she has also been extremely upfront about denying suggestions that the couple's former romantic relationship has anything to do with her feelings about supporting Odom now, or what the future might hold. When asked about a comment she'd made in an earlier interview about Odom being her "soul mate," Kardashian was direct:
I do believe that we're soul mates, but right now, that's not even where my head is at...I think people, they don't understand the severity of everything, and like, that's not even a factor. [Did I think] that Lamar was my soul mate before any of this happened? Yeah. But you know, things change and life gets in the way and that's OK. And it's all about his health and my happiness and his happiness, and right now those are two individual things.
The idea of a reconciliation between the couple has been persisting ever since Kardashian called off their divorce in October to ensure that she would be able to continue making medical decisions on his behalf. But it sounds like she isn't even sort of conflicted about her role in Odom's life right now. Instead, she's choosing to focus more now on her own well-being and on allowing herself to care for her estranged husband while not feeling responsible for the outcome. Kardashian gave a realistic and inspiring response when Good Morning America asked whether she think's he'll "stay on track":
I hope so. I don't know — again, I can't look into the future. I've planned and planned for years and it never went the way I wanted, so I'm really just doing one day at a time, and I'm happy living that way, one day at a time.
There's no doubt that what Kardashian has gone through with Odom in 2015 was unbelievably trying, and given their history, no one would blame her if she wasn't totally heartbroken and conflicted and confused about it all. But hearing her discuss his progress now, as well as her own plans for moving ahead in the new year, is seriously inspiring. Letting go of the desire to control life and have answers for everything is something that so many people struggle with, regardless of the details or circumstances. For Kardashian, her turning point was Odom's hospitalization, and it sounds like despite all of the worry and pain and uncertainty, she has come out of it with a strong understanding of her own needs and how totally entitled she is to make those needs a priority.
While it's easy to get hung up on the details of Khloe and Lamar's romantic history and speculate about what might happen in the future, what Khloe's example really proves is that the best thing that anyone can really do is let it be, and learn instead to take things — whatever they are — as they come.
Here's to an amazing 2016, Khloe. You do you.
Image: Chris Weeks/Stringer/Getty; Giphy